maybe its wishful thinking, but my gut tells me that this little baby is coming soon…and early.  (my gut has been known to be dead wrong, and my wishful thinking has let me down before, but a girl can hope, can't she?)  regardless, she feels as if she's gonna fall out any second, i have contractions all day long, and big momma is dead tired, so it can't be much longer, right?
anyway…i just feel the need to post all the details of the nursery today, because its on my "things to-do before Miss Berkeley arrives" list, and there are just a couple more things to cross off, and i think i'll rest better once that list is completed.  so here it is, Berkeley's nursery in all its gold and coral-ish glory!  (i'll give you specific details as the post progresses):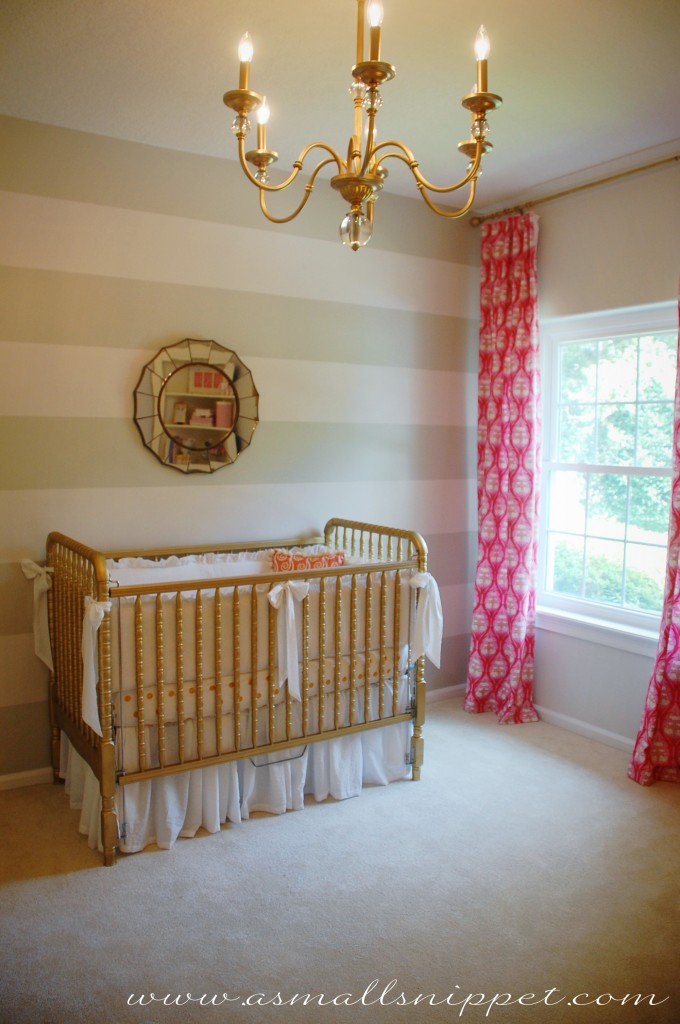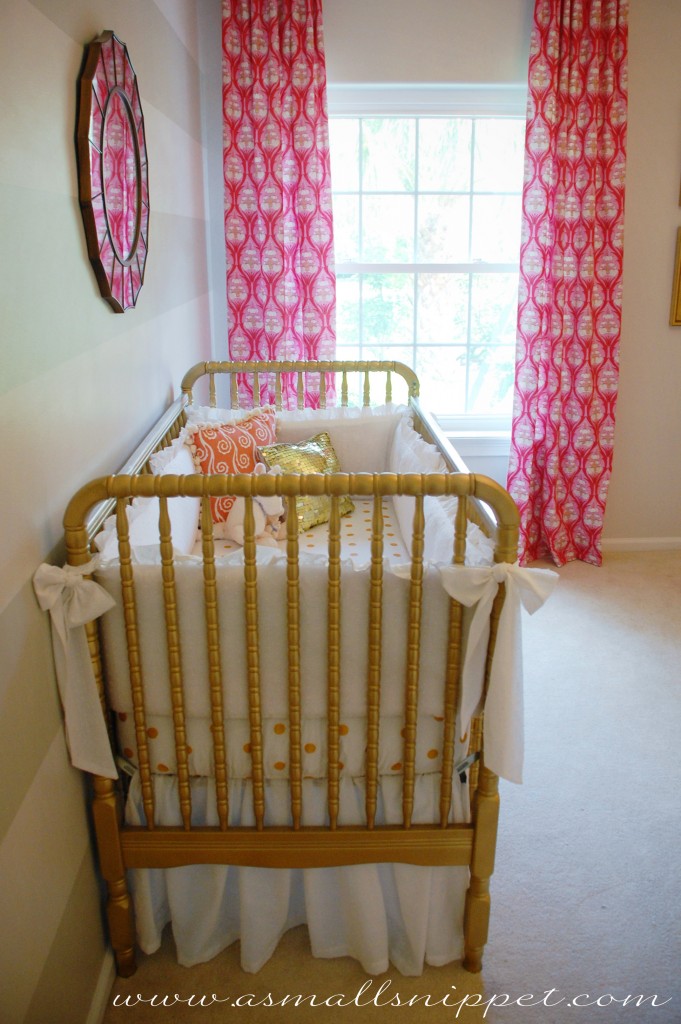 the empty frames will be filled with photos of a sweet babe once she gets here: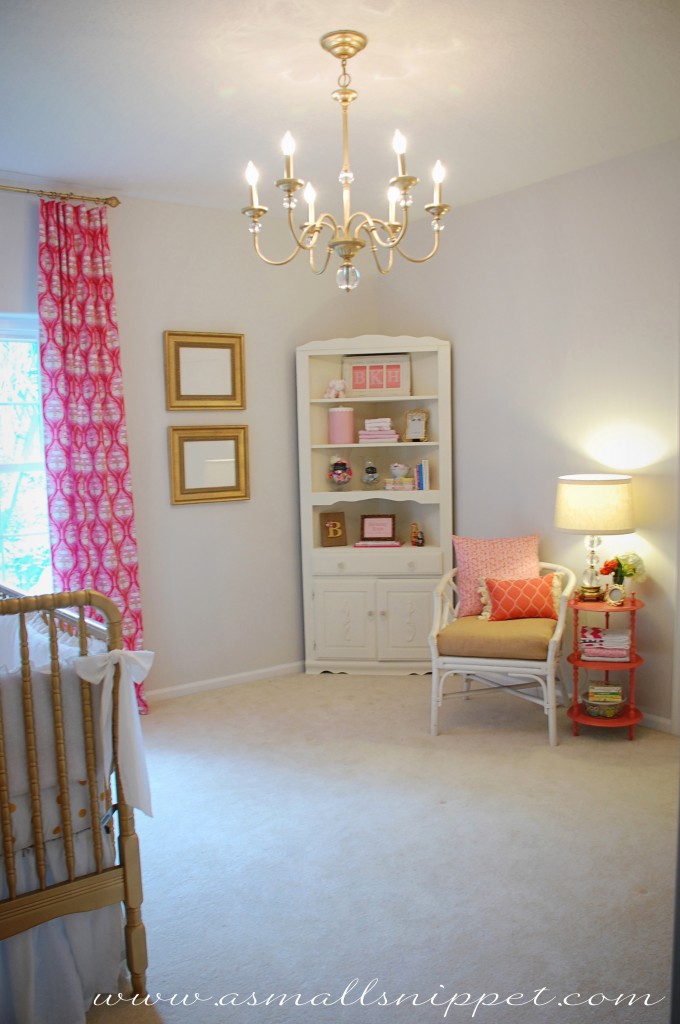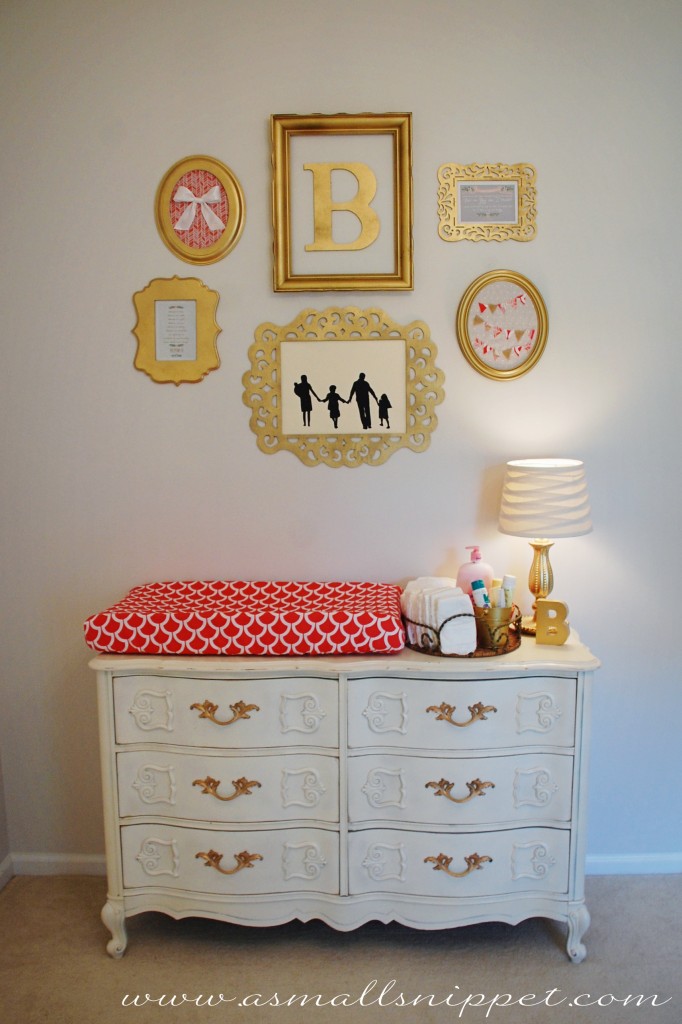 now for some details:
– the chair is a vintage Henry Link wicker chair that i found at a consignment store.  i recovered the seat cushion in simple burlap.
– the bigger pillow i made out of fabric that i found at Joann's Fabrics.  its called Straw Hat Pink, made by Cloud 9 Fabrics.
– a friend of mine named Donna made me the smaller pillow

– i found the table at a thrift store.  it was an adorable mint green when i bought it, but Jake painted it coral for me using this spray paint:  Krylon Coral Isle
.  i don't know any details on the table, but a friend of mine said she saw a similar shaped one at Kirklands recently.
– the lamp was a complete steal.  i found it at a garage sale, and replaced the outdated pleated shade with a linen drum shade that i happened to find at GoodWill.  the whole thing cost me $7.00.  i'm kinda in love with it.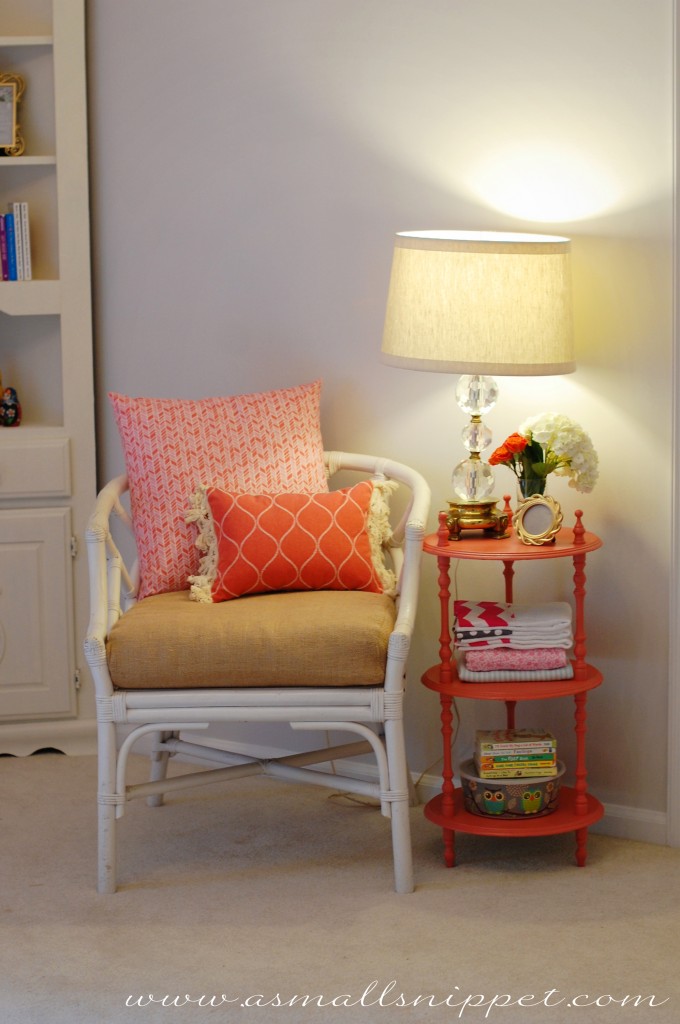 i filled the table with some fun odds and ends.  a friend of mine named Wendy made me the cute burp cloths.  i found the owl container at World Market and couldn't pass it up.  i loved the vintage look of it, and i had to have some kind of something with owls on it, to represent my beloved Chi Omega Sorority!  (owls are our mascot.)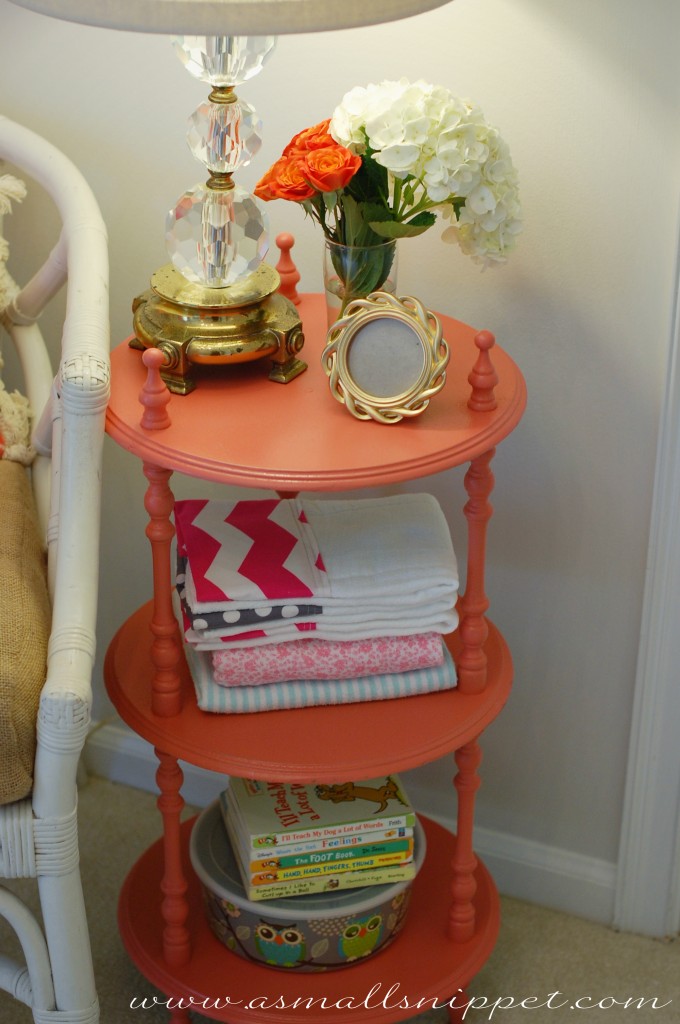 – a friend of mine recently moved, and was throwing out that corner shelf, so i snagged it out of her garage before it hit the dumpster.  i knew long ago that i wanted some type of corner shelf in the nursery, and this one was even more perfect than i was imagining.  i painted it with Annie Sloan Chalk Paint in Old White, and added glass knobs from Hobby Lobby.
– a neighbor replaced her dining room chandelier, and was getting rid of her old one.  so we snagged it and Jake spray painted it gold.  i think it was meant for this room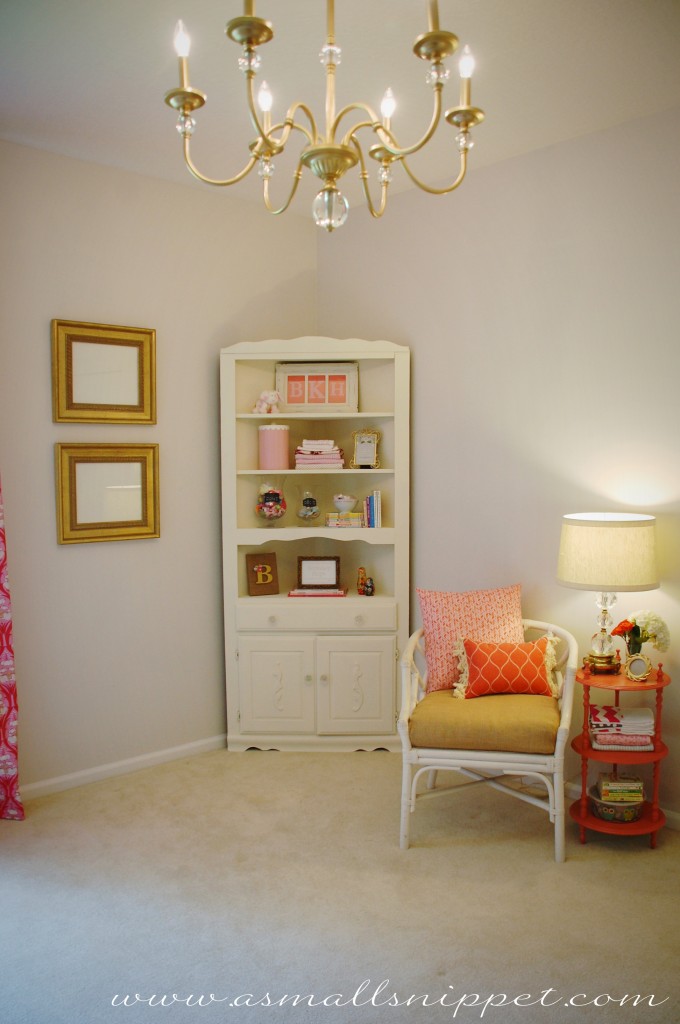 i wanted a place to display all kinds of girly and pretty things, and the fact that this piece of furniture had a cabinet and a drawer was an added bonus.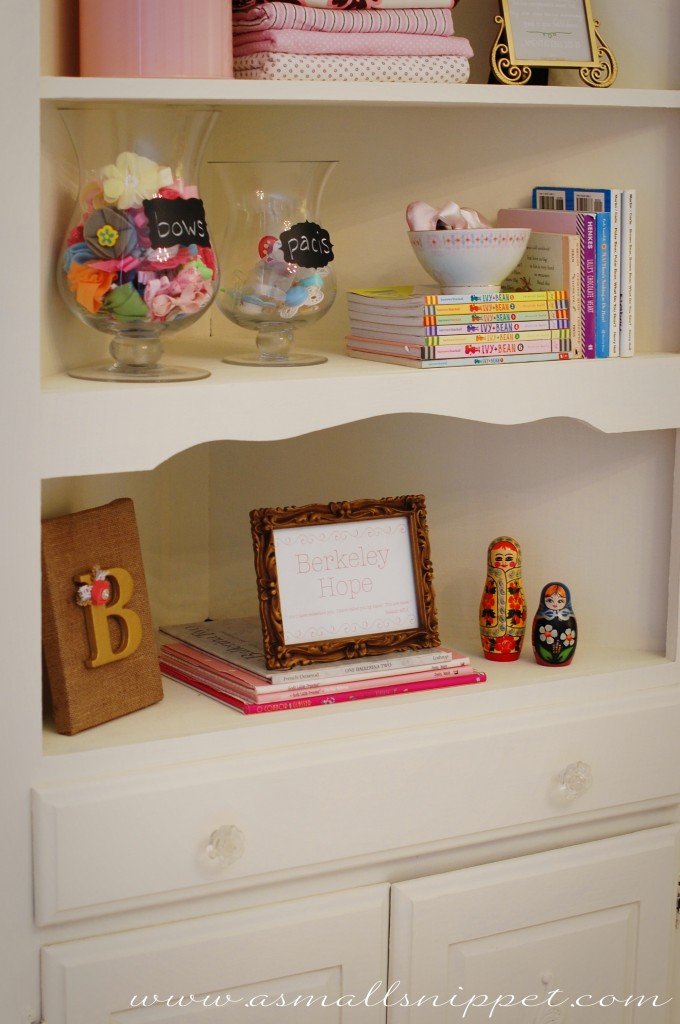 i wanted an easy place to store all of Berkeley's bows and headbands, and a quick way to grab a paci when needed, so i found these glass jars on clearance at World Market, and bought some cute chalkboard stickers (also at World Market) to label them.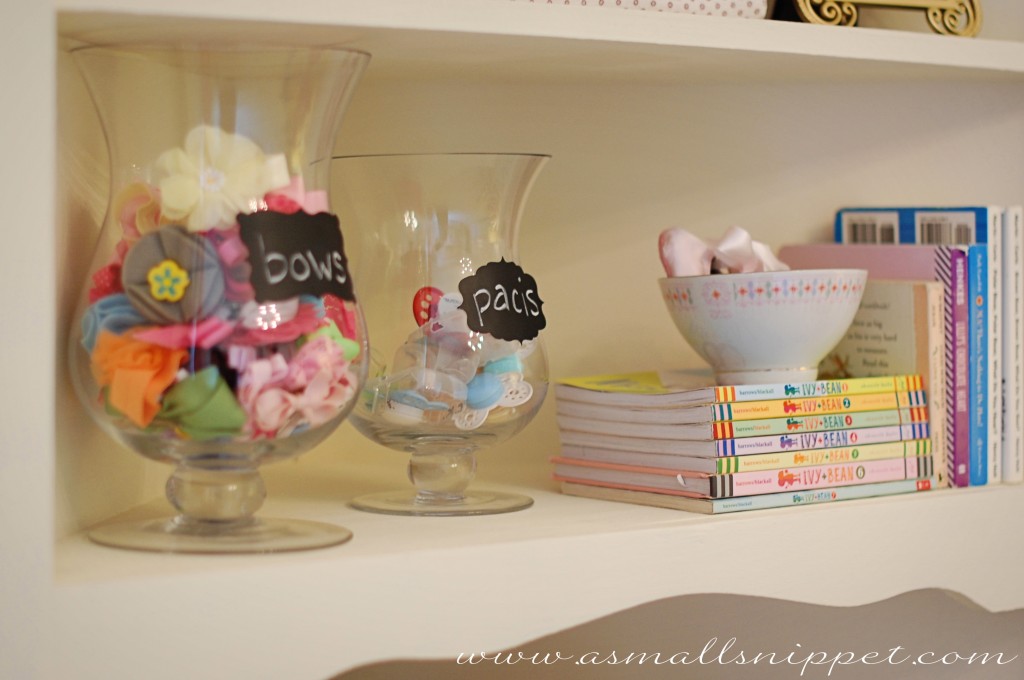 i found the pink vintage-y tin cookie jar at World Market, and couldn't pass it up!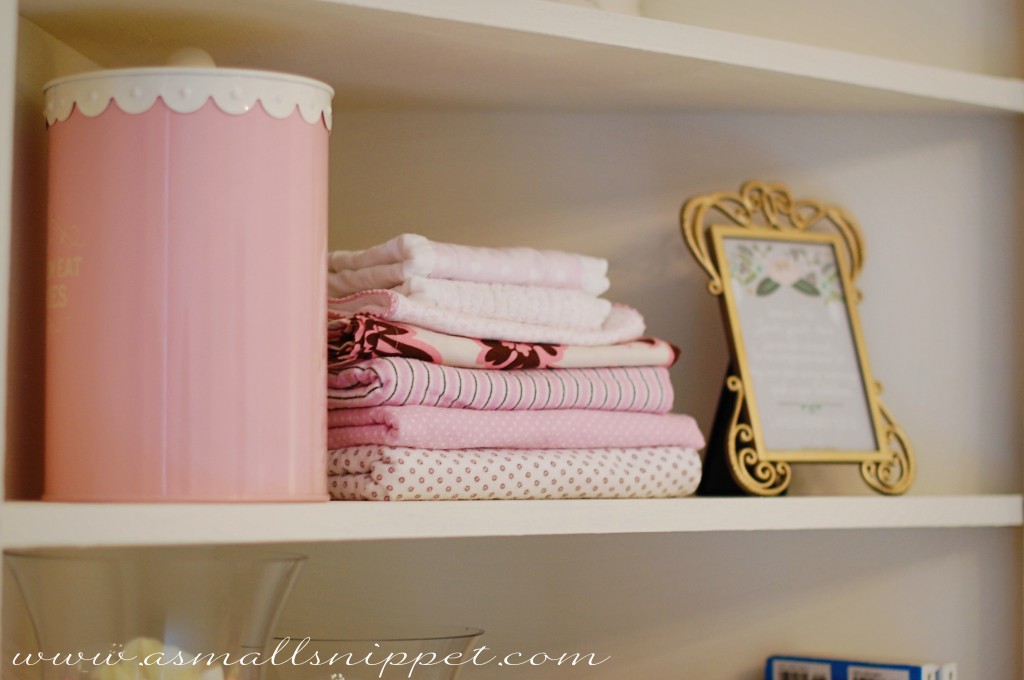 i had the white frame from long ago, and used scrapbook paper to cut out Berkeley's monogram.  the little puppy dog was Bella's, named Sprinkles, and the big sis is thrilled for her little sis to love it as much as she once did.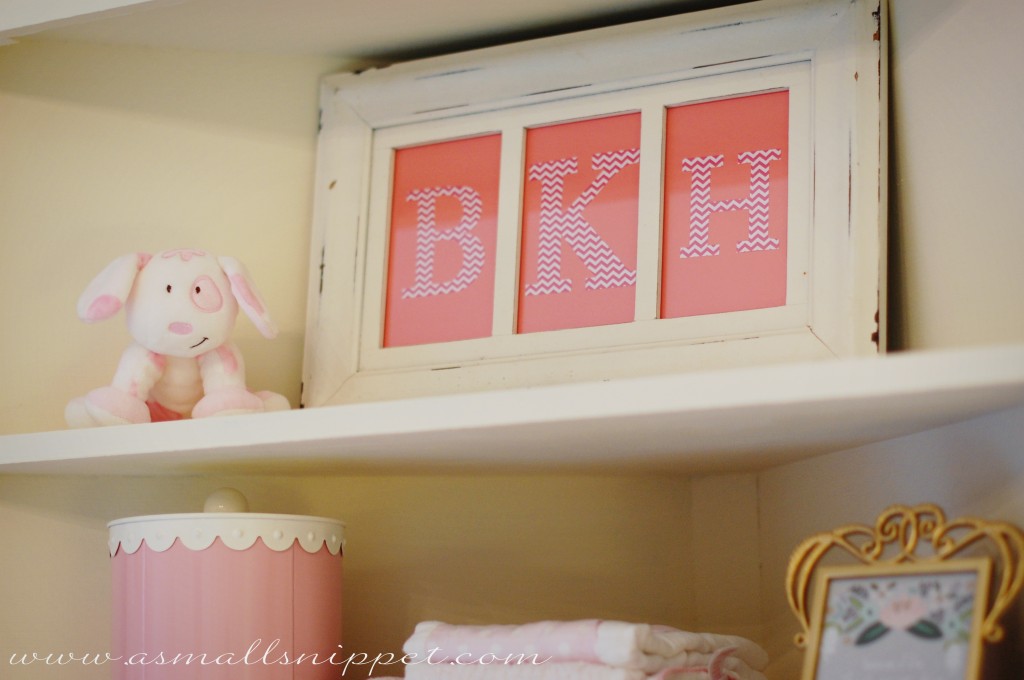 – the sweet wooden gold "B" on the burlap canvas was made by a friend of mine named Meredith
– i've always incorporated my kiddos life verses into their nurseries somehow, so i just printed up her name and verse and stuck it in a GoodWill frame.  i was waiting to see if God laid any particular verse on our hearts for her, and it wasn't until my shower last weekend when a friend shared a devotion with us all, that was centered around this verse.  i knew right away that it was the verse we were to choose for Berkeley:
"…for I have redeemed you;  I have called you by name, you are mine."  Isaiah 43:1
for so long, we thought that our little family was complete with just Canaan and Bella…until God changed our hearts not that long ago.  i love to think about how He chose Berkeley for our family, and called her by name, way before He even placed the desire for her on our hearts.   its like she's been apart of our family all along, and God was just waiting for the perfect time to let us in on His special secret!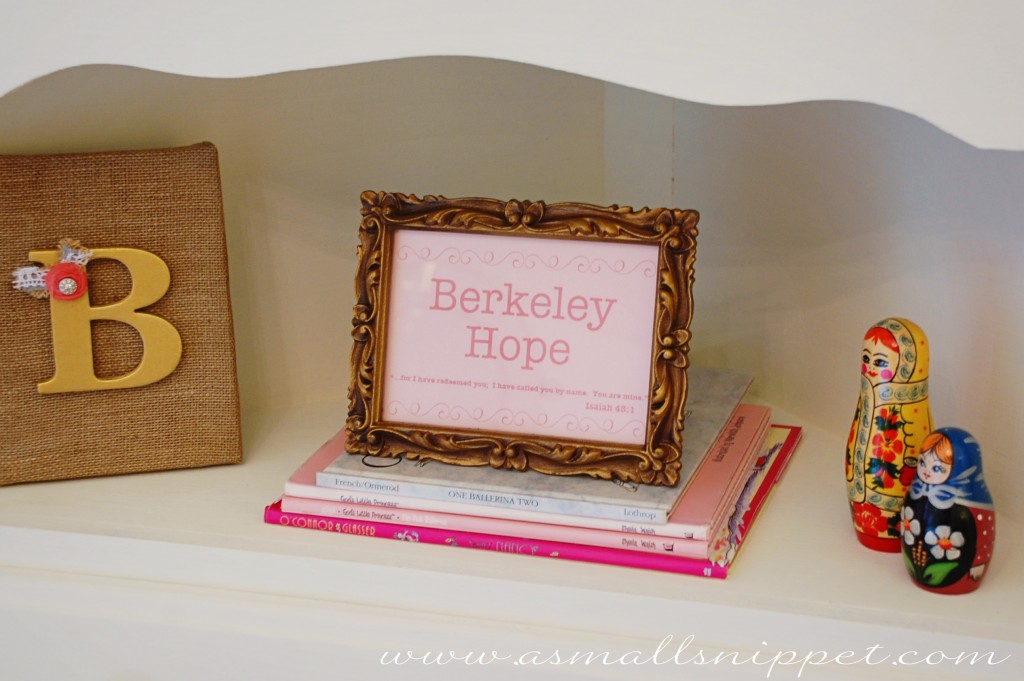 – Jake and my father in law painted the stripes on the wall behind the crib, and i think they did a fantastic job!  the wall color is by Sherwin Williams, called Eider White, and the darker grey stripes are the next step down on that same paint swatch, Sherwin Williams Repose Grey.
– the mirror is from Target
– i made the curtains from an Amy Butler fabric, called Soul Blossoms, Passion Lily.  i've got a very simple and easy tutorial coming soon if you are interested in how to make them.  i'm not kidding when i say its simple…you don't even really need a tutorial, but i thought it would be helpful for beginning sewers!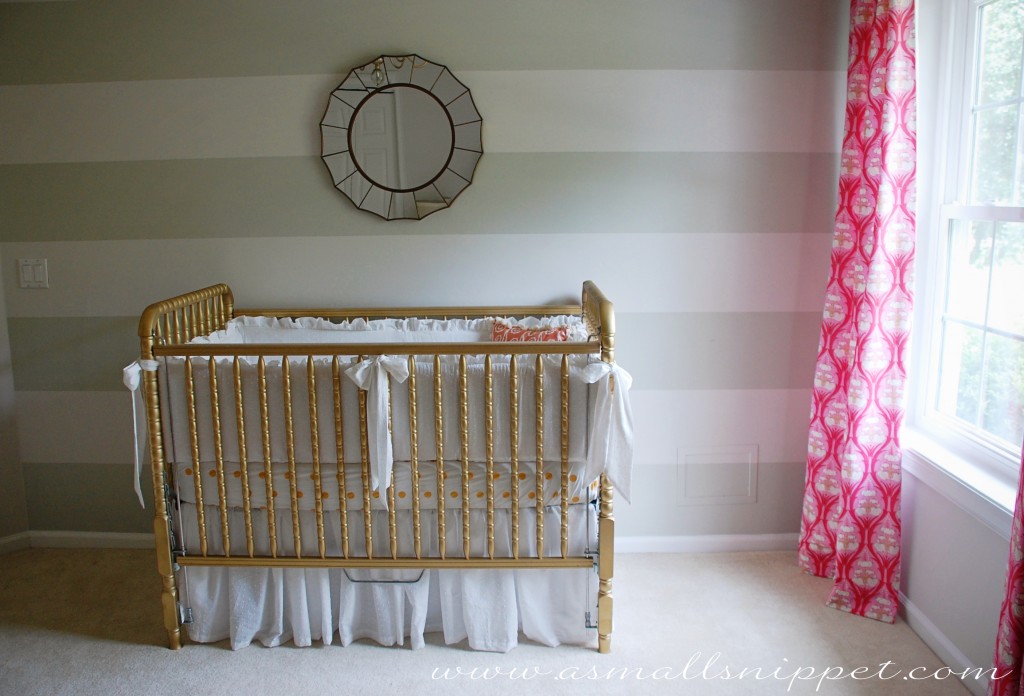 – i already told you all about the crib paint here, and the crib bedding here and here.
– the crib sheet is from Land of Nod
– my friend Donna also made the coral swirl pillow
– i found the gold sequined pillow on clearance at Home Goods.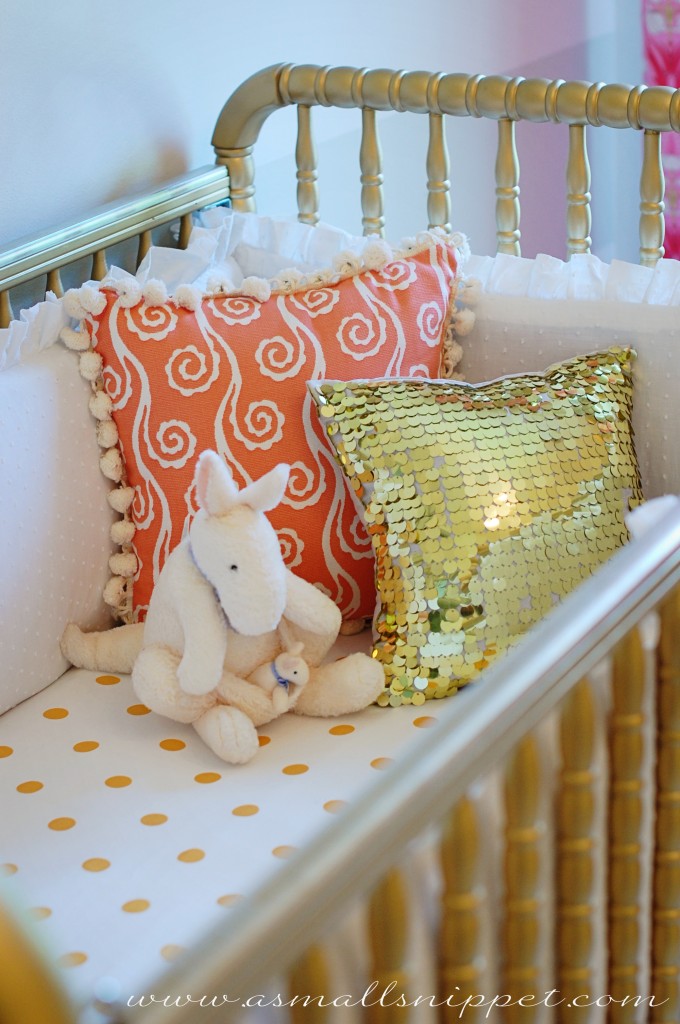 – the changing table was a Craigslist find, and i was thrilled that it was already the perfect color (saving me from having to paint it) and already had gold hardware.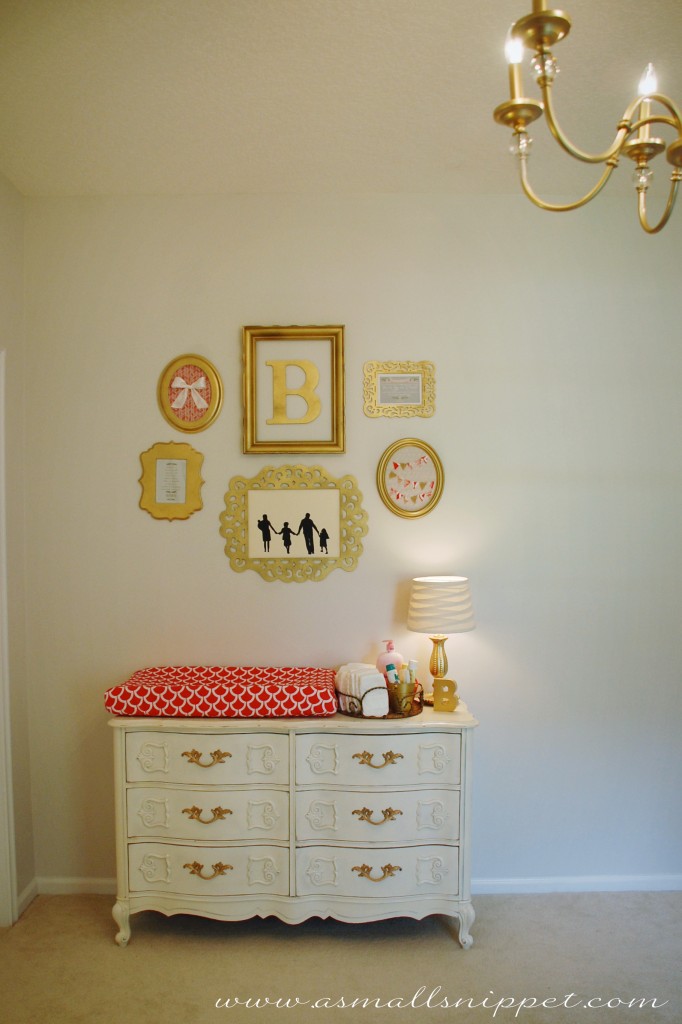 – i made the changing pad cover from a fabric by Michael Miller called Billow Coral.  (tutorial for that coming soon too.)
– the lamp was an old lamp that we had, that we spray painted gold.  i bought the lamp shade at Target.
– i found the "B" at Michaels, and spray painted it gold.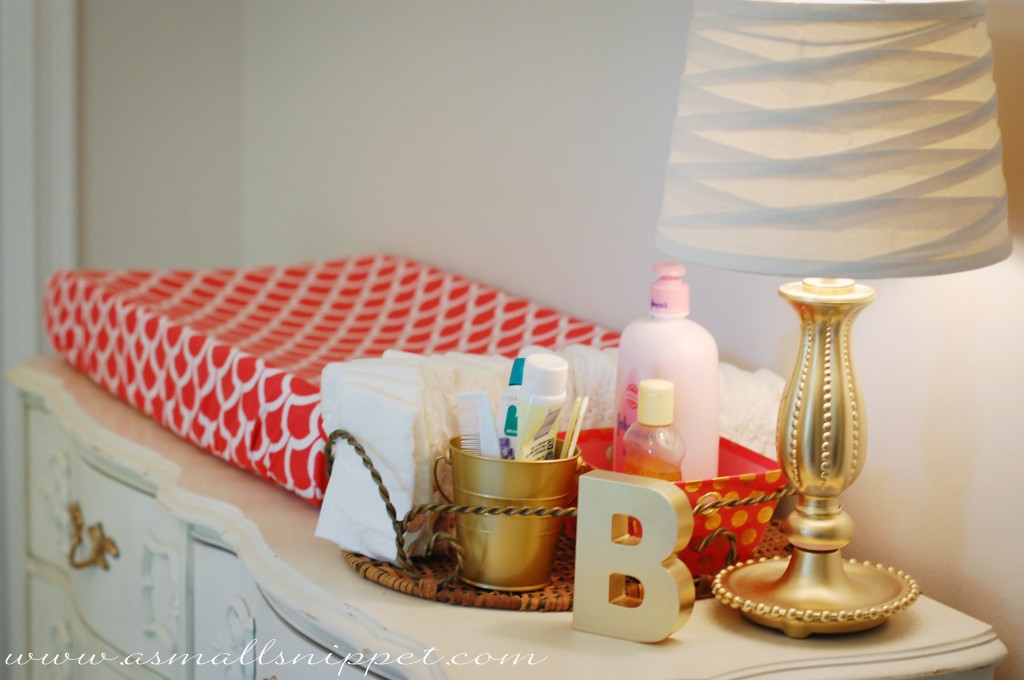 – the gallery wall was a compilation of different frames that i had on hand and a few that i bought, all of which we spray painted gold.  the really decorative ones are just cardboard cut outs that i found at Michaels.
– the big "B" i bought at Joann's Fabrics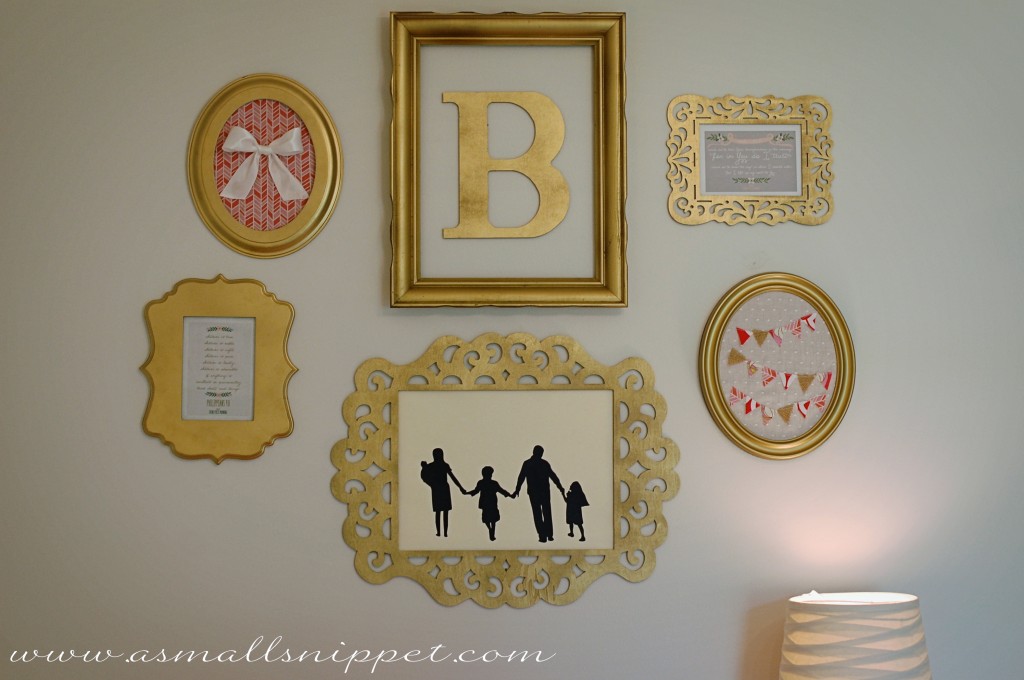 i found some great ideas on Pinterest, and just revamped some that i had pinned.
– i used the same fabric from the chair pillow as a background to a big satin bow.
– i printed some of my favorite verses from the free printables on this adorable site and framed a few around the room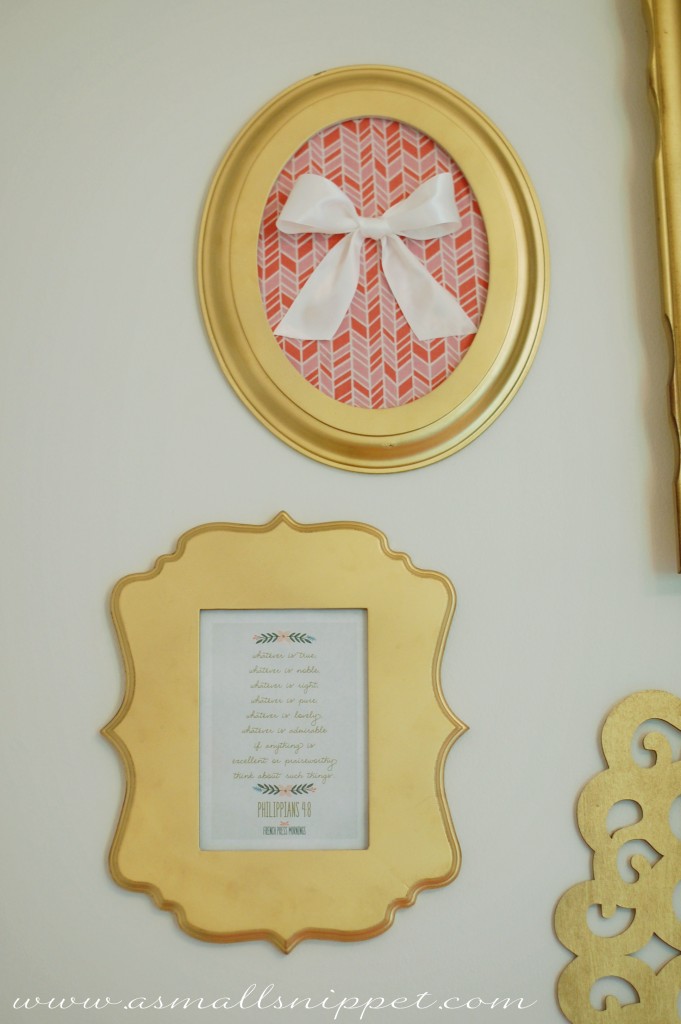 using leftover fabric that i had used around the room, i cut out tiny triangles and sewed them into bunting:
and this is one of my favorite parts of the room.  i knew that i wanted a silhouette of our family incorporated into the gallery wall.  so i enlisted the help of my dear sister/friend, May, and sent her over a picture of our family from our last photo shoot, and with her photoshopping skills, she turned it into a silhouette and added in a little baby on my hip.  if you look closely, she is even sporting a little hair bow!  she did an amazing job, and it really does look like my little family!!  i absolutely adore the way it turned out!  (i had it printed on cream paper at Fed Ex for only $1.50.)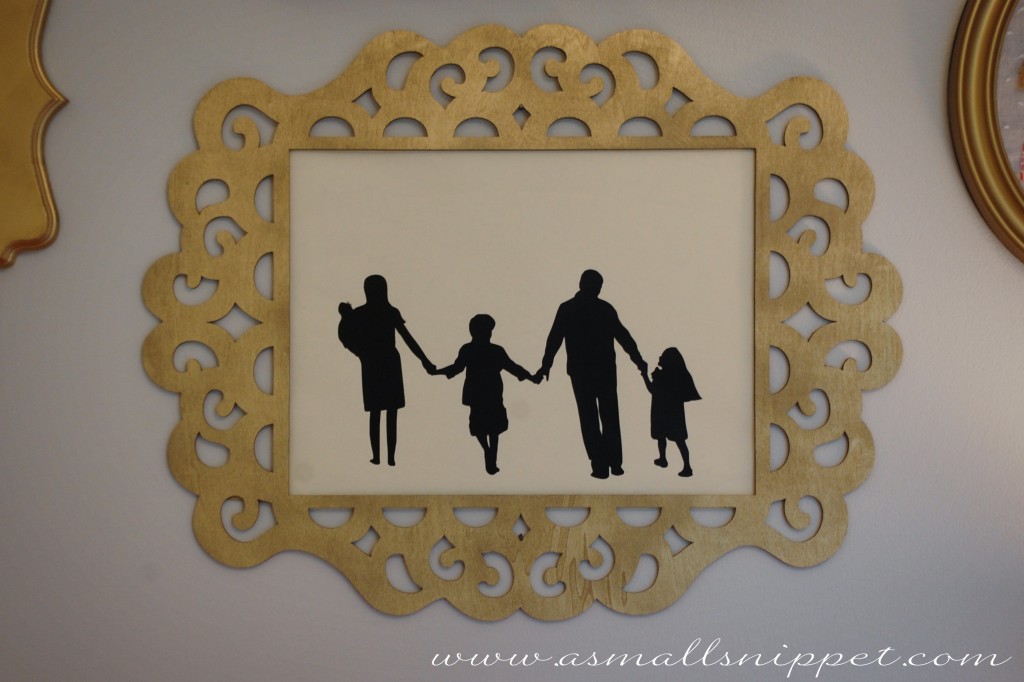 i had a blast doing this room, knowing that it'll be the last time i get to decorate a nursery

 i think there is something so special about preparing for a new little one to join the family.  i love to think that one day our kiddos will know and understand just how excited we were as we waited for their arrival!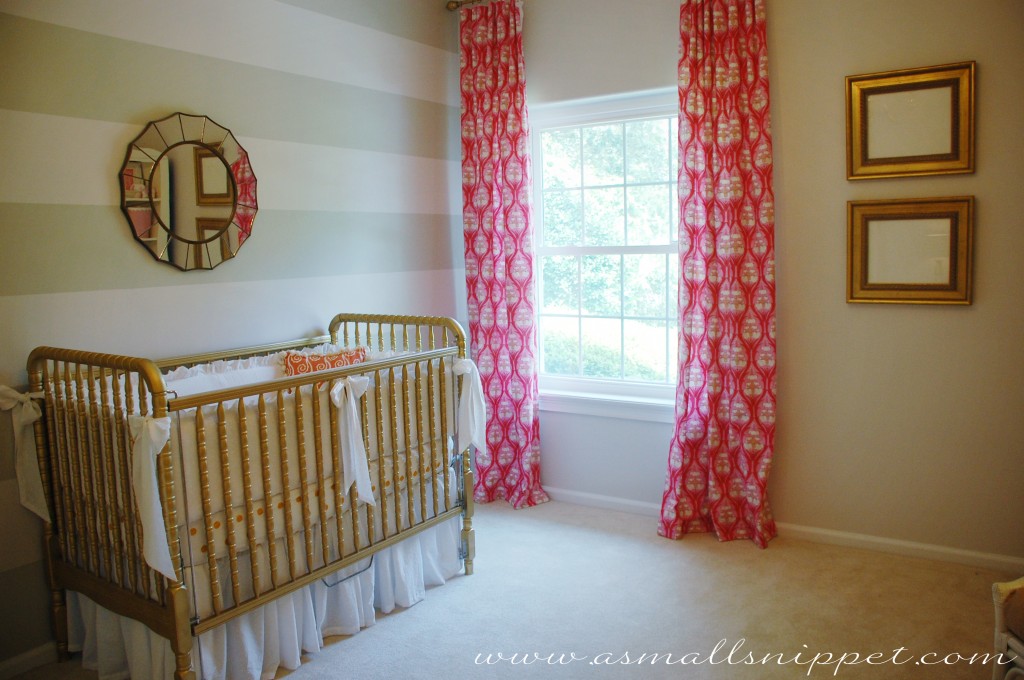 and that's about it!  if there is a detail i missed that you want to know about, just ask

i promise to keep y'all posted on any news of Berkeley's arrival, and if she doesn't come in the next few days, then i'll probably be back with more tutorials for you:  a changing pad cover, simple curtain panels, and a Boppy cover.
here's to hoping that i'll be posting pictures of Berkeley herself soon!