seeing that we are now about halfway done with Eli's visit (cannot come soon enough.  seriously.  i have a love/hate relationship with this Elf), i thought i'd show you what he's been up to so far.
he arrived this year with luggage full of little red elf hats, and a note that said,
"C, B, & B:
i'm back!
did you miss me?
did you miss me?
did you miss me?
i missed you!!!
- Eli"
his first night, he made himself a little twin buddy with Legos: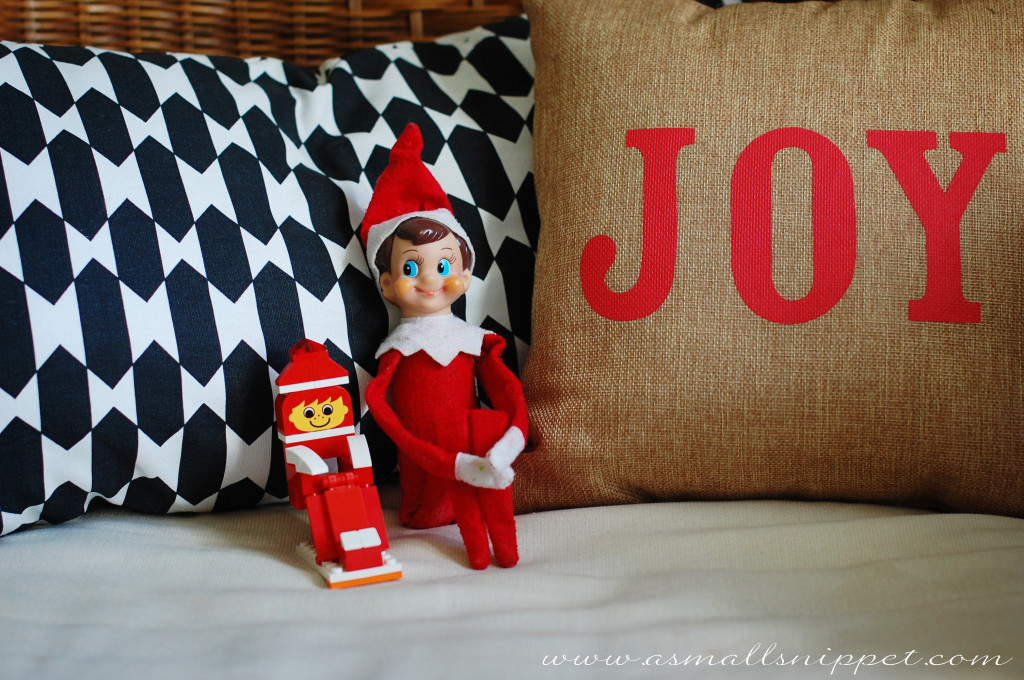 Eli must know of my kids' love of the Brady Bunch.  seems as if he didn't want to be forgotten: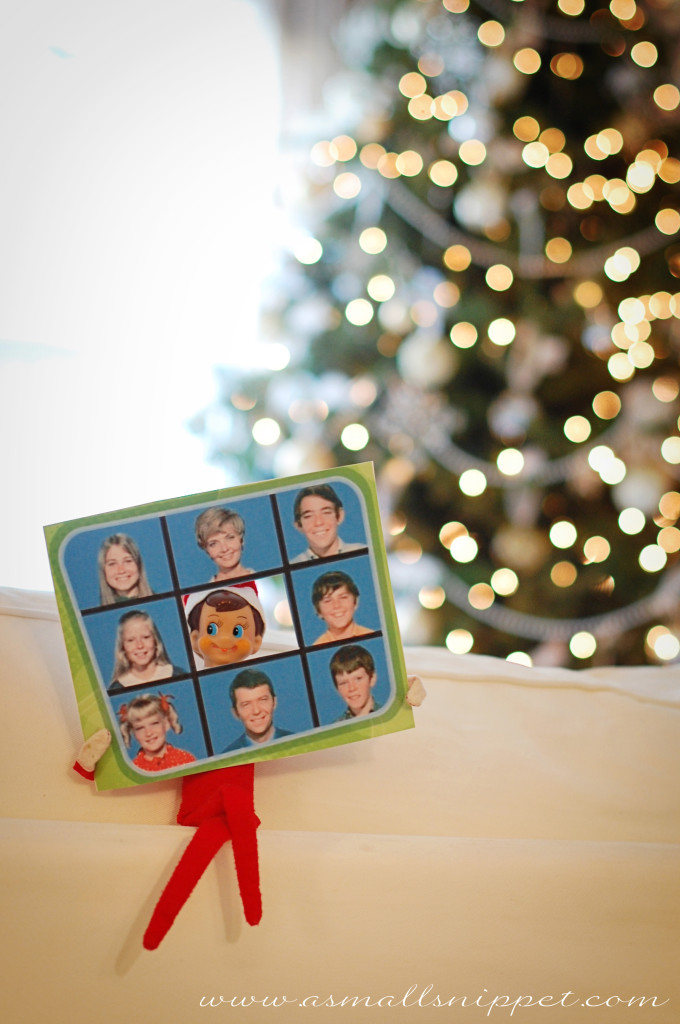 Playing Duck Duck Goose with all of Berkeley's duck friends: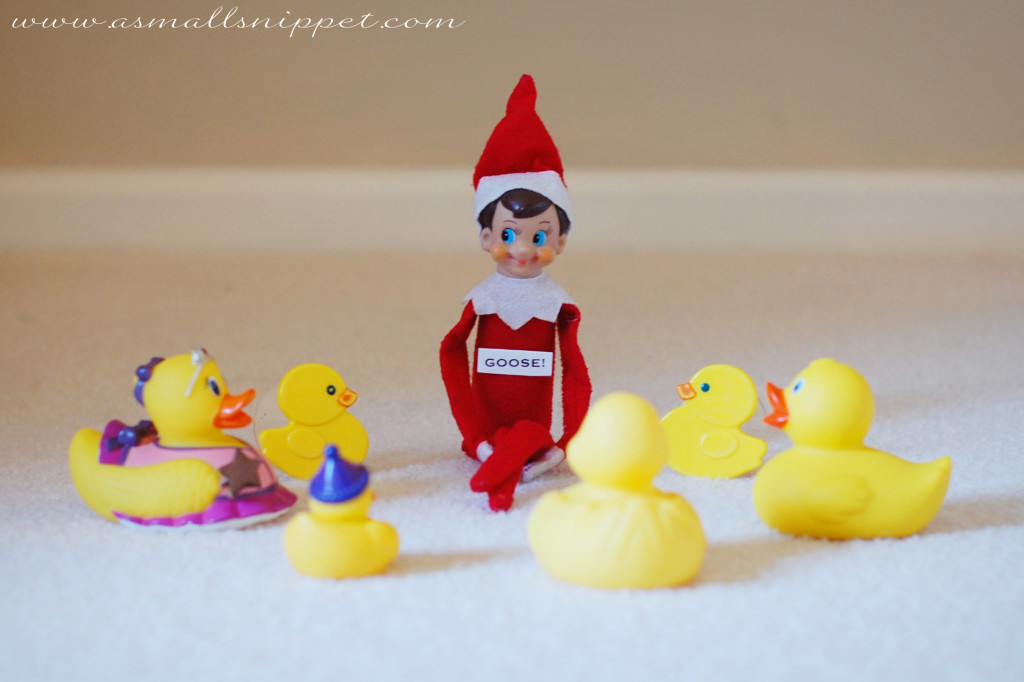 i think this one was in honor of the Crazies' Uncle, who is studying to be a meteorologist.  Eli must've known that Uncle Patrick had just passed his huge PhD exam with flying colors: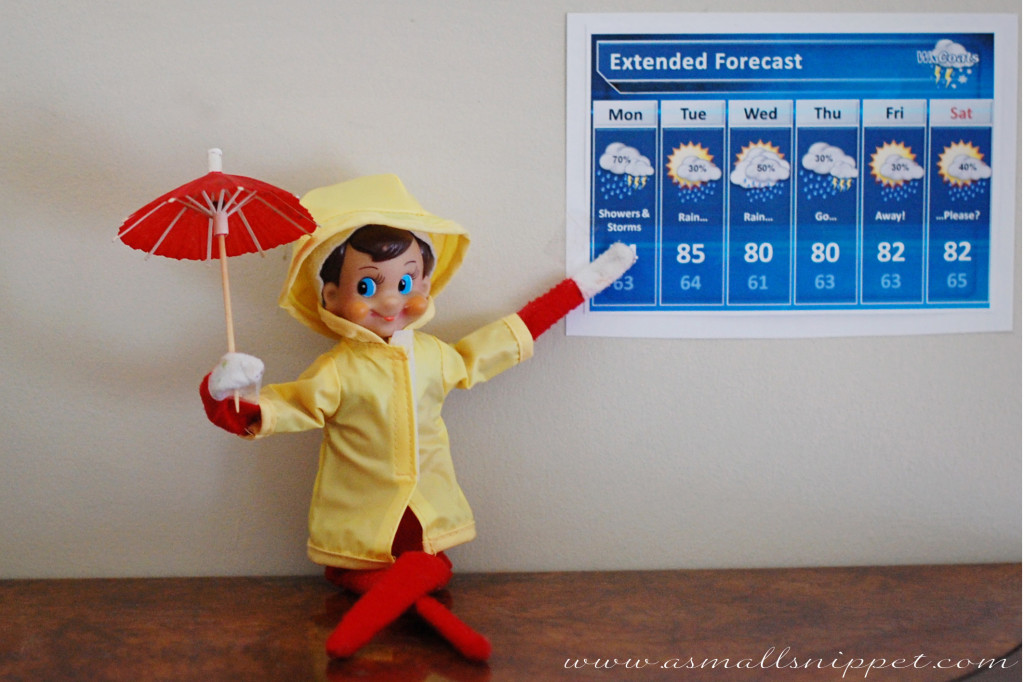 this one might be my favorite OF ALL TIME!  Eli held a garage sale: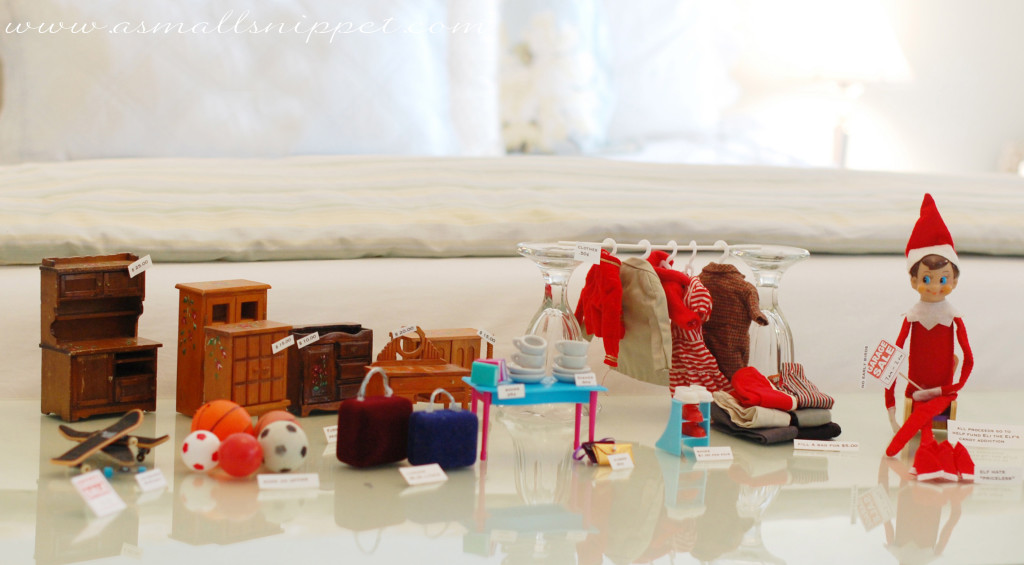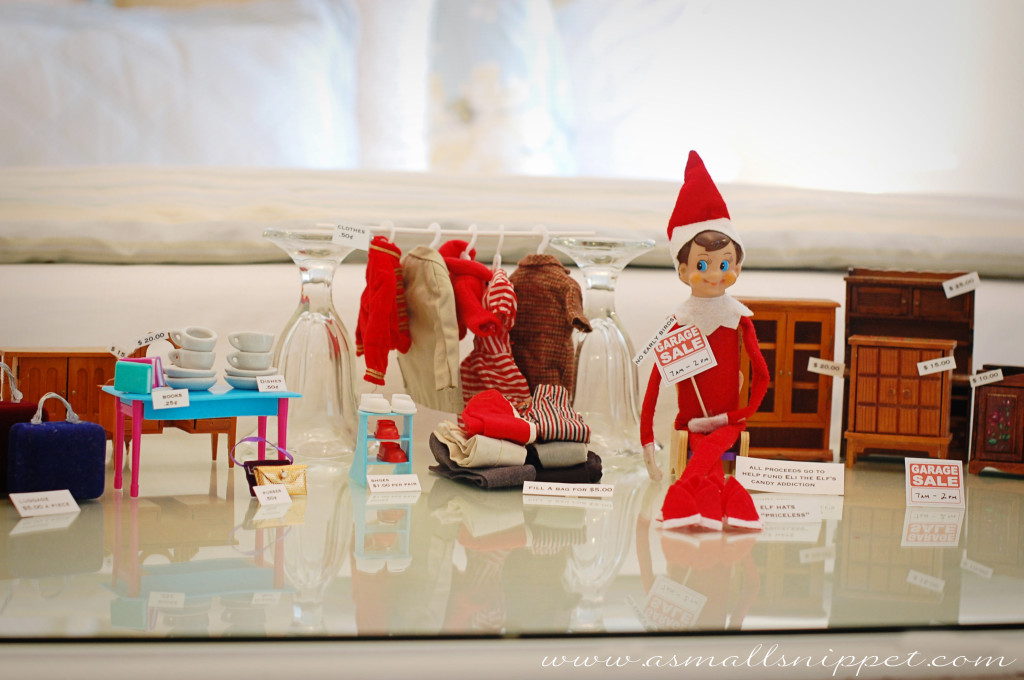 i thought you might enjoy seeing the details.  by the looks of it, it seems as if Eli has been to a number of garage sales in his day!  he sure seems to know what he's doing…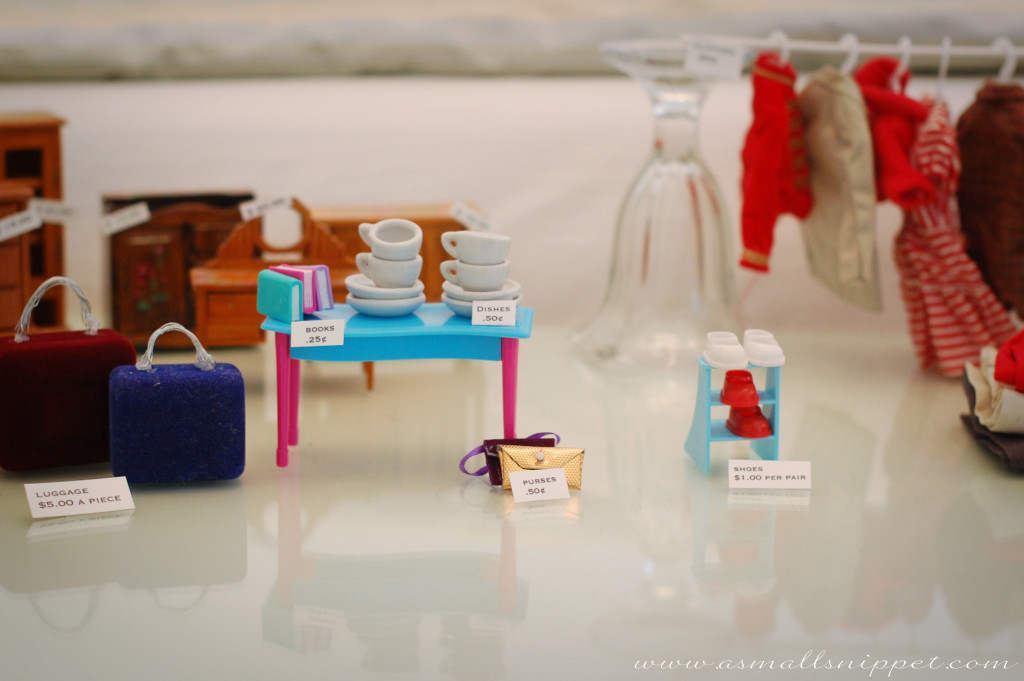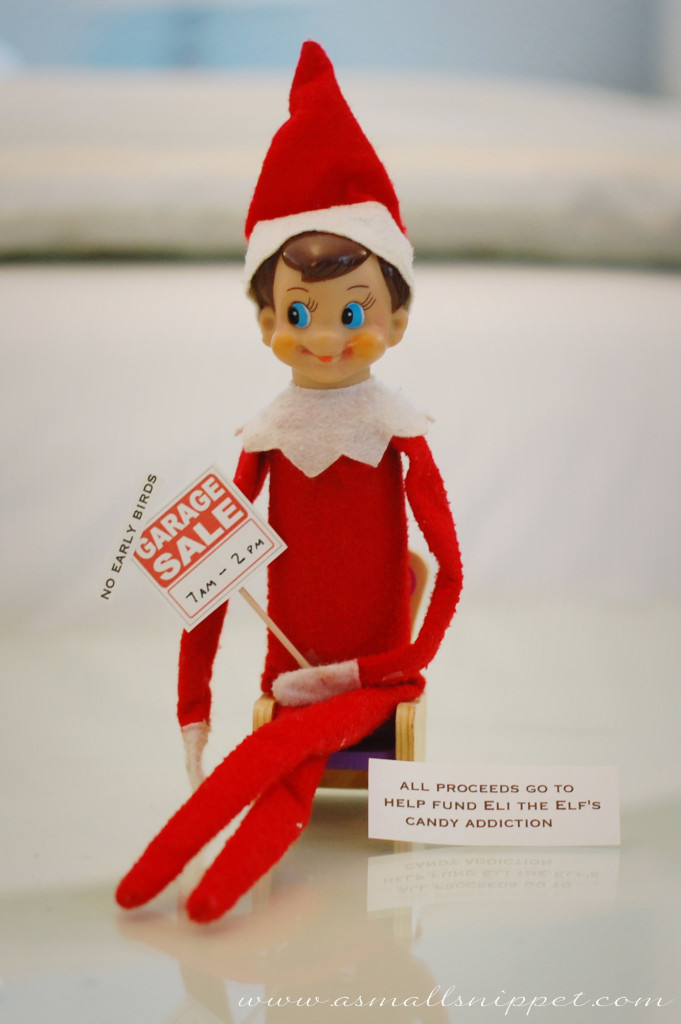 i had to leave town for a night, and i got a text with this picture from Jake the next morning, of Eli on my side of the bed.  thank you, Eli, for validating me, and confirming that there is, in fact, a lot of snoring that happens at night: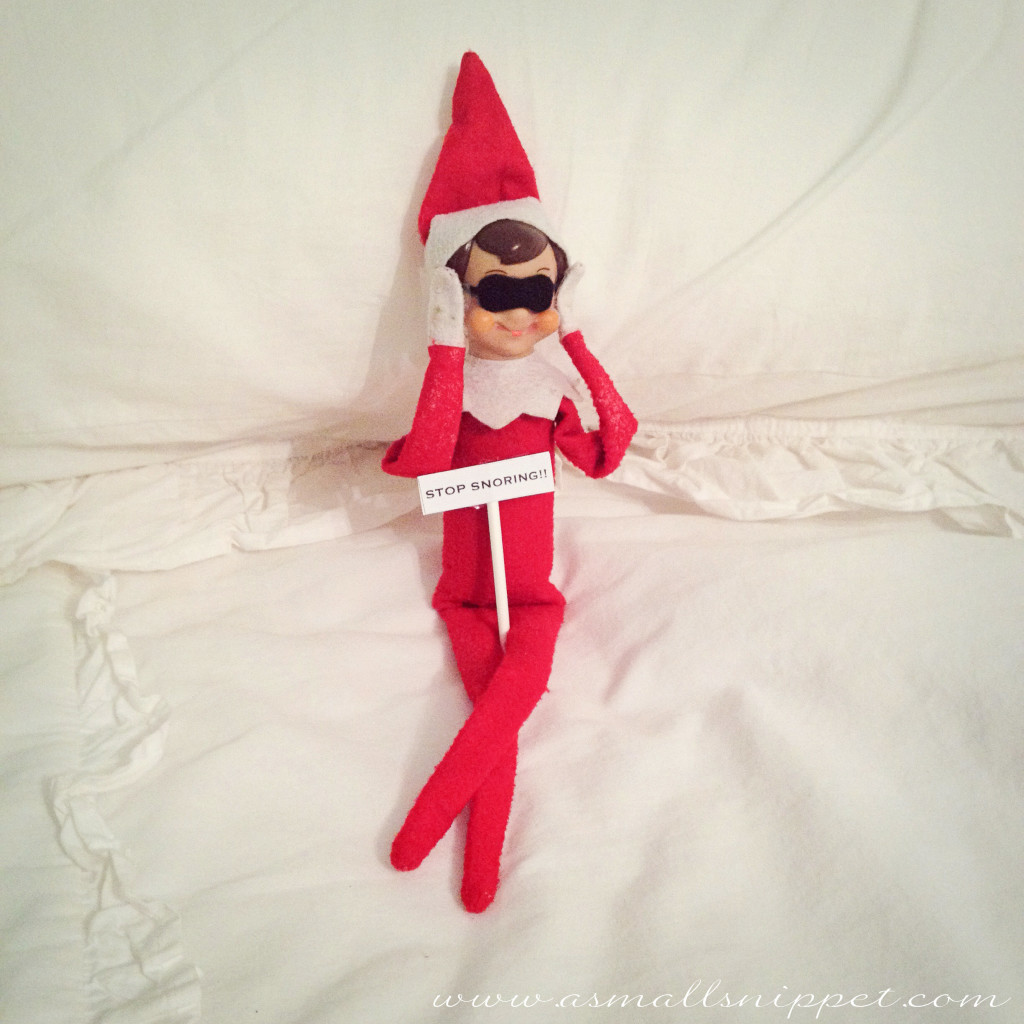 pretty impressed by Eli's camp set-up here: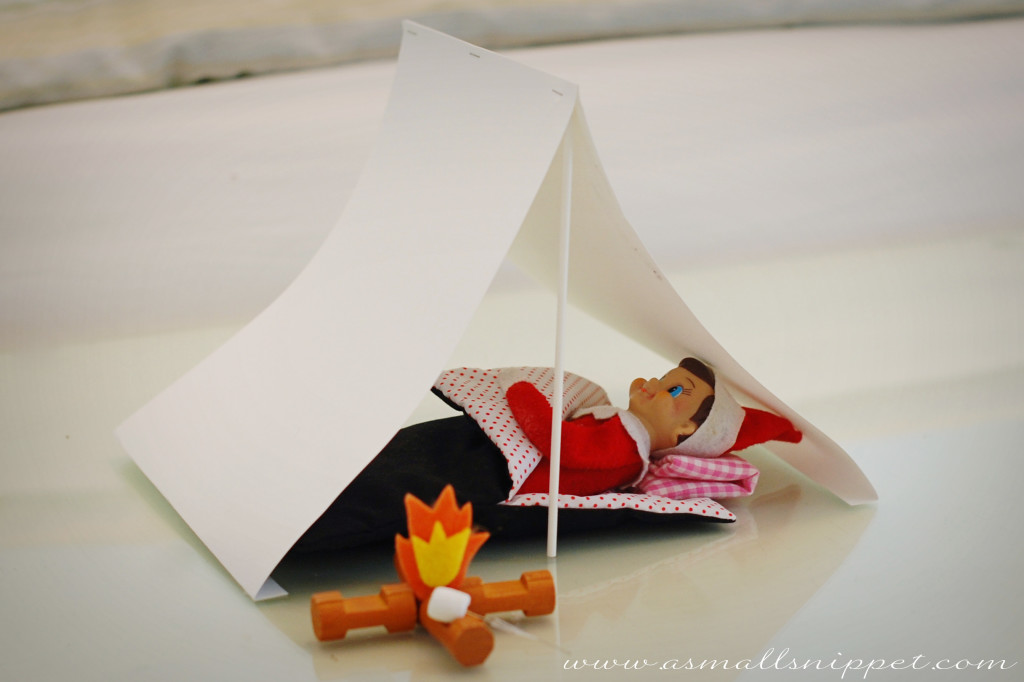 i was not all that thrilled to wake up and find out that Eli had ruined my birthday cake the night before my party: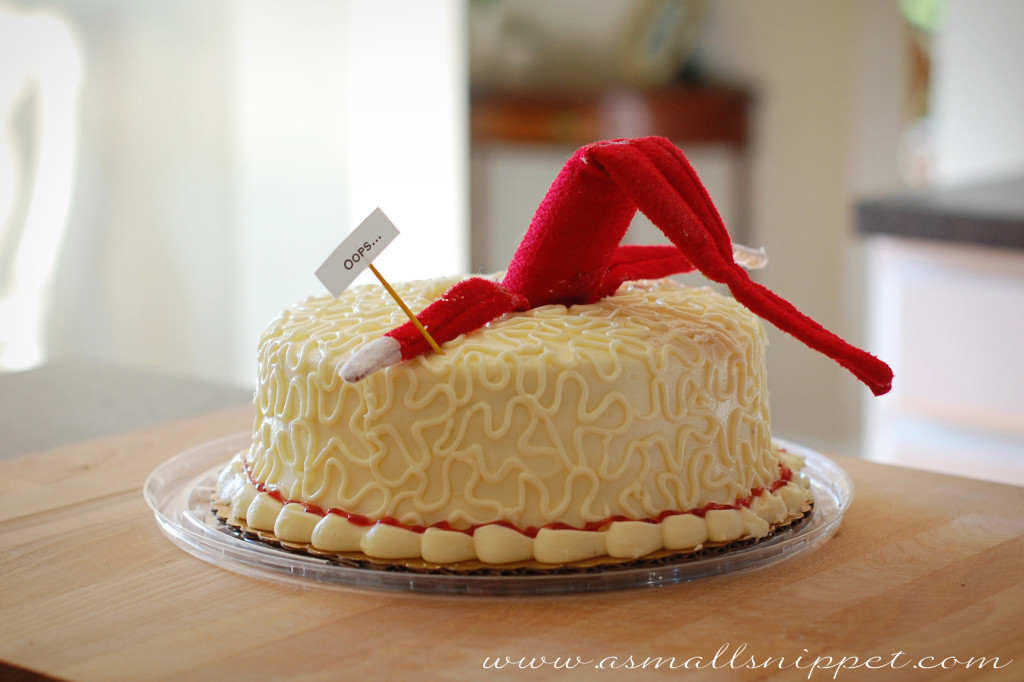 but i think he felt bad about it, because the next day i woke up and found him cleaning my windows: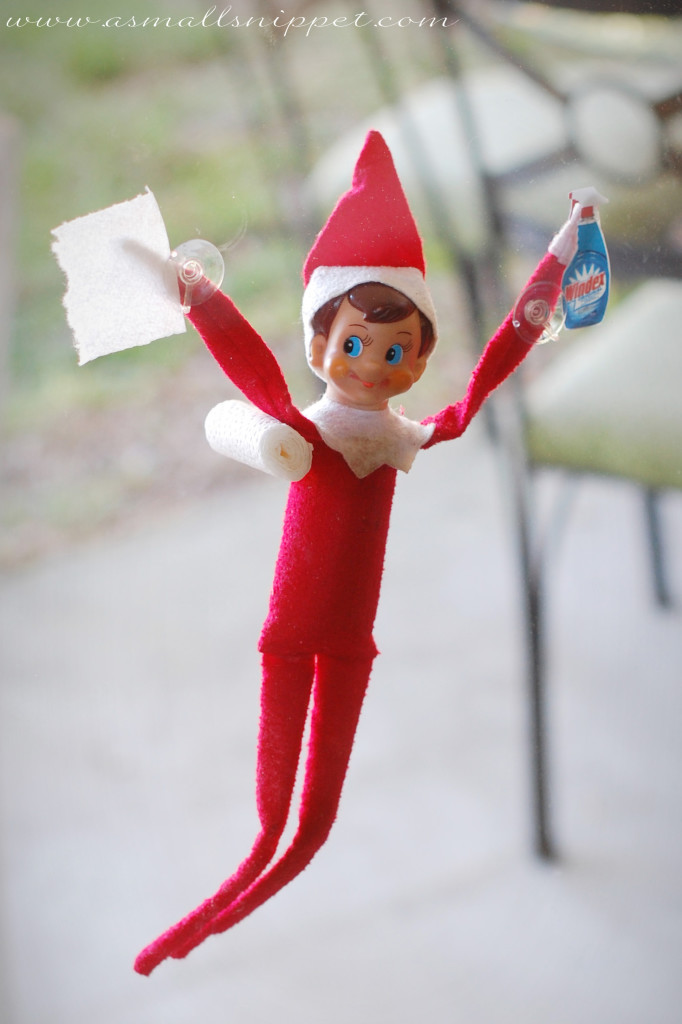 that "Big Shot B-Ball Dude" got worked by Eli the Elf.  Eli's dunking form was impressive.  we have been getting calls from NBA agents all week: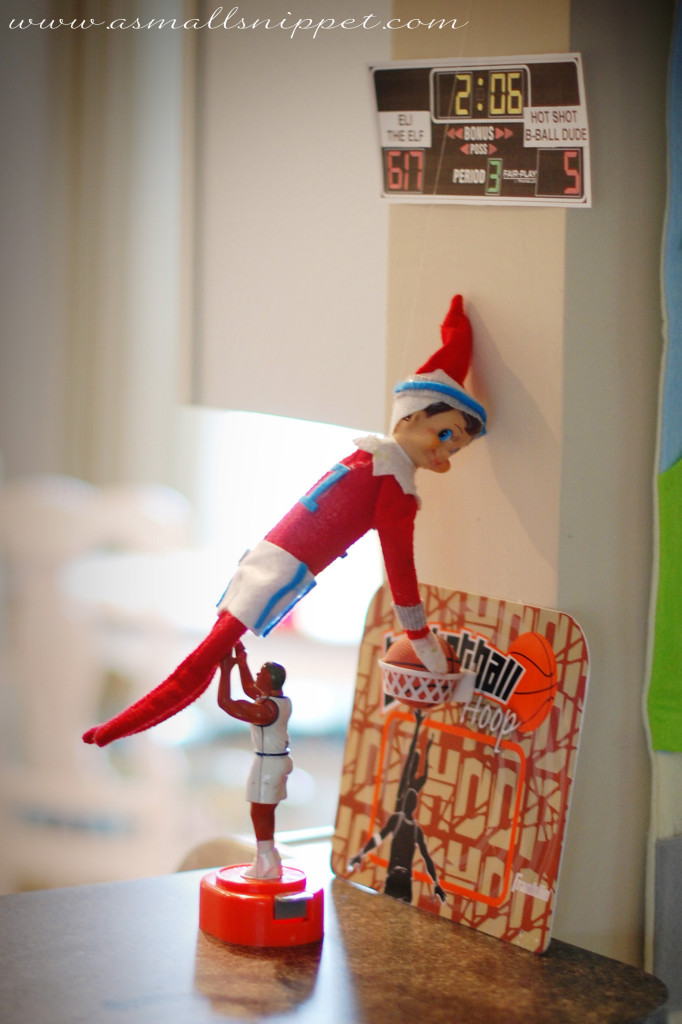 by the looks of it, Eli and his girlfriend, Rapunzel, had a very fun date night at the Photo Booth.  they even had a photo strip to prove it: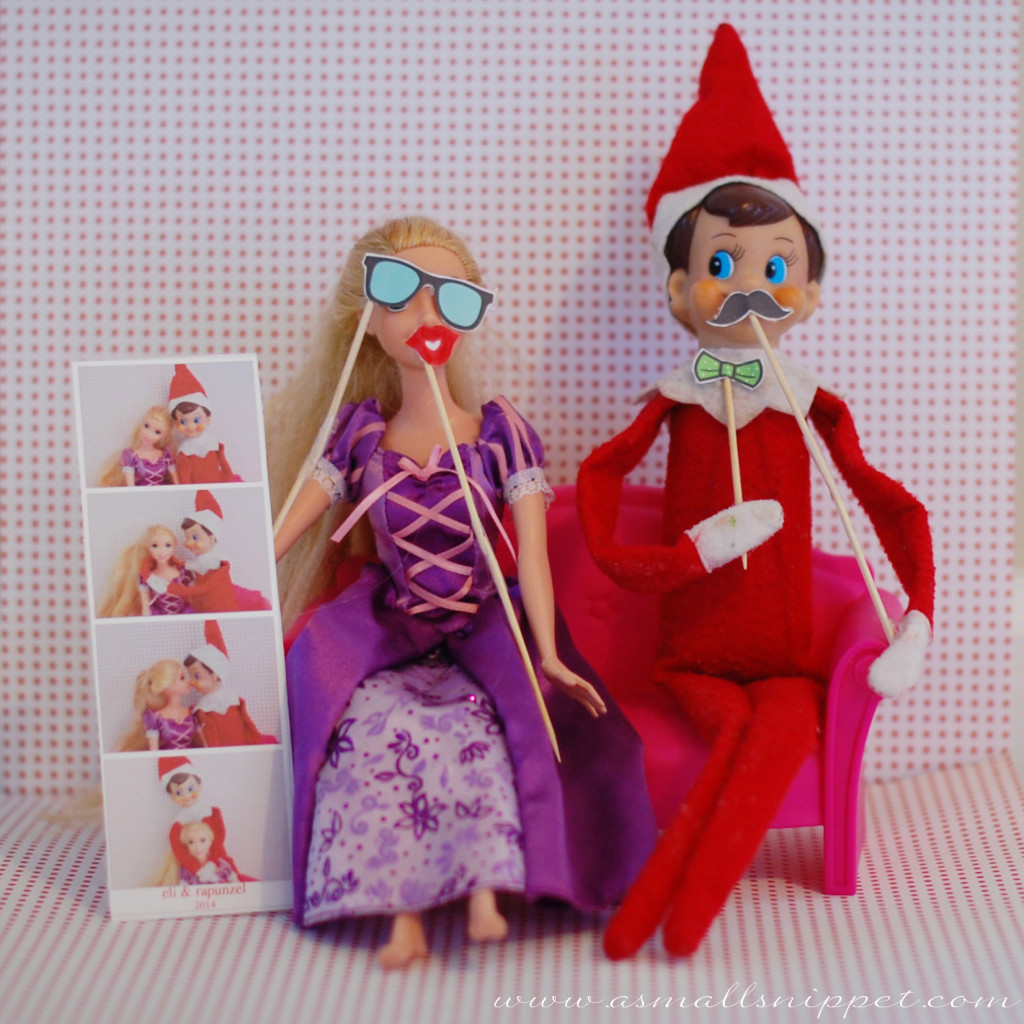 very much wondering what he's gonna come up with for the rest of the month.  no really…i'm really curious.  i can't imagine what else he can do for another 13 days.  

but i hope your crazies are enjoying your elves as much as mine are enjoying our's.  its a good thing, cause i contemplated writing to Santa this year and asking him to keep Eli in the North Pole…but then a few weeks ago, unbeknownst to her that i was thinking about going on an Elf strike, Bella said to me, "you know what, Mom?  Christmas wouldn't be that merry if Eli doesn't come."  and…Berkeley wakes up every morning calling out, "Eeeeeewwwwwiiiii!"  i wish i were kidding.  looks like he's gonna have a standing flight to FL in December for many many years to come.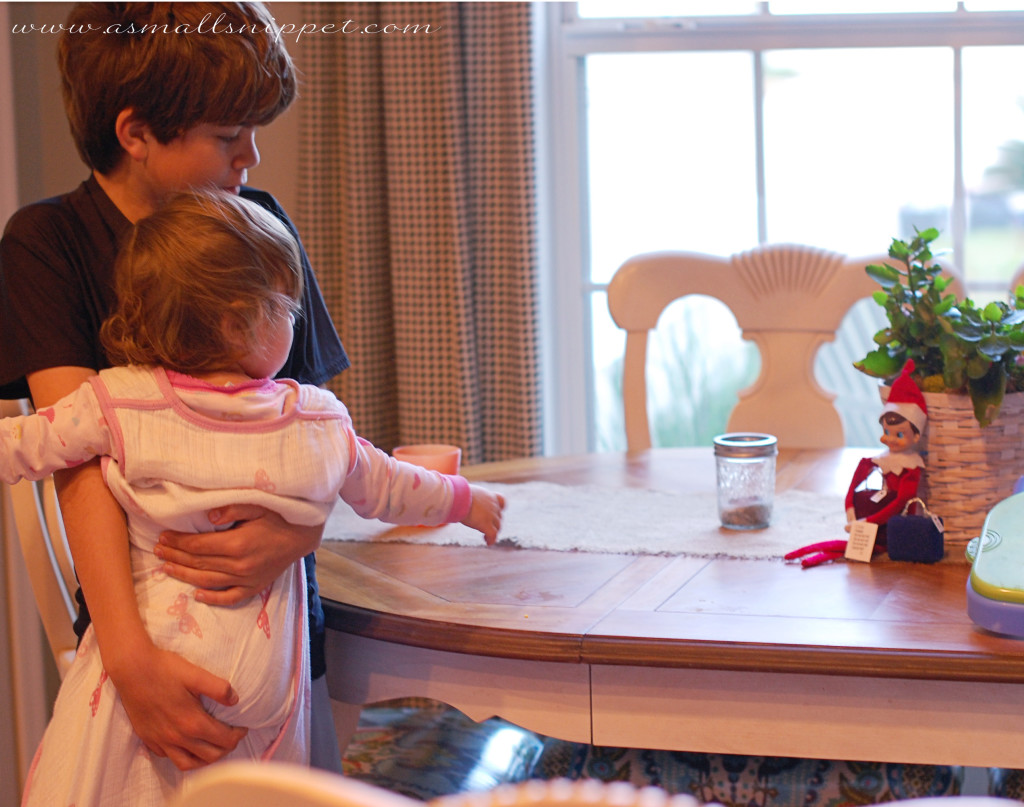 also…i've decided that i'm no longer going to make excuses when it comes to this blog.  i'm gonna come here when i can come here, and not feel one bit bad about it when i can't.  i feel like my life is busier than ever.  the older kiddos have me running all over town, and the little one has me running all over my house.  so basically…i'm just running all day long!  i LOVE coming here and writing…but sometimes the things you love to do have to wait a bit when you are in the thick of being a mommy.  but i like knowing that y'all are here when i find time to drop in.  so thank you.  one day, i have a feeling i'll be back more consistently.  for now, i'll come when i can.  so i'll see you when i see you!  in the meantime, i kinda mini-blog on my Instagram, so you can follow along there for updates in-between.  my user name is leanak.
the Nutcracker is tomorrow, and if you've been around awhile, then you'll know what a BIG deal that is in our house.  i'm hoping i'll find a chance to breathe after this weekend.  so here's hoping i see you again very soon!