we finally got to host Berkeley's Pink and Gold First Birthday Party this past weekend…only a month late, but who's counting?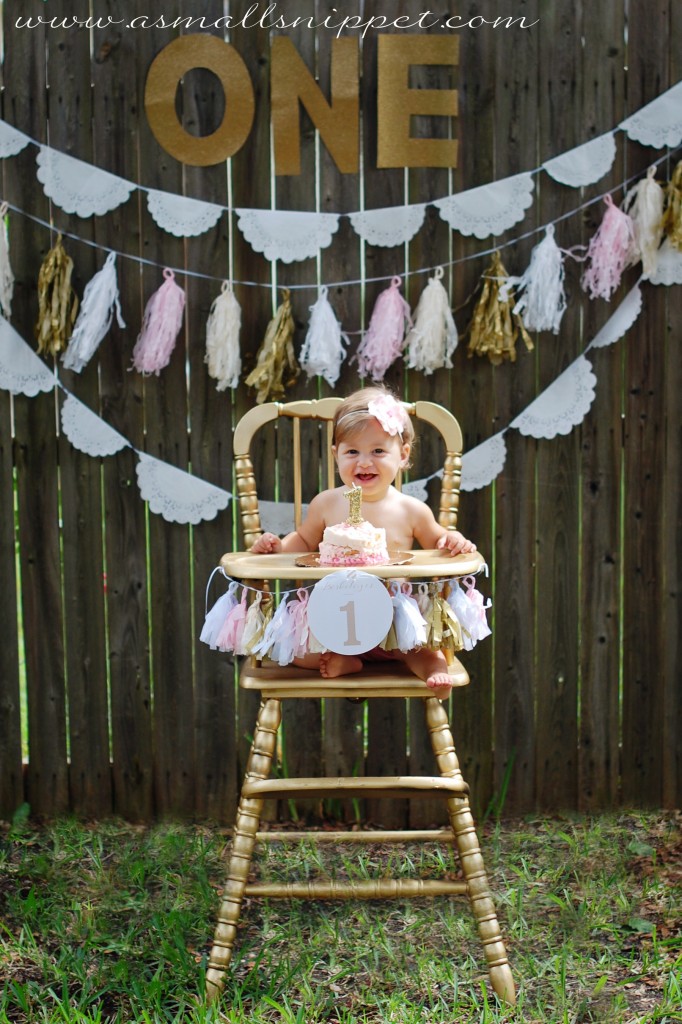 let me just tell you…this party…was the never-ending party!!  we originally planned a big blowout on the beach in the beginning of August, but right as we had just unloaded the cars and brought everything down onto the beach to set up…this happened: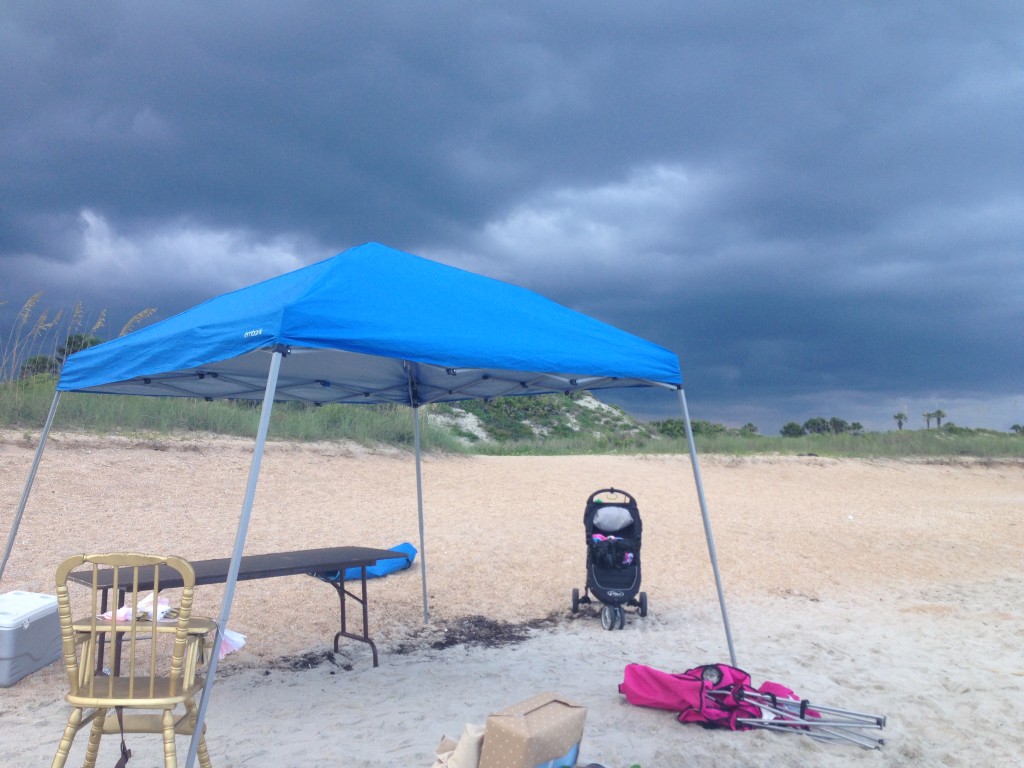 serves me right for planning a beach party in Florida in August.  i should of known better.  so my dreams of a beautiful beach bash were shattered.  and because right after that, our lives got REALLY CRAZY, we weren't able to reschedule until this past weekend.  so what you're going to see in this post are pictures of the four different times i set up for this party….
1) the first time on the beach (not many from there, because it was a mad dash back to the cars to ensure no one got struck by lightening)
2) the second time (on her actual birthday, when our family came over to celebrate since we had to cancel the weekend before, and we didn't want her bday to go by uncelebrated),
3) the third time (the rescheduled party at our neighborhood pool, because i had too many cupcakes in my freezer and there was no way i was gonna let all that work go to waste, although i definitely contemplated just bagging the whole thing and waiting till she turned two)…
but since it rained right before that party started too, and i had just enough time to throw things on the table, i didn't get to use all of my decor or take pictures, hence
4) the fourth time (in my backyard for a quick little photo shoot so i could at least capture some more details…and also the reason that the cake looks half eaten…because it was by that point!)
so there you have it….why it looks like i hosted 4 separate parties!

okay…now for the details: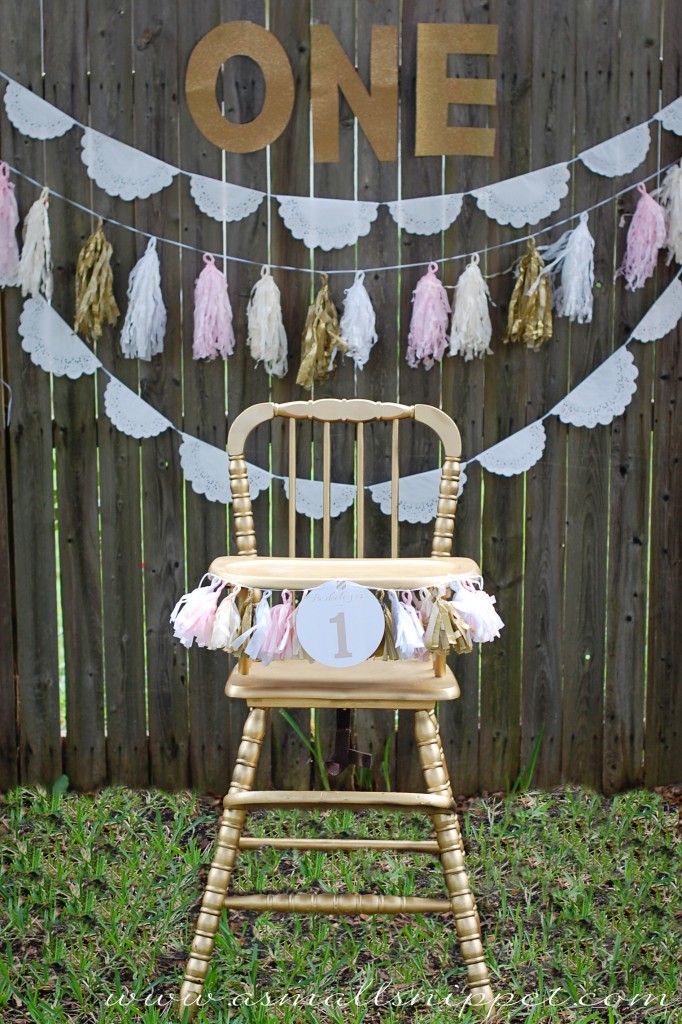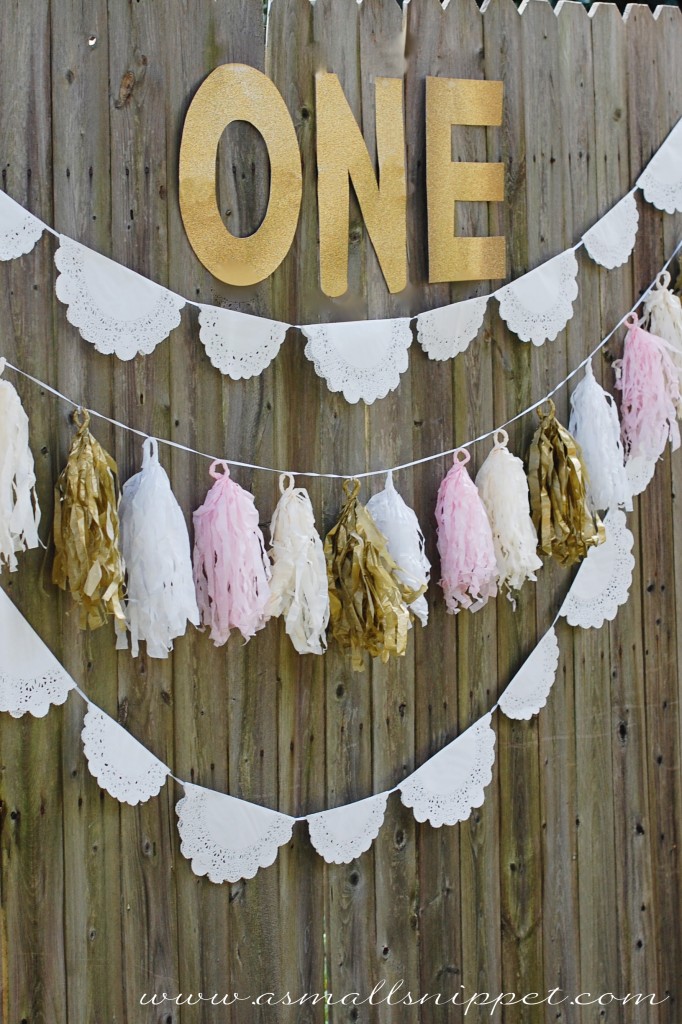 most of the decorations were pretty inexpensive, but they did take some time.  i made the tassels out of tissue paper, and i honestly found them to be somewhat irritating to make…the tissue wasn't easy to work with.  but once i got the hang of it, it went a lot faster.  the bunting was made with 2 different sized doilies that i just folded in half over ribbon and glued.  i love how elegant and feminine they look.  i have a feeling i'll be able to get a lot of use out of that bunting.

 the high chair was my older kiddos' old wooden high chair.  years ago i had painted it black (back when i painted every piece of furniture black…funny how my styles have changed), but had been wanting to update it anyway before bringing it in the house, so i spray painted it gold, which fit perfectly with the party colors anyway.  i used the same spray paint and sealer that i used on Berkeley's crib.  although, gotta be honest…i haven't let her really eat off the tray yet because i'm not sure the best way to seal it to make it food safe.  if any of y'all have suggestions, i'd love to hear them.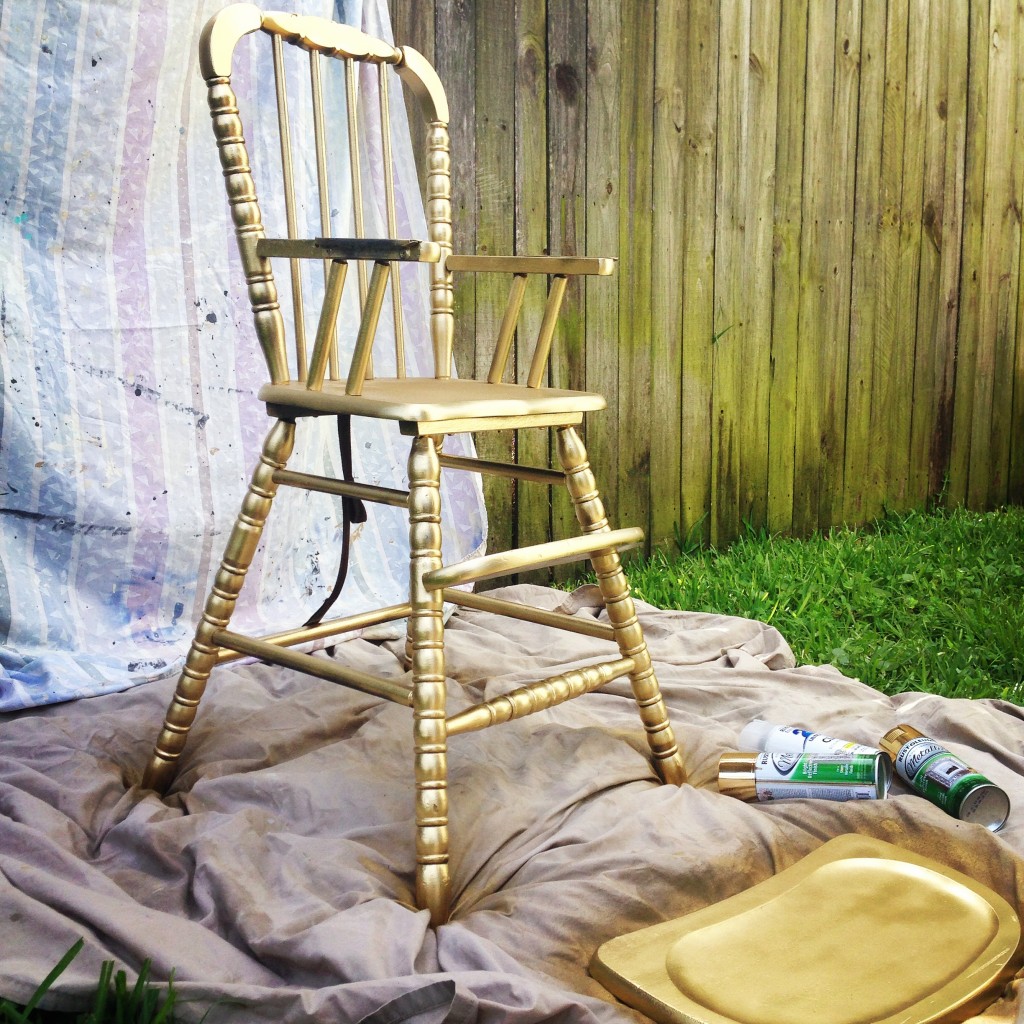 i made smaller tassels to decorate the high chair…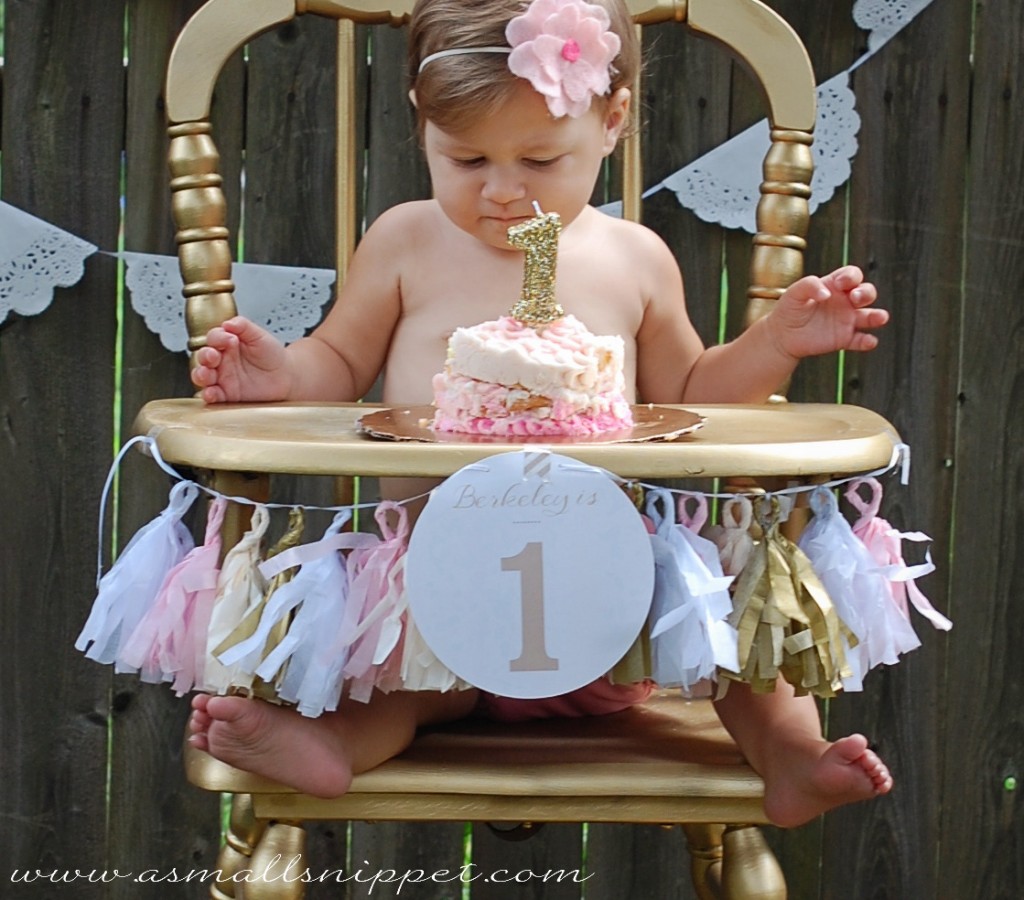 and created the "Berkeley is 1" circle on a site called peartreegreetings.com.  i also made these banners using those same die cuts, and then built the party colors and decor around them. their website is awesome, and the thing i loved the most was how much i could personalize their products.  i had a blast figuring out the perfect color combinations, photos, and texts to use to make Berkeley's party one of a kind.  if you are planning on throwing a party, they have a large assortment of pretty awesome Kids Party Decorations and Kids Birthday Invitations.  i'm also kinda pumped about their Christmas Card collection too!
i used the larger die cuts to make banners…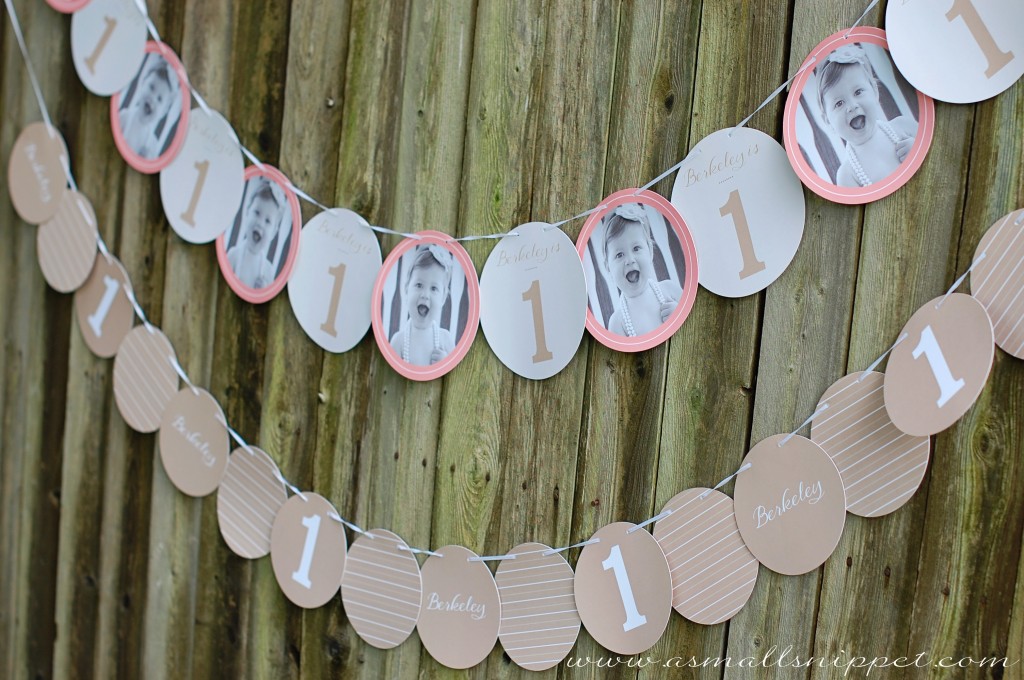 and the smaller die cuts as toppers to dress up the simple vanilla cupcakes with gold sprinkles: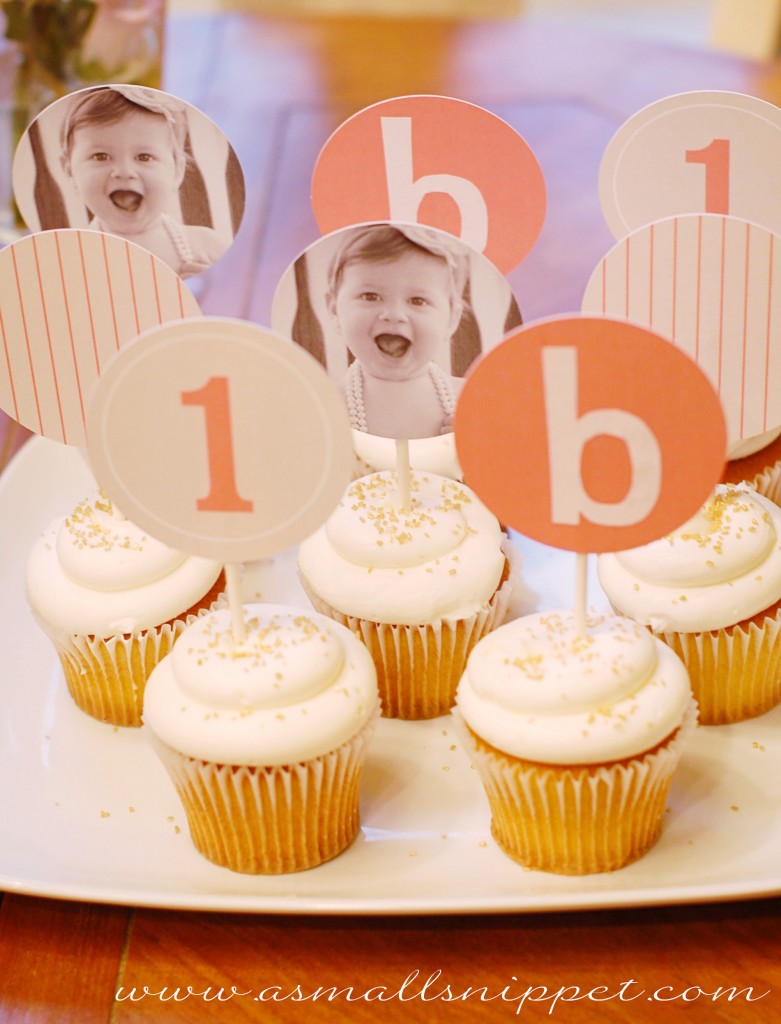 i used the Numbers and Pinstripes Theme, and you can see how unique and creative you can get by starting with their templates.  i love things like that…they do the hard, initial legwork, but i get to make it my own!
i also ordered some personalized napkins, even though they technically fall under the wedding decor category, because i kinda fell in love with how the design turned out.  and since i didn't need plates because all we were serving was cupcakes, i thought it would be fun to have a unique napkin instead!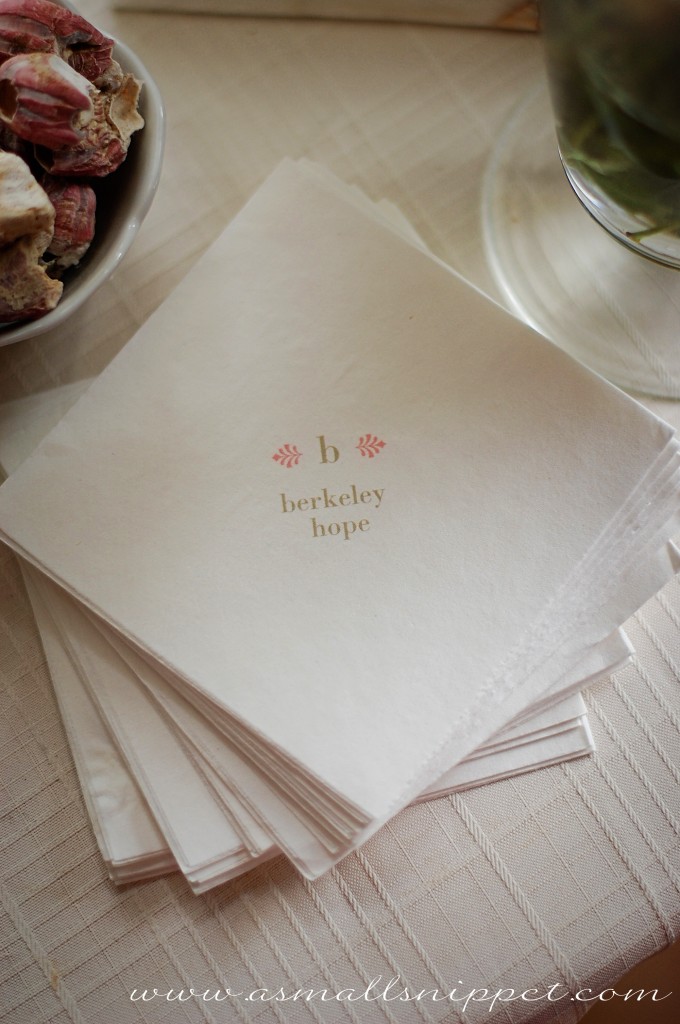 i had already created her invitation on Paperless Post so that i could email it out, otherwise i would've looked at using one off Pear Tree Greetings, because they have some really adorable ones.  but i did have Paperless Post send me one printed copy so that i could have it as a memory for her.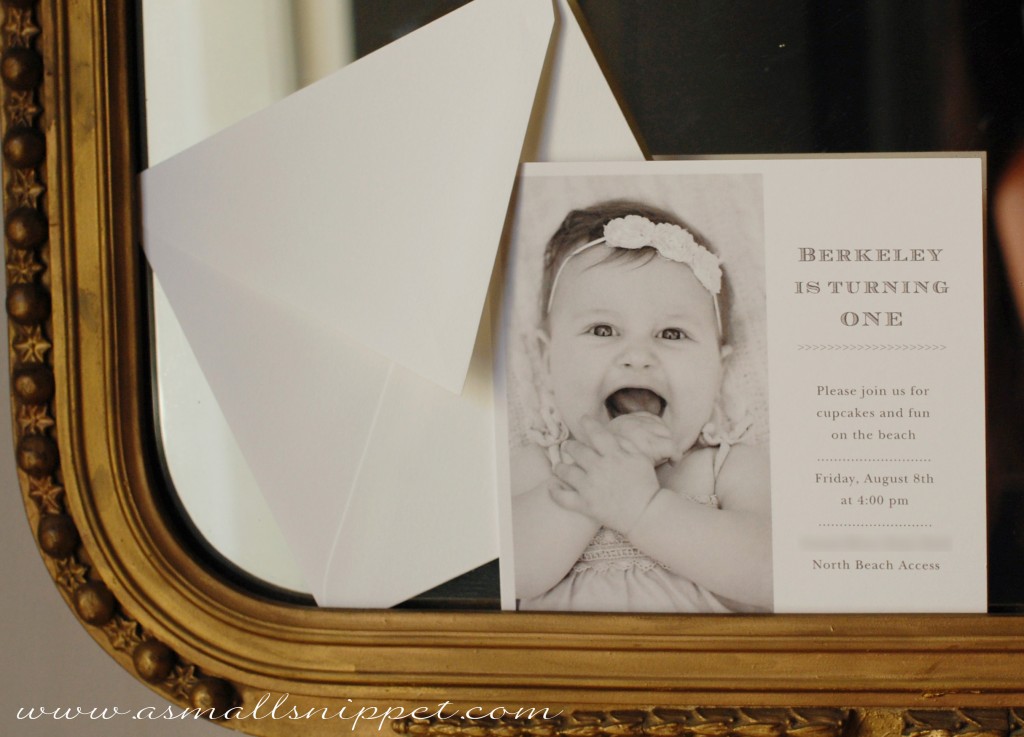 this was one of my favorite projects for her party.  i've really been enjoying chalkboard art lately, so i knew that i wanted to incorporate this into her party.  i made that gold framed chalkboard years ago, and knew that it would work perfectly to make some chalkboard art all about the Birthday Girl.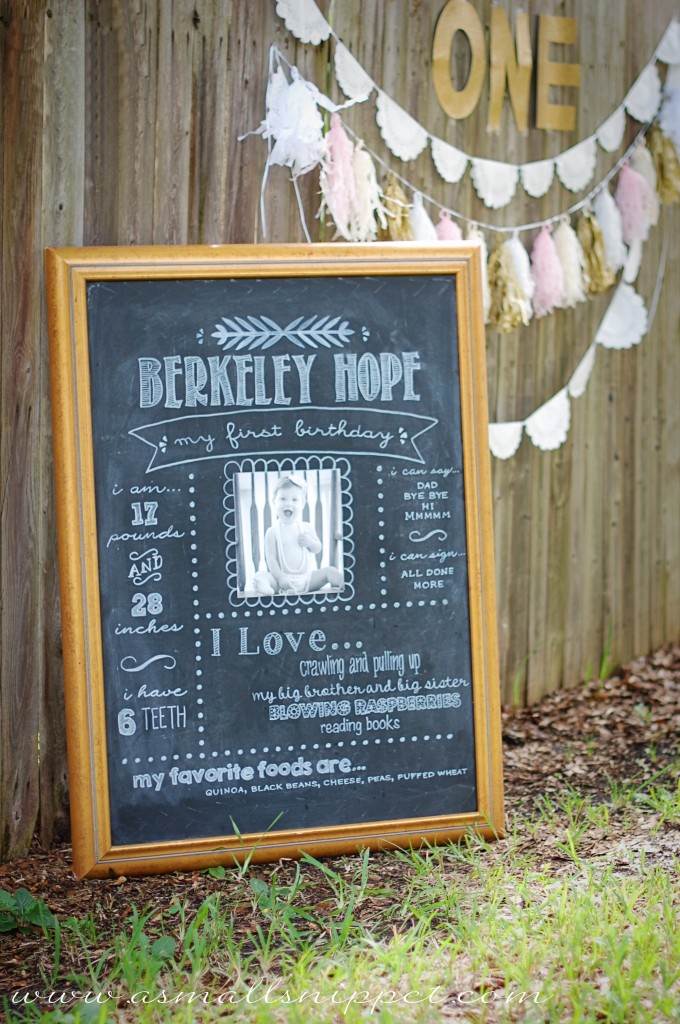 i'll come back and show you a tutorial for the chalkboard art, because its actually really easy!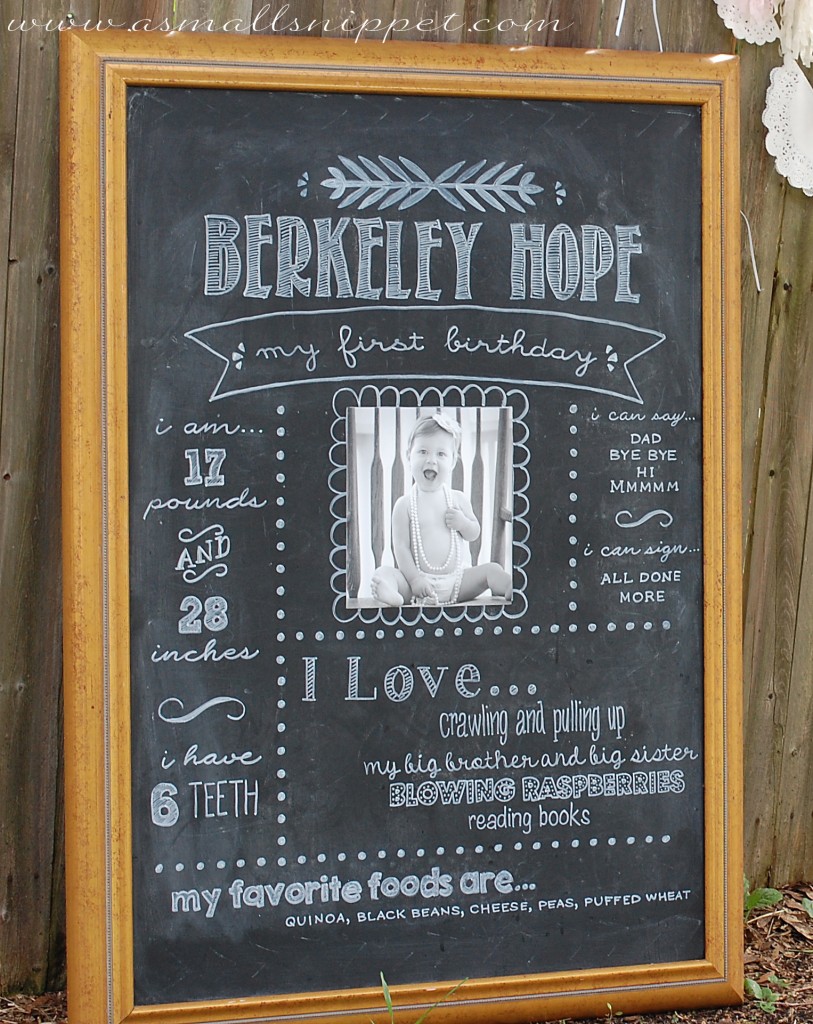 i found some gold striped washi tape in the Dollar Stop at Target (best decision Target ever made…i pretty much want to buy everything in there.)  i had to find something to use it for, so i taped some of my favorite photos of Berk onto our bulletin board.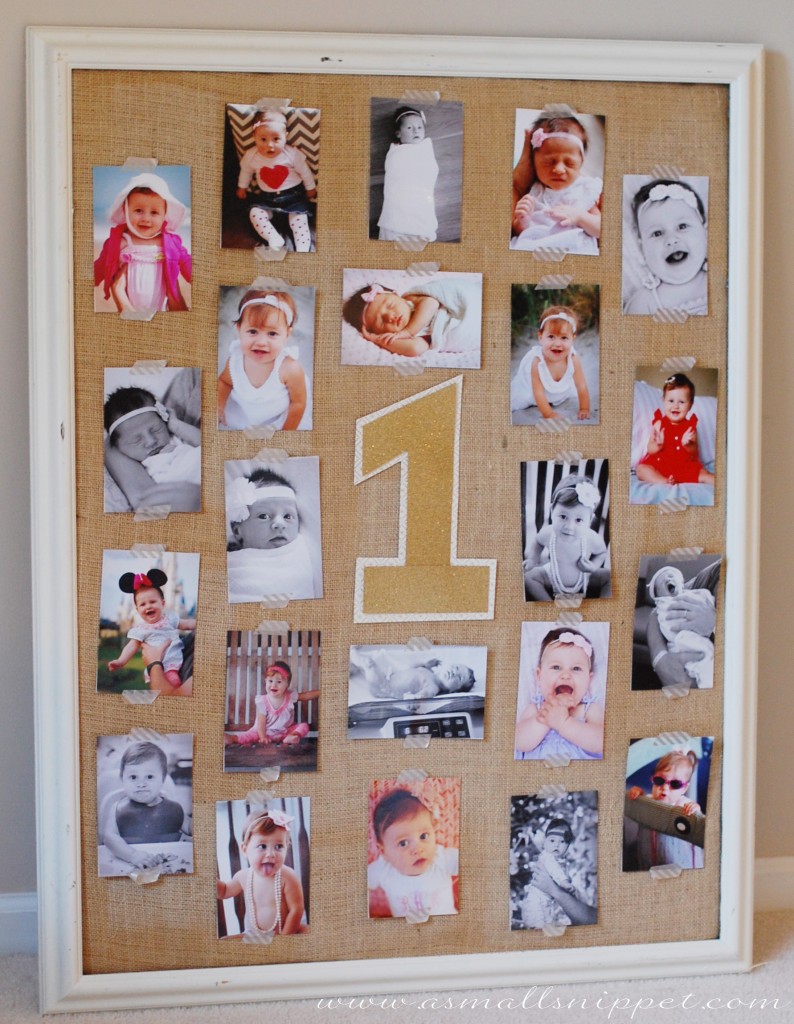 the cake was another fun project because it gave me the chance to learn how to use buttercream frosting to do the petal technique.  super super super easy, and something that i'll totally try again!!!  i used this tutorial from Wilton.  
i looked everywhere for a gold "1" candle, but couldn't find anything, so i bought a regular "1" (the kind they sell at the grocery store) and made my own with lots of glue…and lots of gold glitter.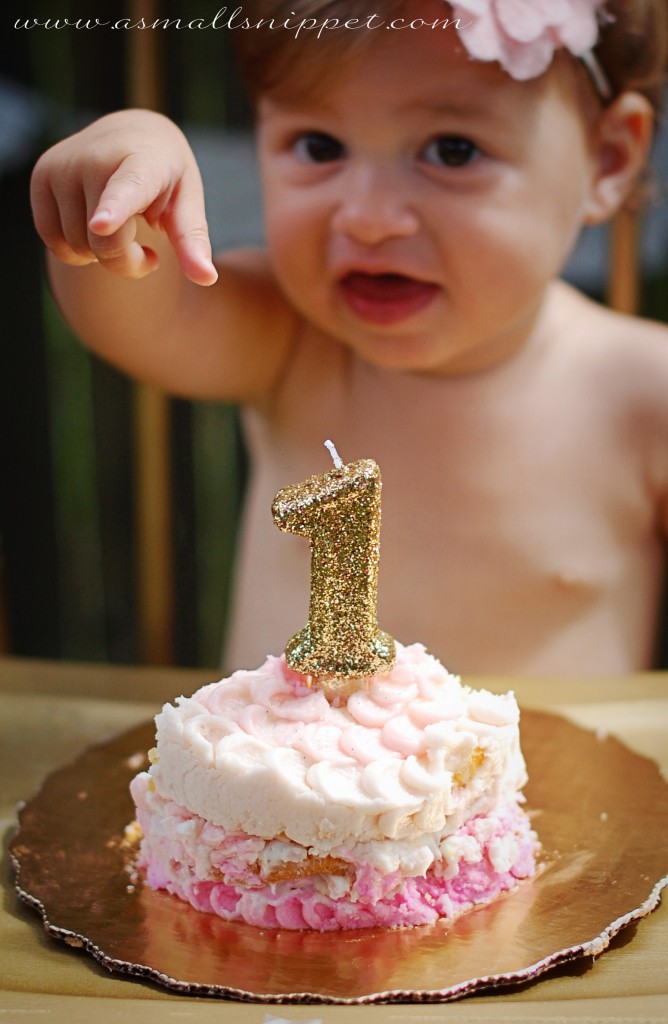 i think the Birthday Girl enjoyed all her celebrations!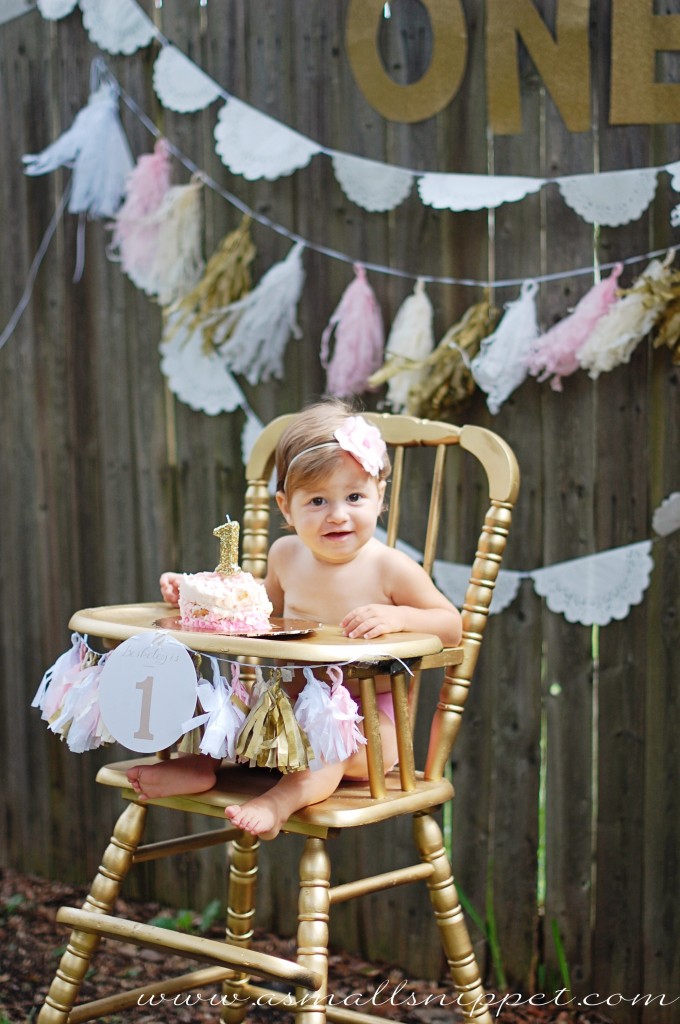 and i'll leave you with some more pictures, just for fun: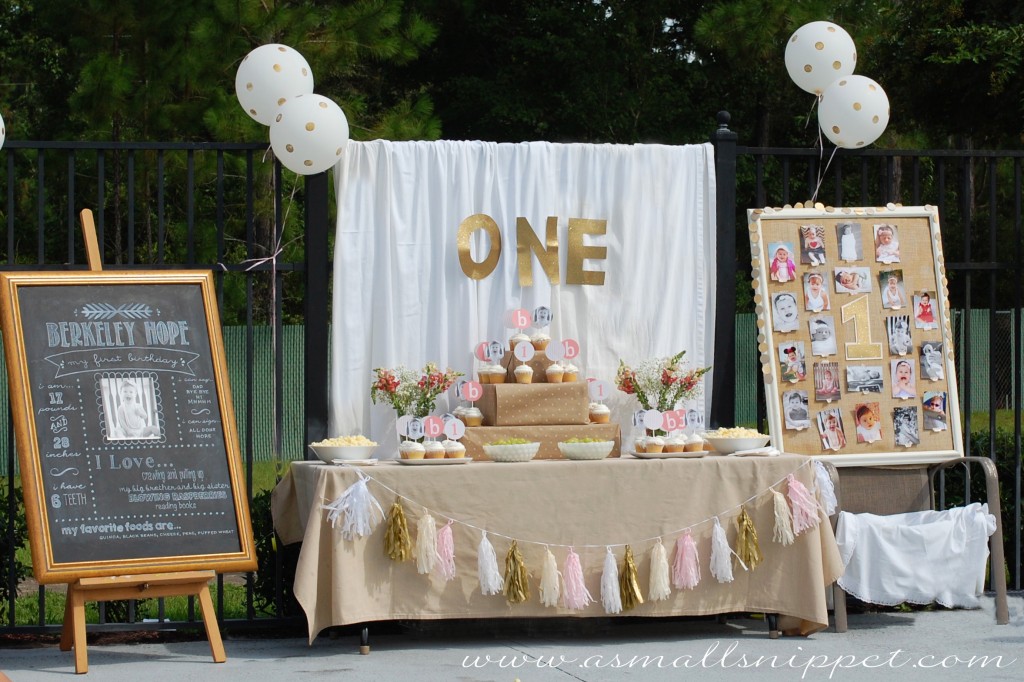 it rained either during or right before every party attempt…doesn't that mean good luck?  just kidding.  i think it just means that its summer in Florida…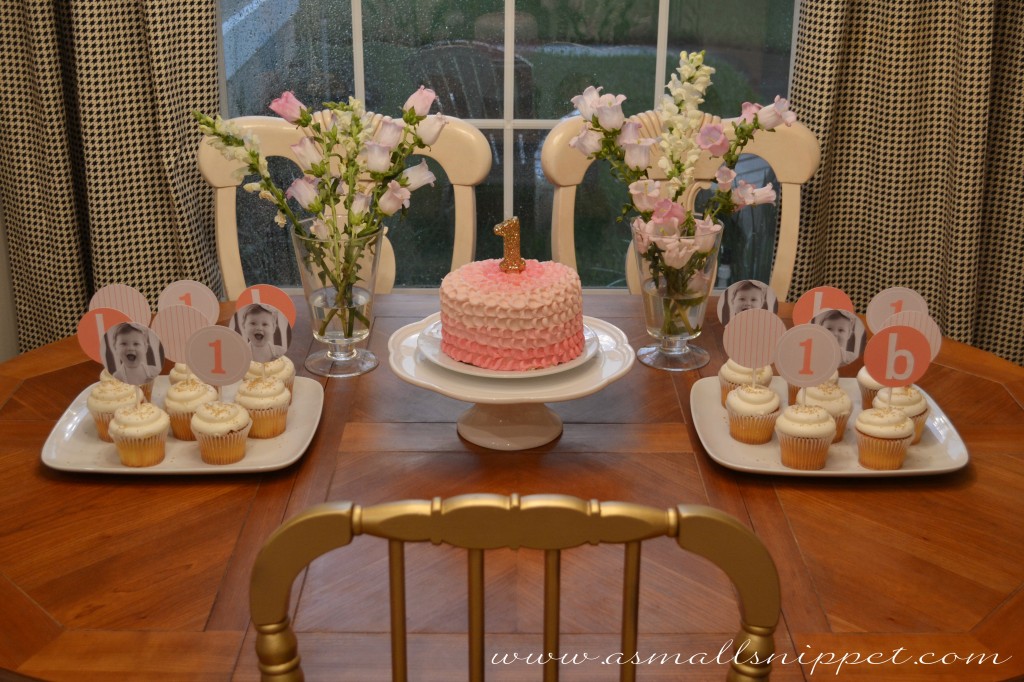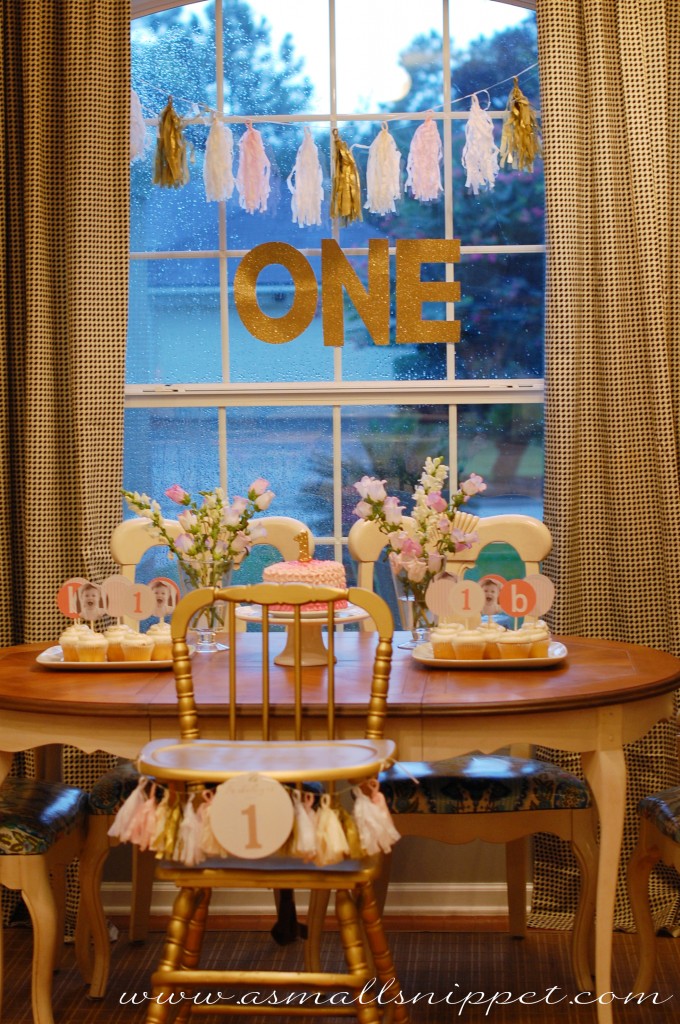 Berkeley actually wasn't that fond of her cake, much to her older siblings' dismay!  but momma ain't complaining about that!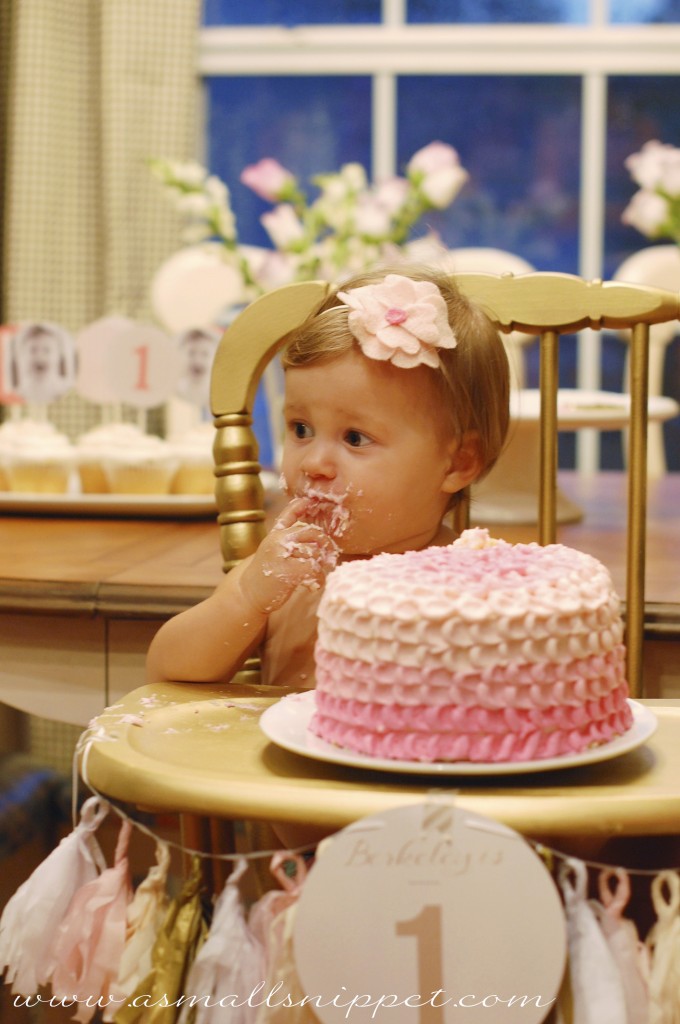 there you have it.  very glad that the never-ending party is now over!  but for sure enjoying our big One Year Old.  i forgot how much fun this age is!!