we threw Bella a Cooking Party for her 8th birthday last month, and i wanted to share the details with you, because it was a super simple party, that didn't take too much prep, and the girls had a total blast!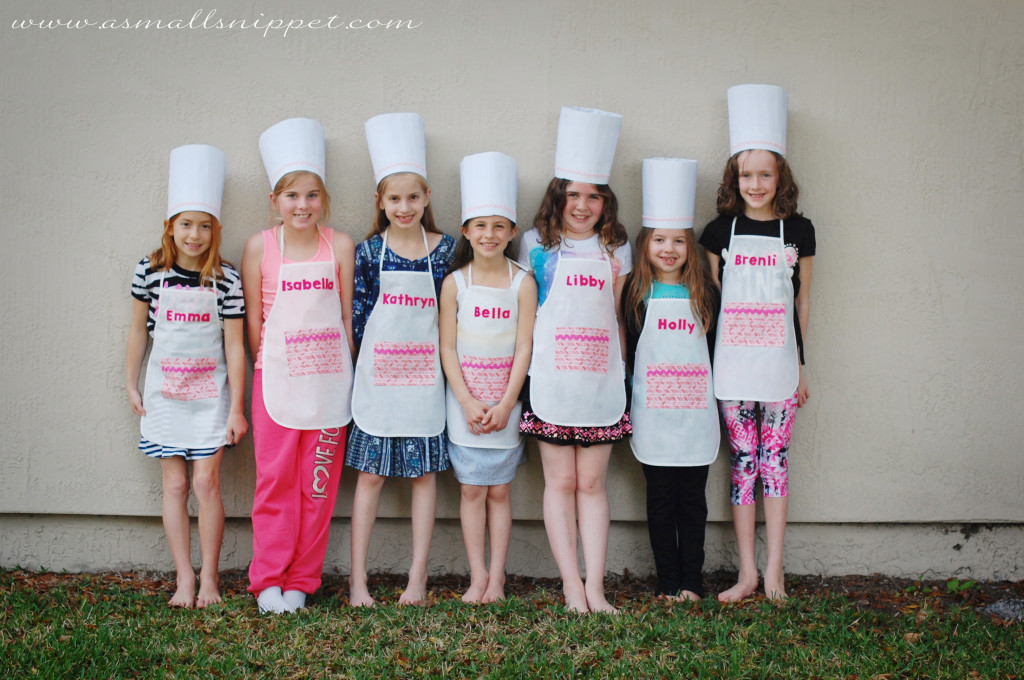 we started out with a homemade apron invitation, using card stock and ribbon: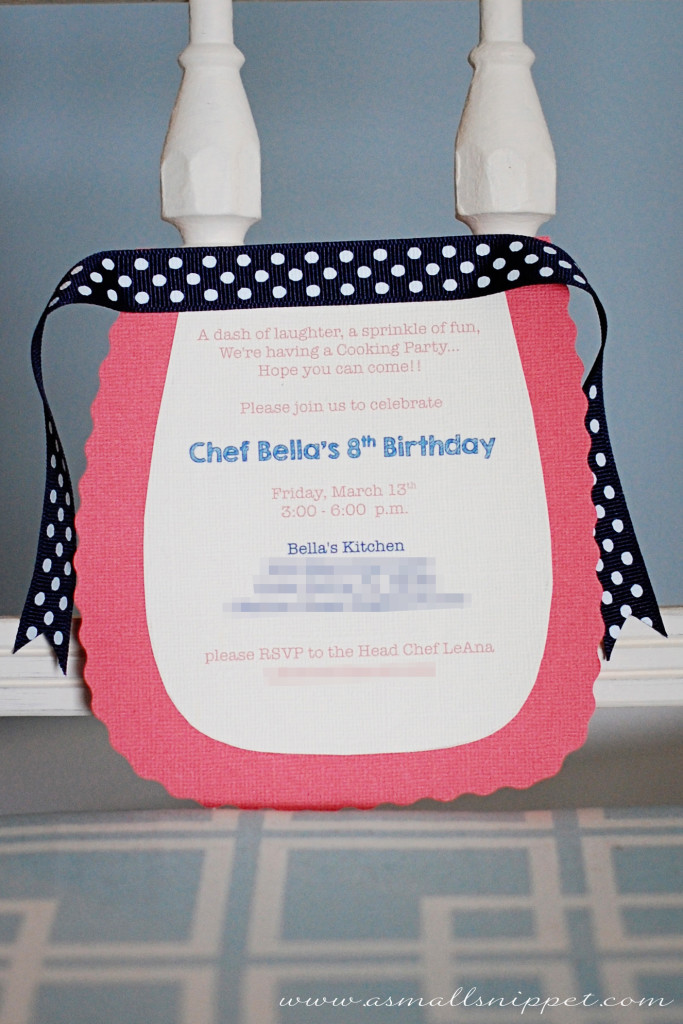 i kept the decor really simple: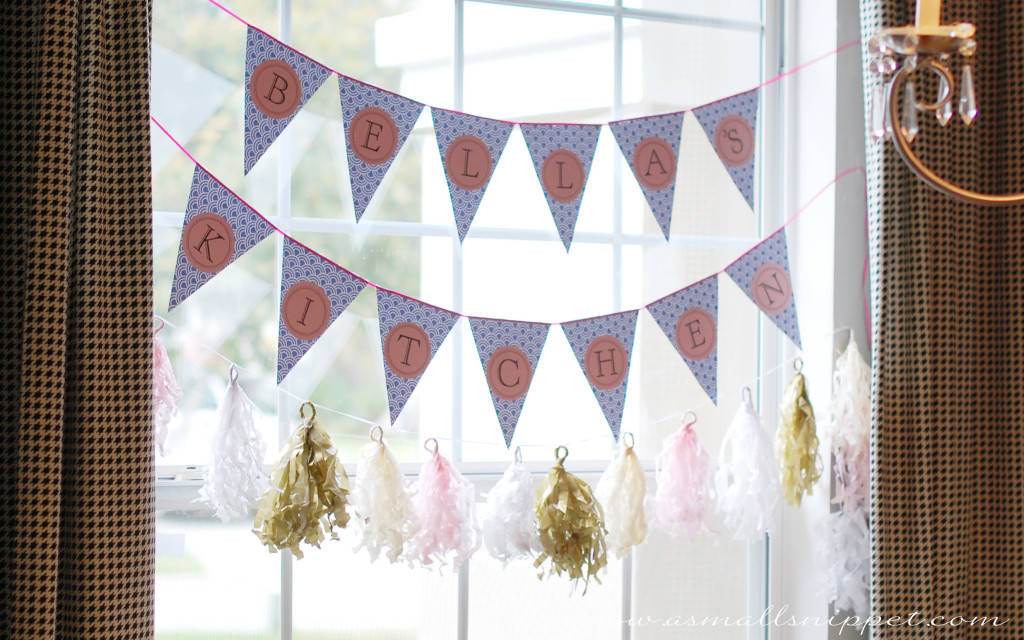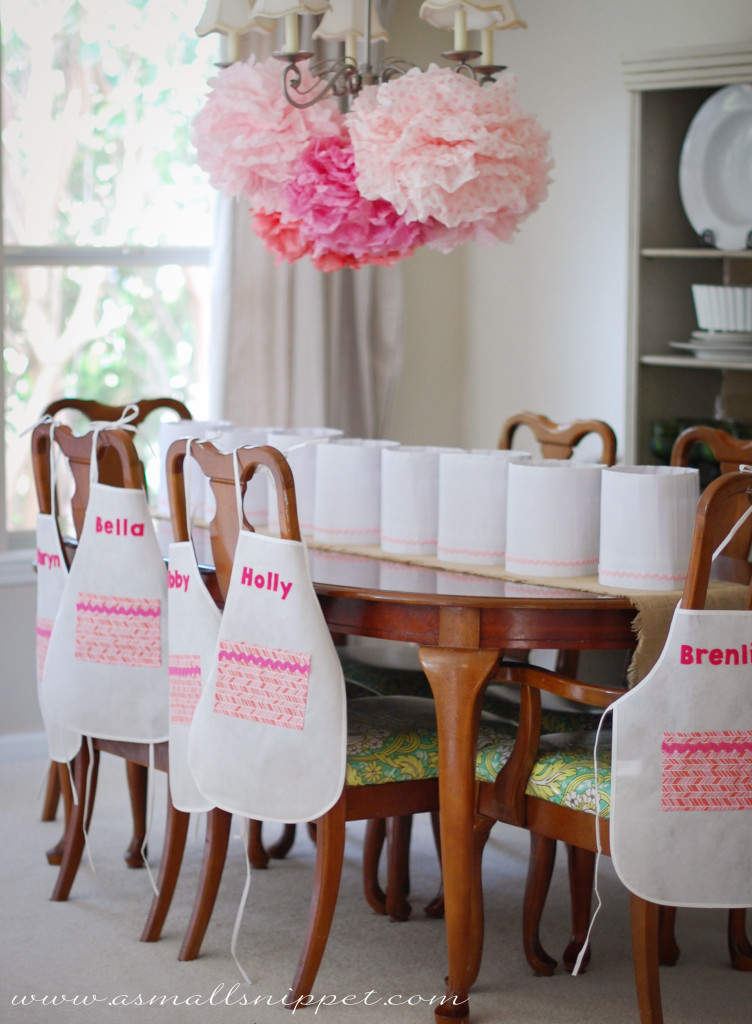 i bought inexpensive kid's aprons and paper chef's hats from Oriental Trading Company.  the aprons were made from pretty thin, white fabric, and a little too plain for my liking, so i added a little fabric pocket and some jumbo ric rac using some scraps i had, and attached it with Stitch Witchery
, or iron on seam tape.  i then personalized each one using this felt monogramming technique.  (use caution when using an iron on these aprons.  thankfully i had a few extras, because i most definitely burned holes in a few of them!  make sure the iron does not come in direct contact with the apron, so use a cloth between the iron and the apron if you do attach fabric or felt.)  i also added some ric rac to the chef's hats with some hot glue so it looked more like a matching set.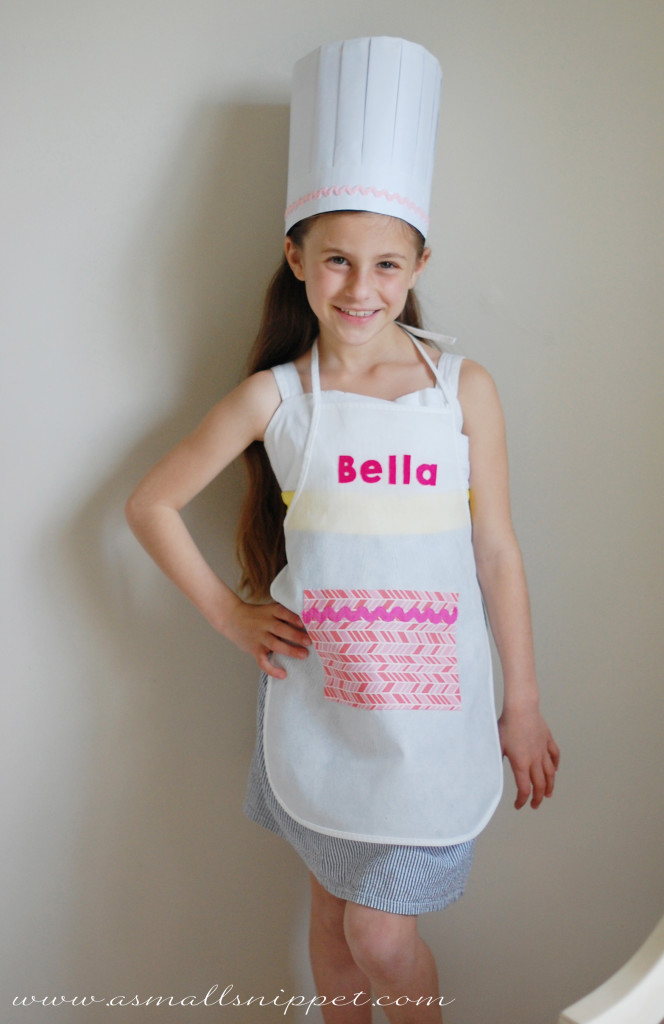 they served as both decorations and party favors, and made the girls look so festive during the party!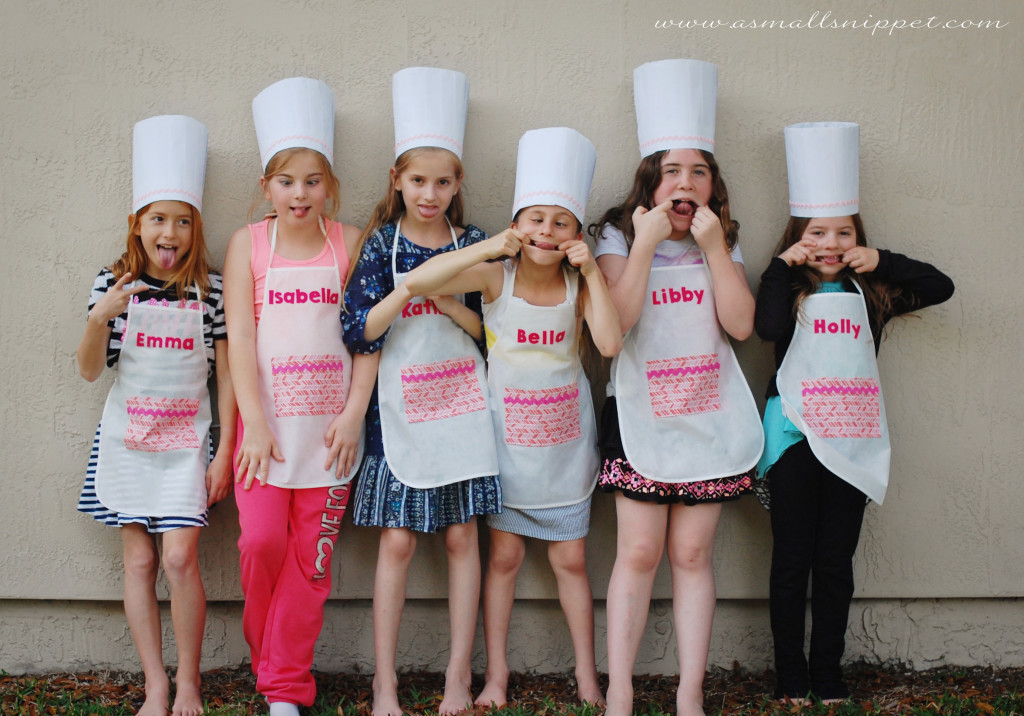 the first activity was to make some individual pizzas.  i used store bought dough and divided it up so each girl had their own dough to roll out: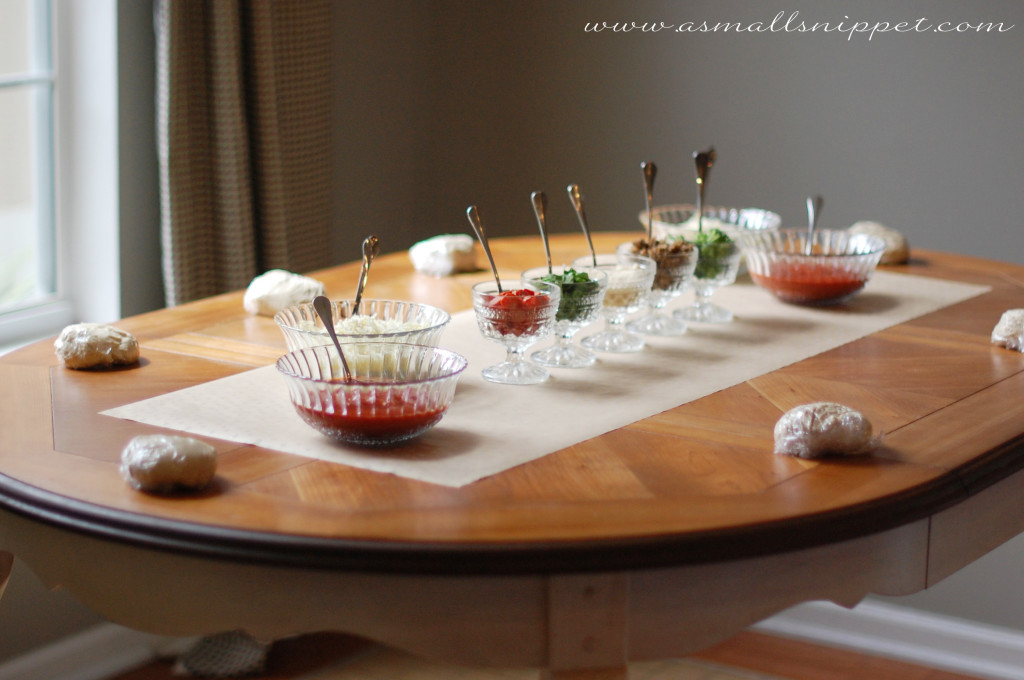 i set out a variety of toppings besides the basics of pizza sauce and mozzarella cheese (mini pepperonis, spinach, Parmesean Cheese, sausage, and broccoli):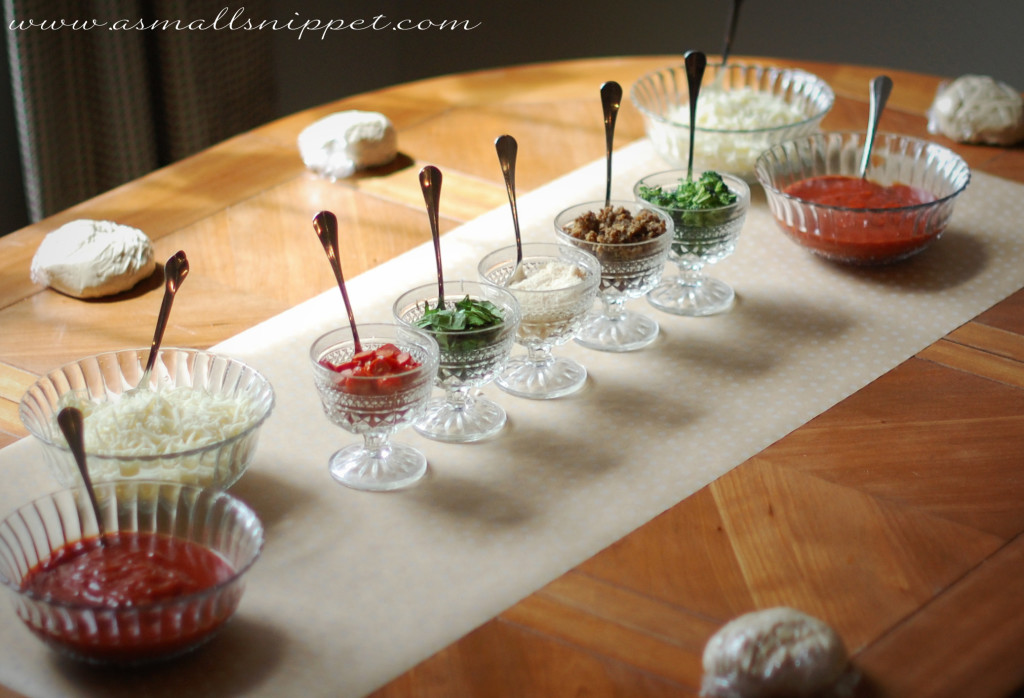 the girls used their hands and a few small rolling pins to roll their dough into any shape they wanted: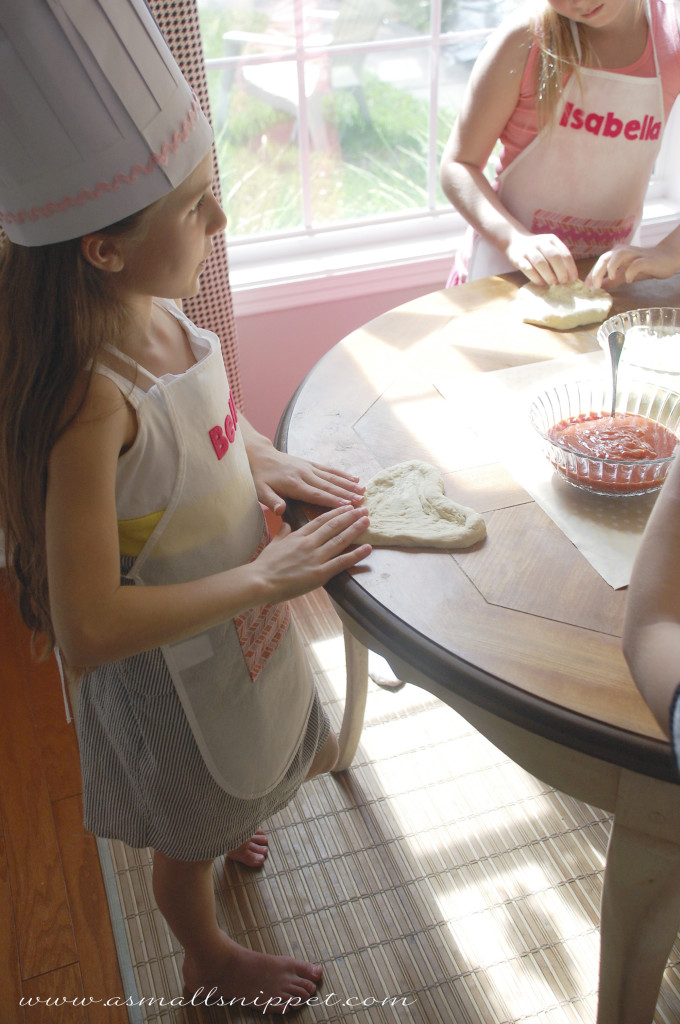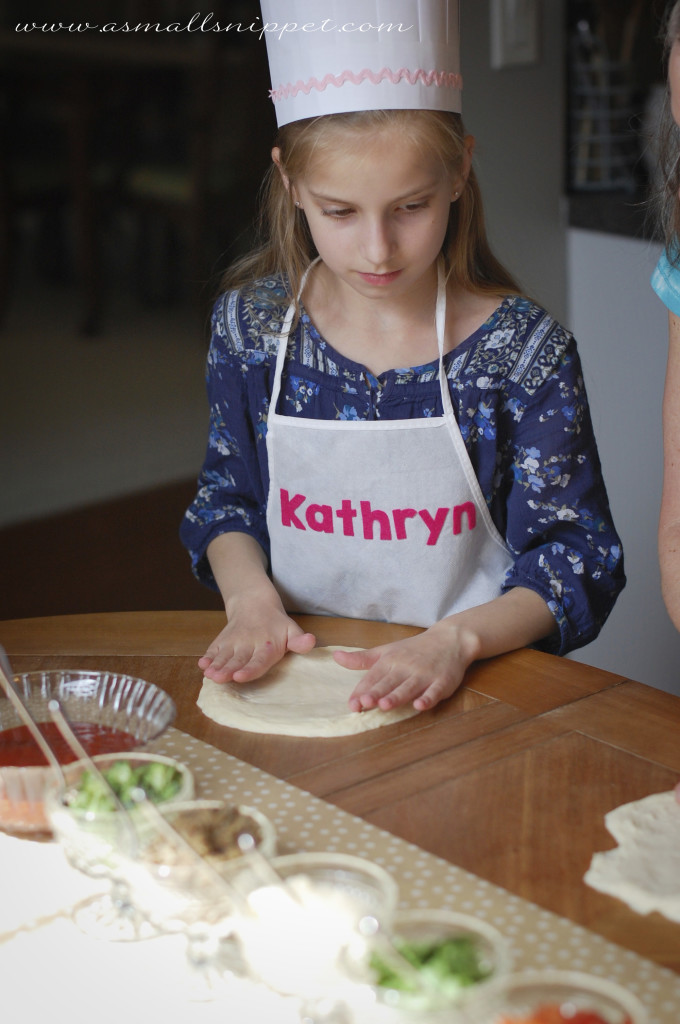 and then they topped their pizzas with as much toppings as they wanted: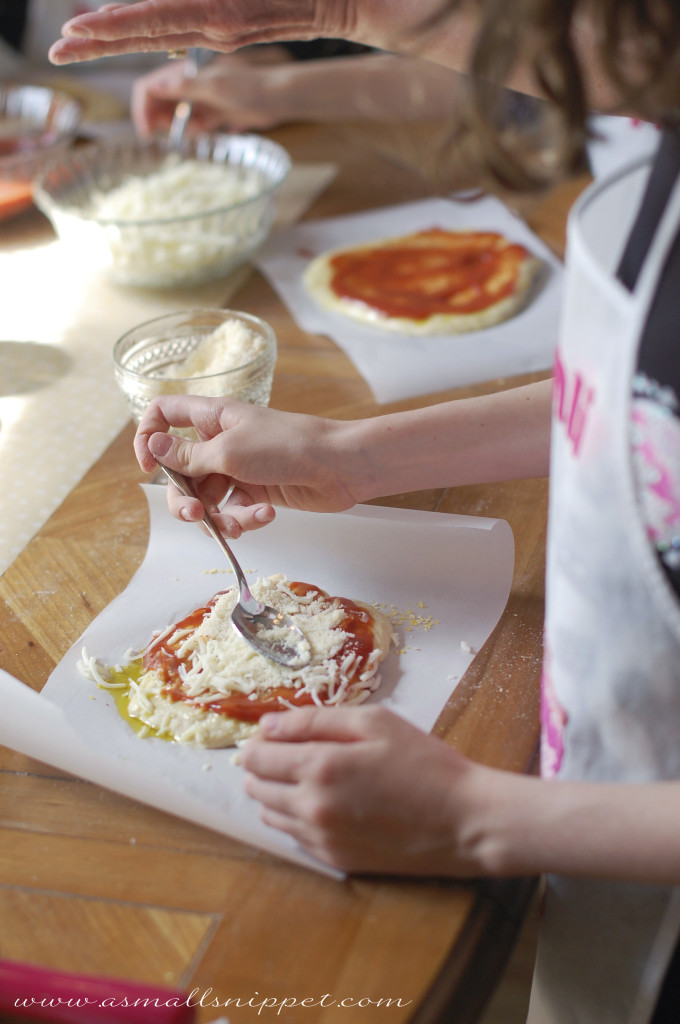 we baked each pizza on a piece of parchment paper with their name on it so they didn't get mixed up, and added a little bit of cornmeal underneath the pizza, so they just slid off the paper after they were baked: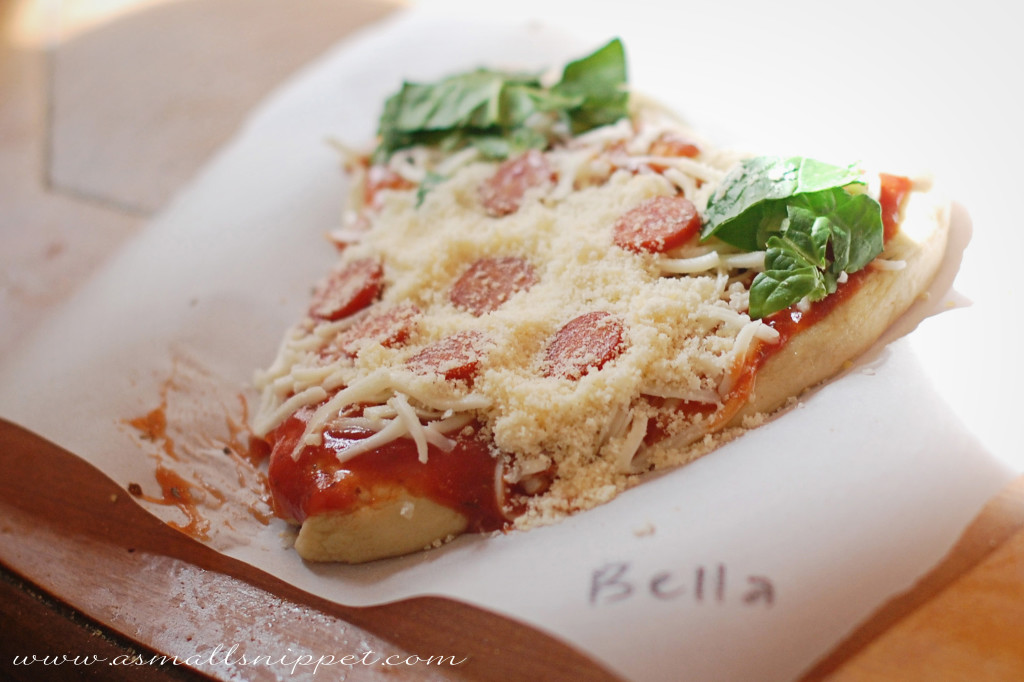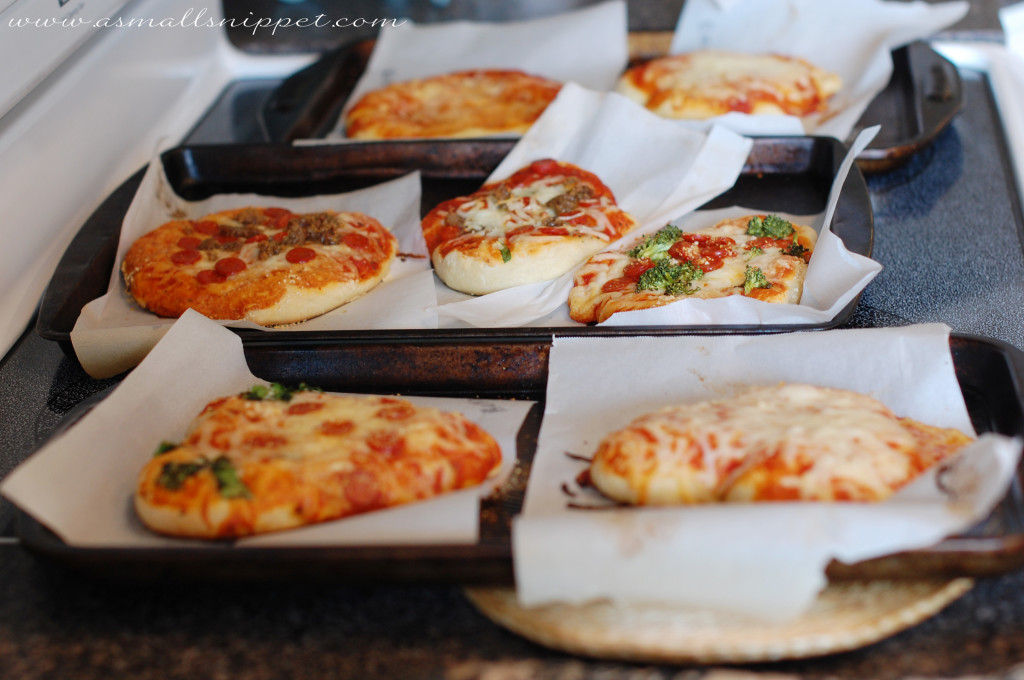 while we waited for the pizzas to cook, i set out bowls of strawberries, blueberries, and grapes, and the girls made fruit kabobs.  i let them cut off the stem of the strawberries with plastic knives: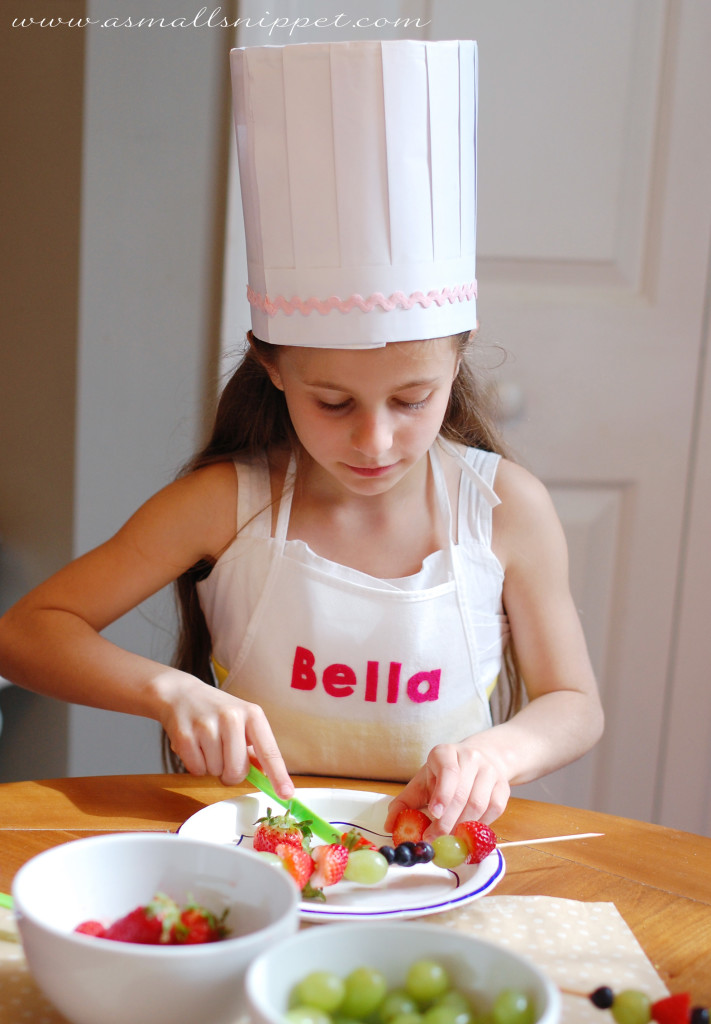 and they had fun arranging the fruit into different patterns: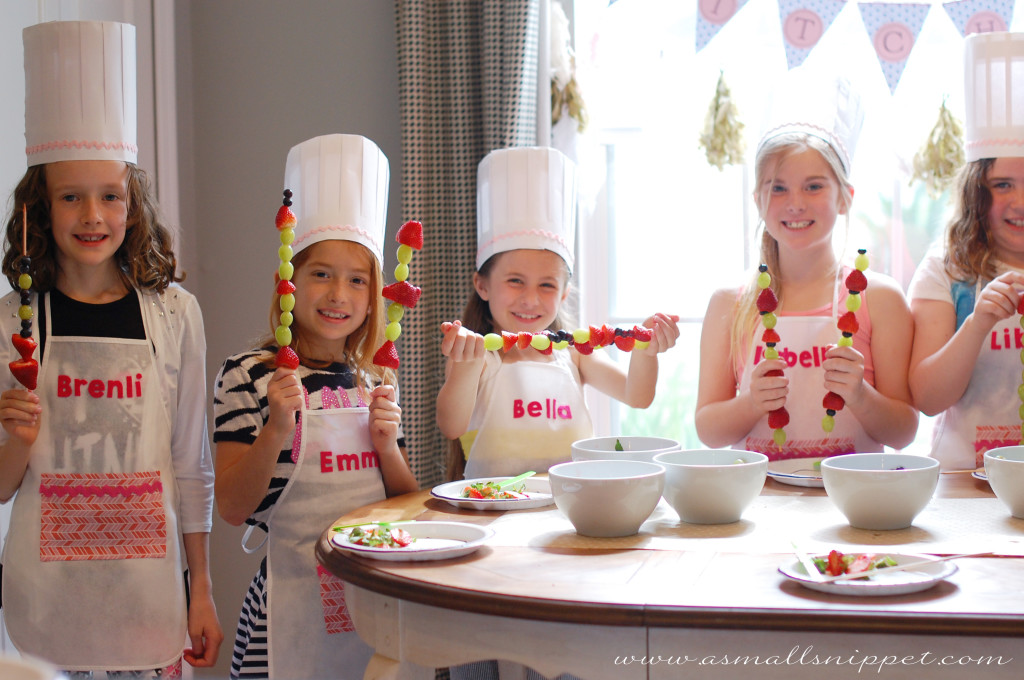 after they had eaten their pizza and fruit, and after a little impromptu dance party broke out: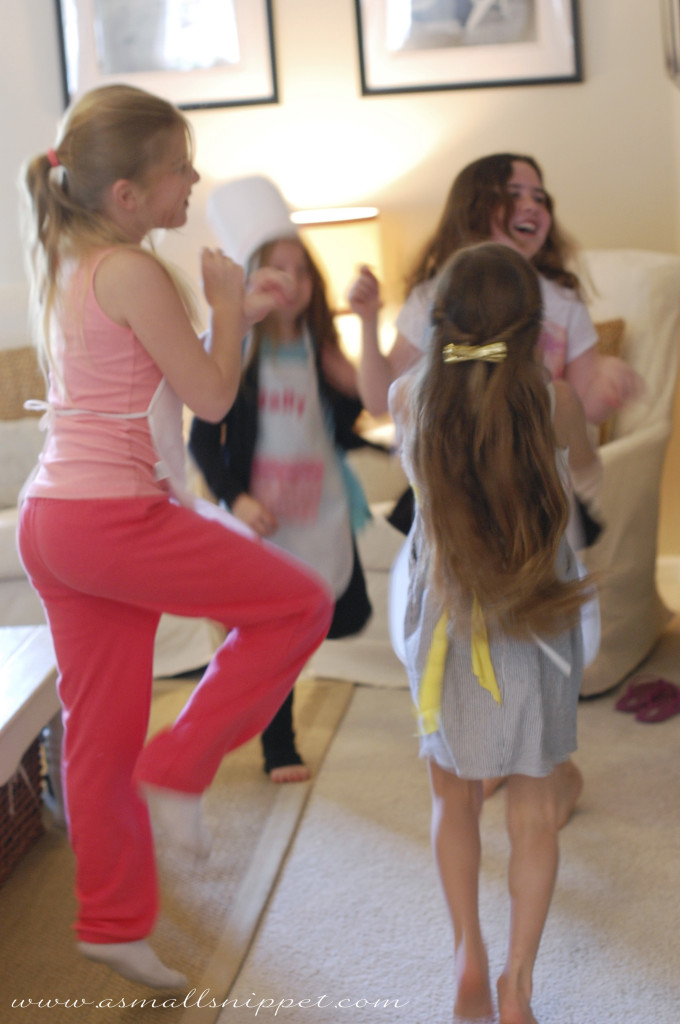 we sent them outside for some piñata action.  because, according to an 8 year old, its not really a party without a piñata!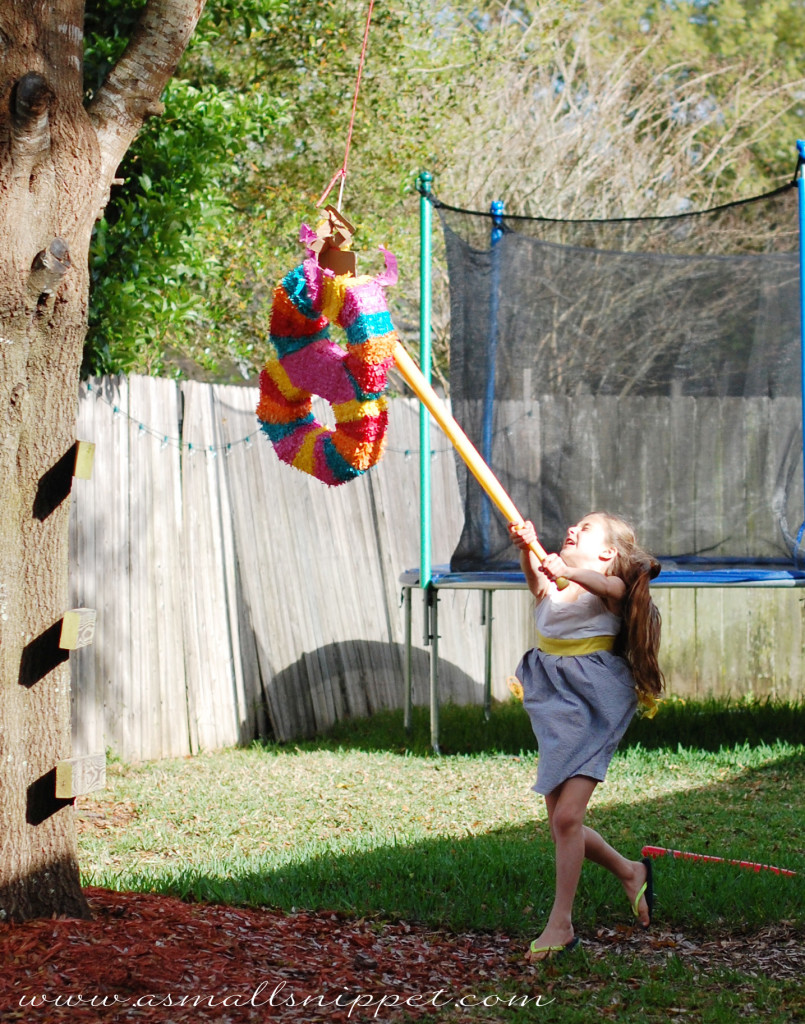 while they were enjoying the piñata, i set up for the last of the cooking activities:  Cake Decorating: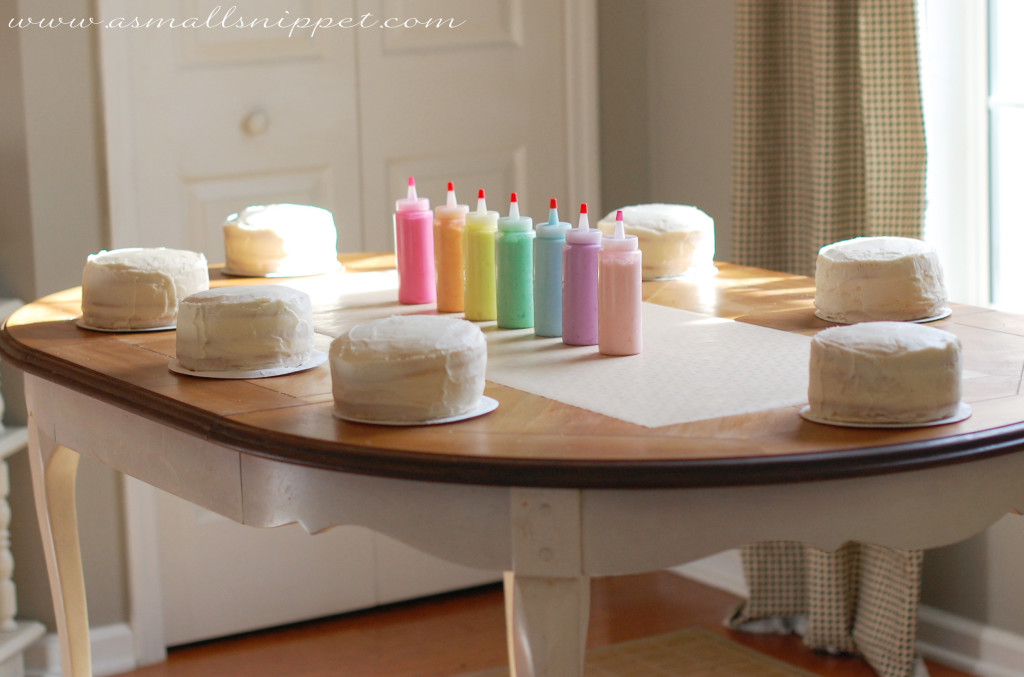 a few days before, i baked each girl a 3 tired, 6 inch cake, and froze them until the morning of the party (simpler than it looks.  keep reading.  i'll show you how i did it).  you could also order small cakes from your local grocery store or bakery, but making them myself saved me a good chunk of money.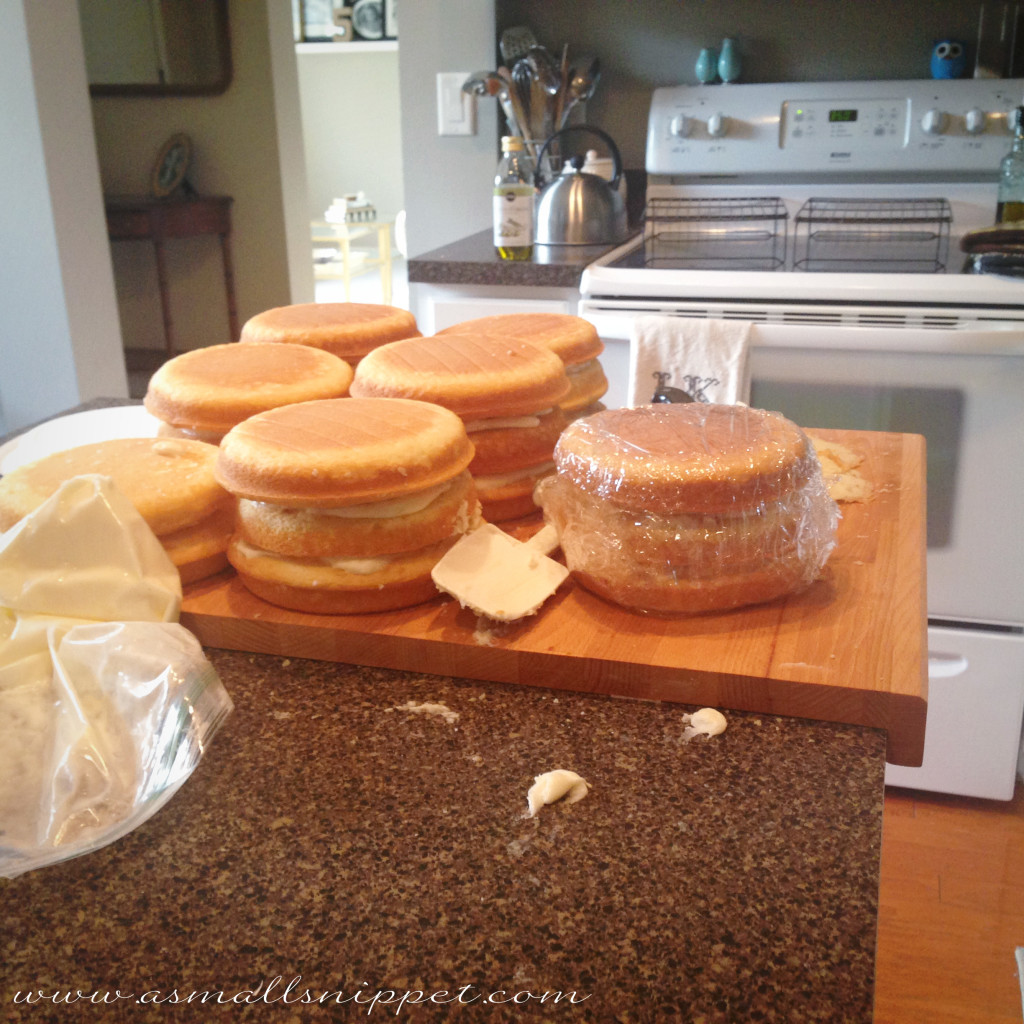 i used these Wilton Easy Layers! 5-Piece Cake Pan Set, 6-Inch, but since using all 5 layers would've made the cakes too large for the girls, i instead used 3 layers per cake.  since i could bake 5 layers at a time, using just one store bought cake mix, this went fairly quickly.  and since the pans are small, making the layers the perfect height, i didn't even have to cut the cake into layers, but could simply frost in between the layers and stack them up.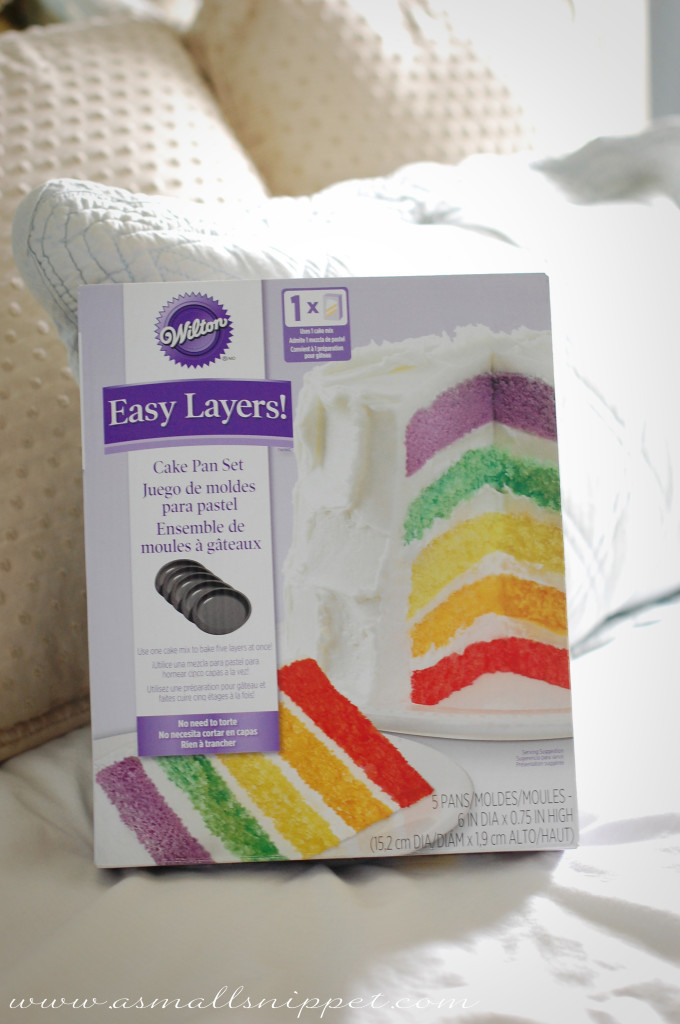 then the morning of the party, i pulled them out of the freezer and frosted them while frozen, eliminating crumbs in the frosting.  they sat at room temperature for a few hours and were perfectly defrosted in time for the cake decorating.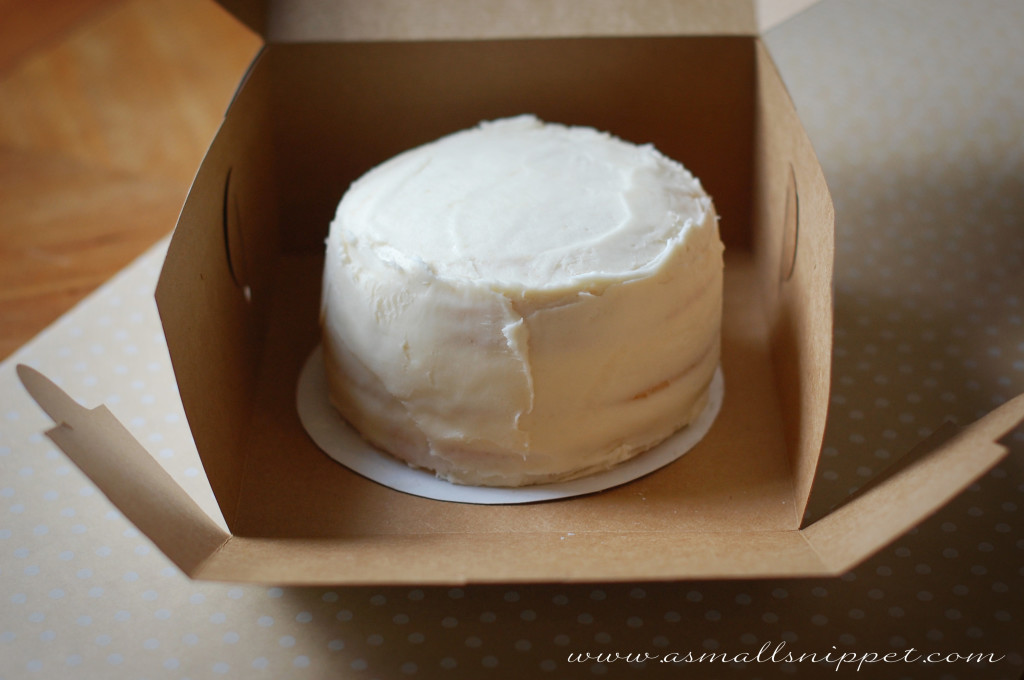 then i let the girls decorate them however they wanted.  i used these plastic Wilton Squeeze Bottles
, and filled each one with a different colored buttercream frosting that Bella and I made the morning of the party.  i used a simple buttercream recipe for all of the frosting (butter, powered sugar, and milk), and just made sure the consistency was not too stiff to make squeezing it out of the bottles difficult, but not too runny that it wouldn't hold up on the cake.  using these bottles really prevented what could've been a huge frosting mess!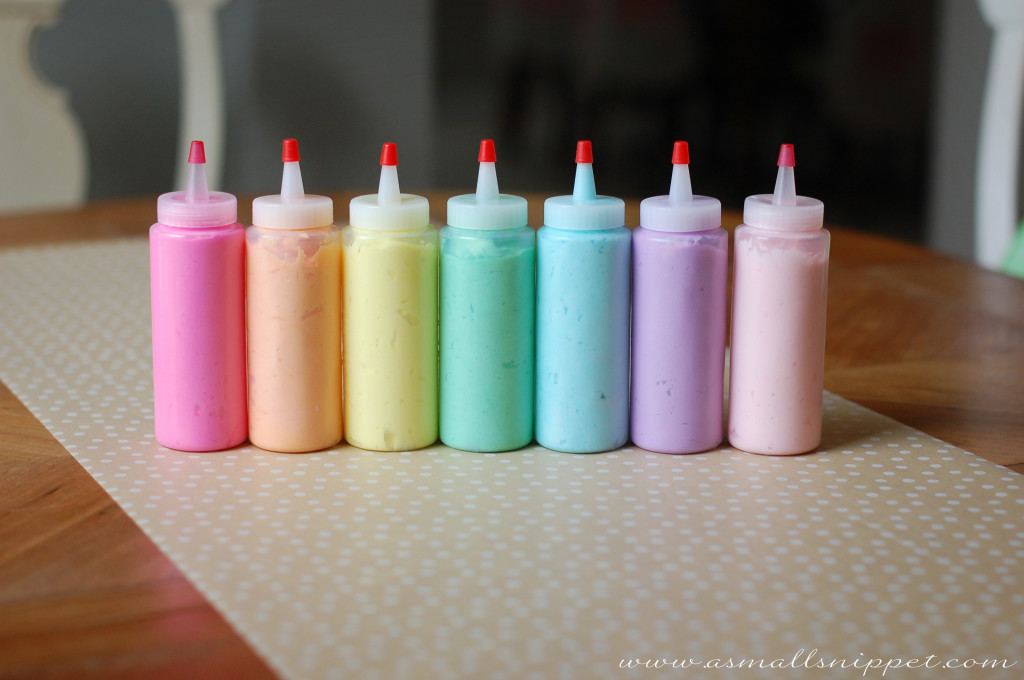 the girls LOVED this part!  they traded around bottles of frosting and got right to work on their masterpieces: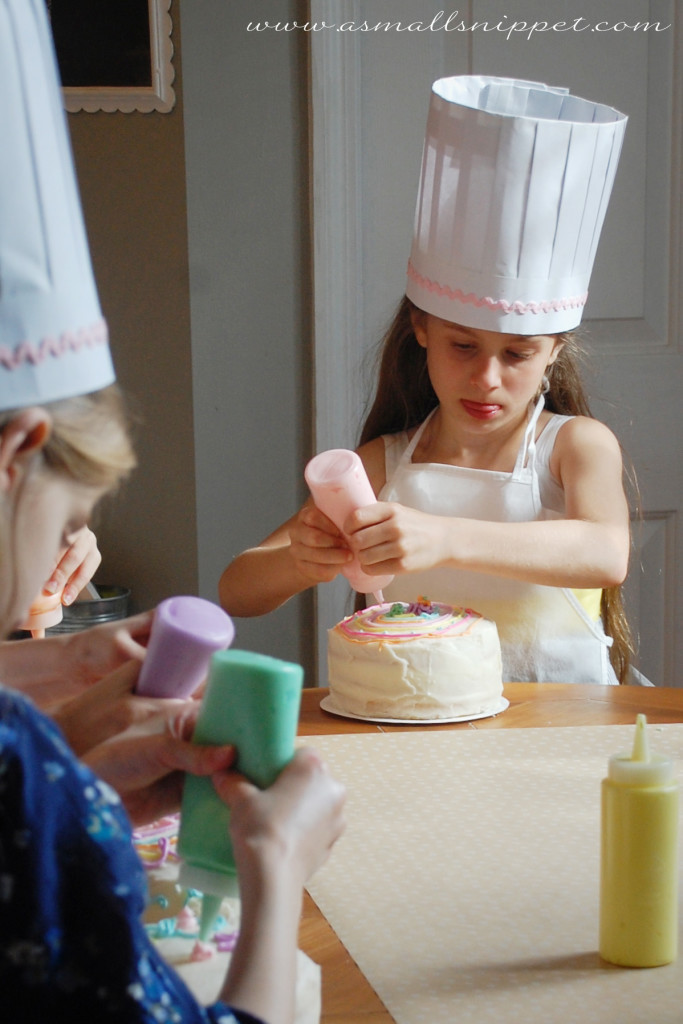 i loved seeing each girl's creativity on their individual cakes!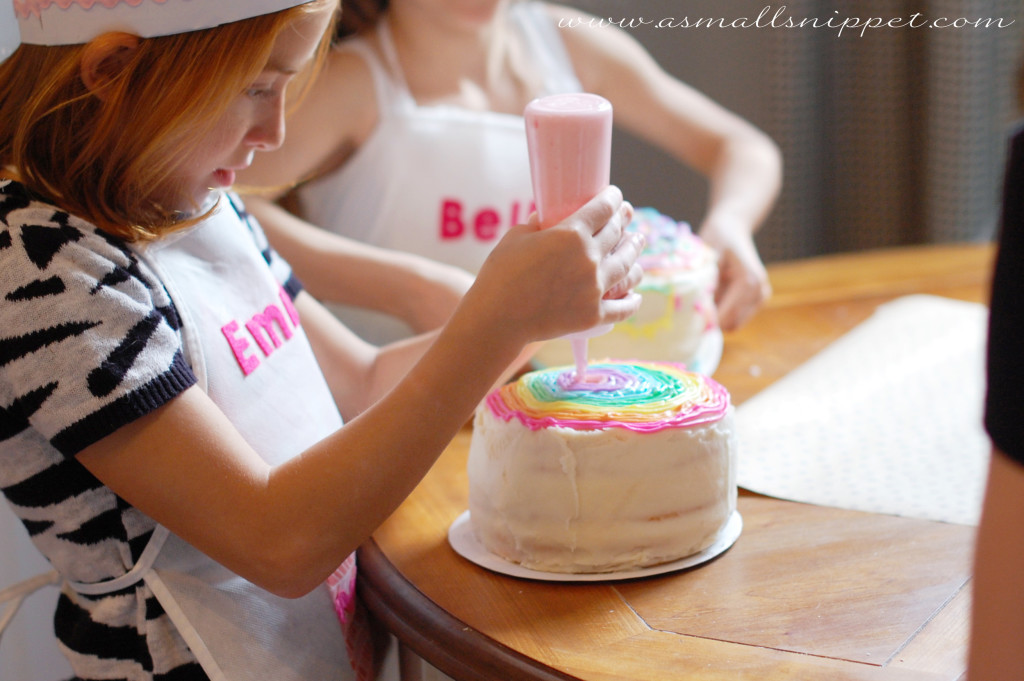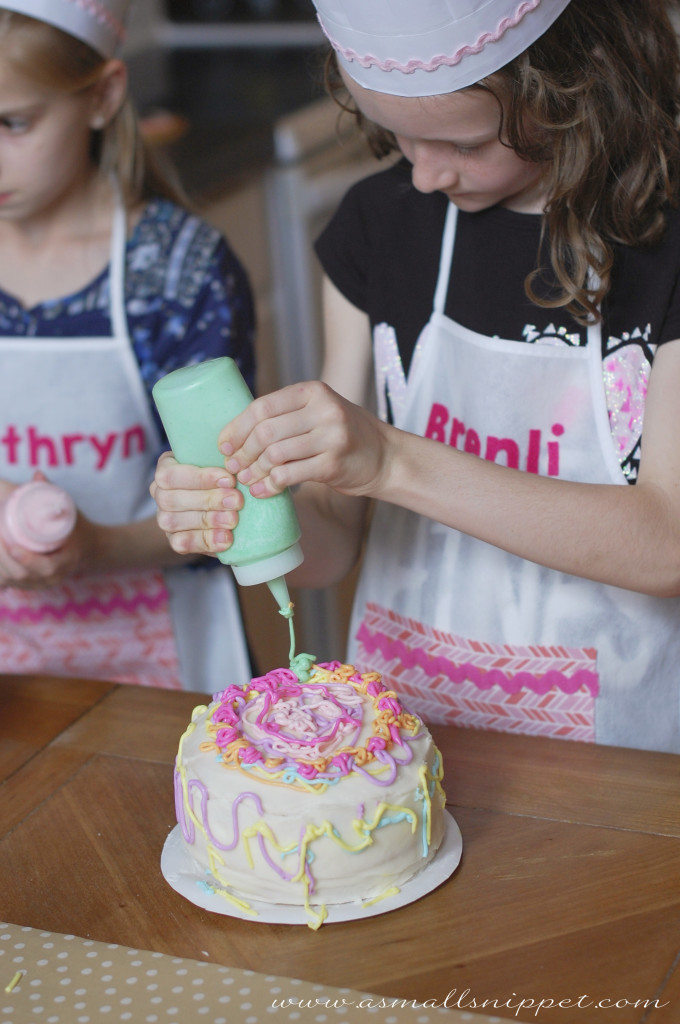 according to Bella, there's apparently no such thing as too much buttercream, hence the double fisting!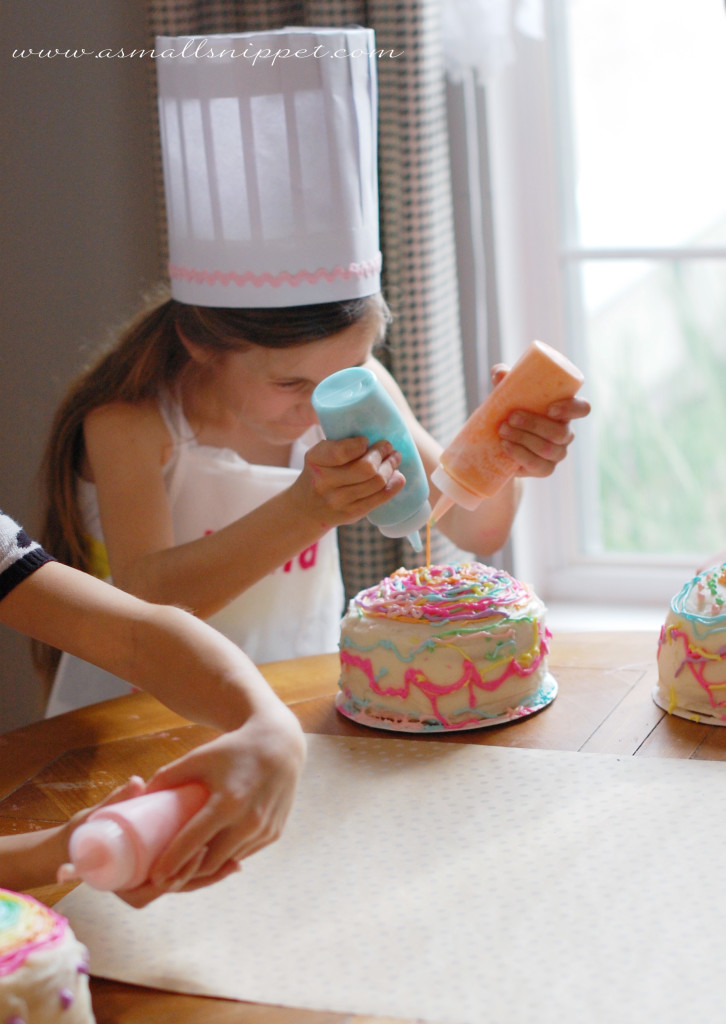 the girls were so proud of their cakes!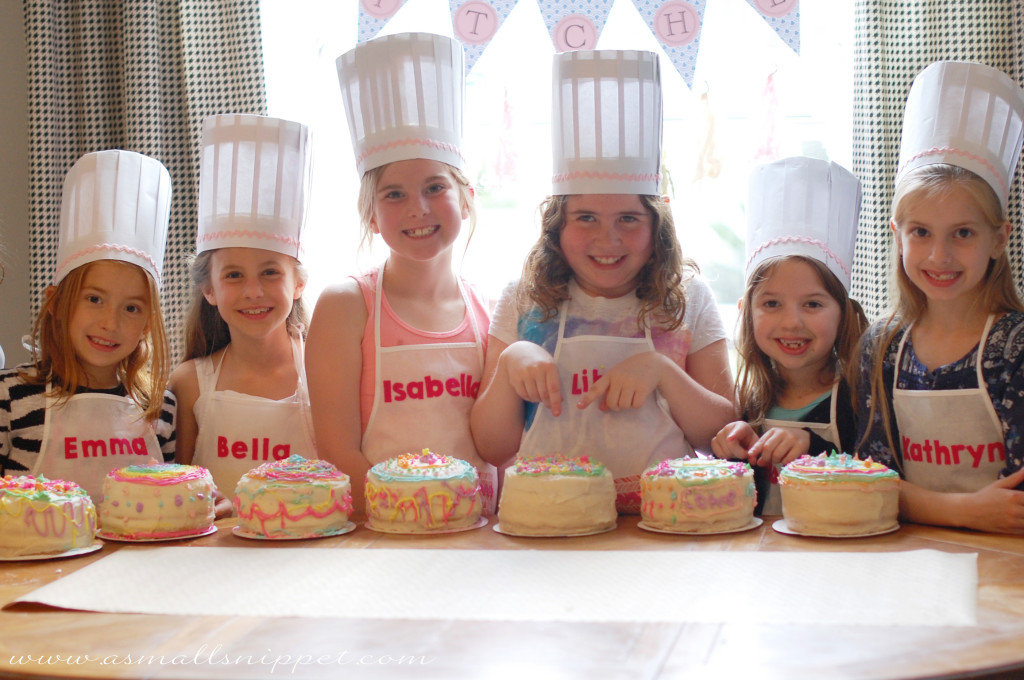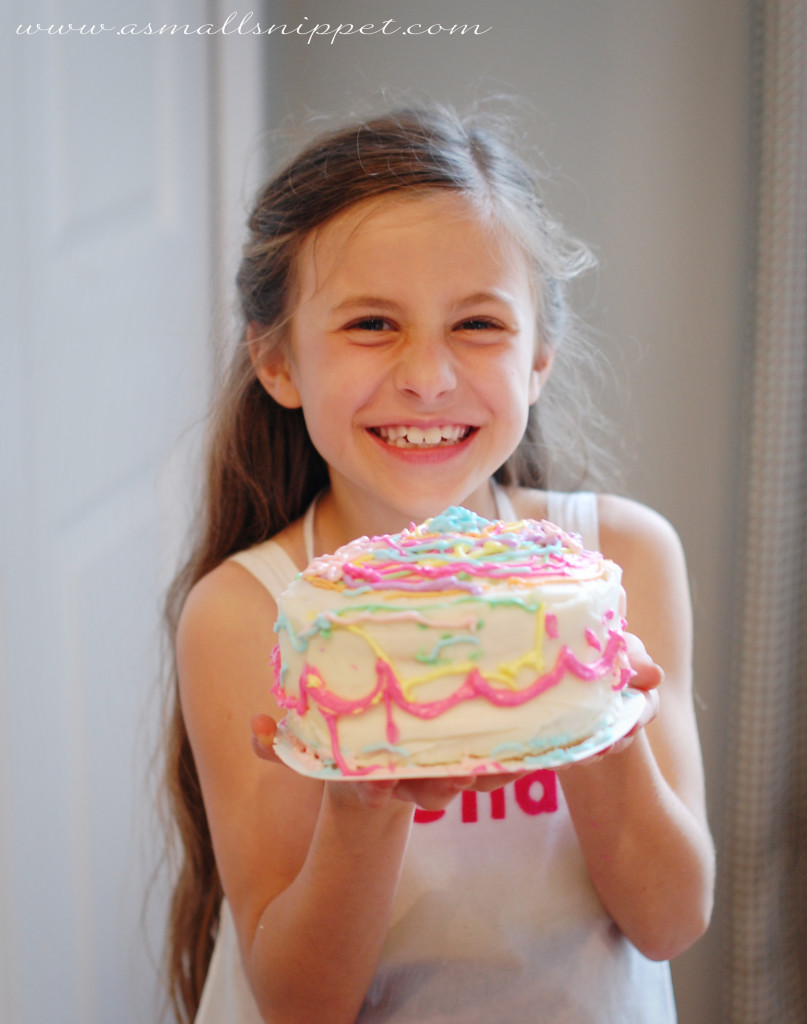 instead of eating the cakes at the party, we boxed up each girl's cake in an 8 inch cake box, using cake boxes like these: Cake Boxes White, 8 x 8 x 5 Inches
, and let the girls take their cake home to show their families.  because…we had special cupcakes on hand as dessert…cupcakes that looked like each girl!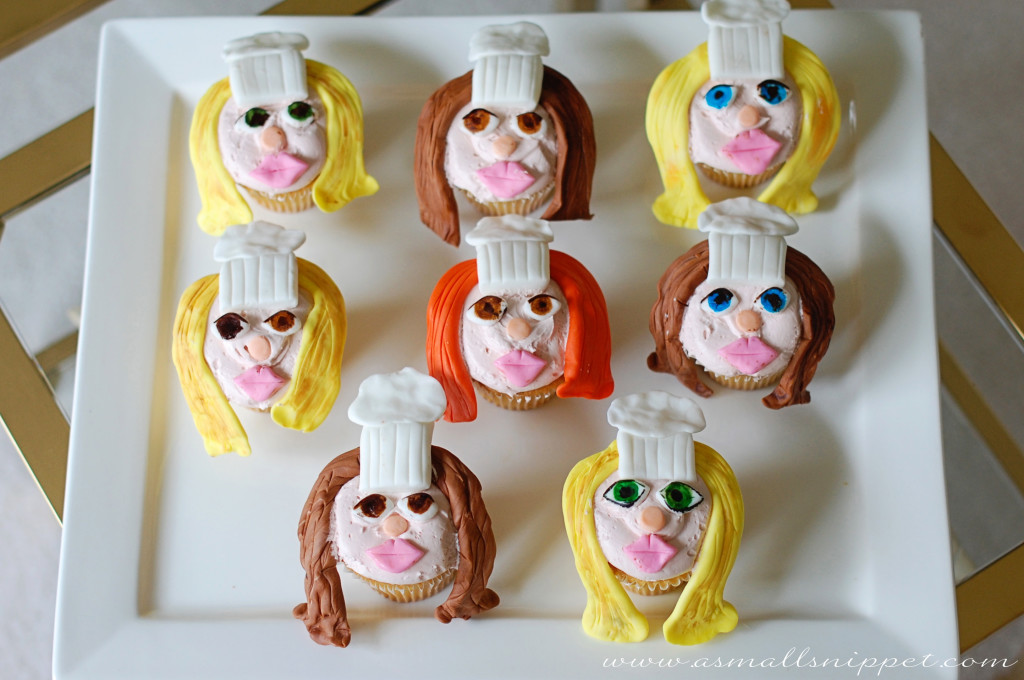 i was so excited about this element of the party.  my Sister in Law, who is an insanely talented Pastry Chef, recently opened her own business in Maryland, specializing in personalized cakes and cookies, and an assortment of many other treats.  so i commissioned her to help make my cupcake dreams a reality.  here's how we did it:  i bought the actual cupcake at my local grocery store's bakery, and asked them to flat frost them in a skin colored frosting.  then i sent my SIL a list of each girls' traits:  eye color, hair length, texture, and color, and she made each individual piece, including the adorable chef's hats.  she then shipped the pieces to me: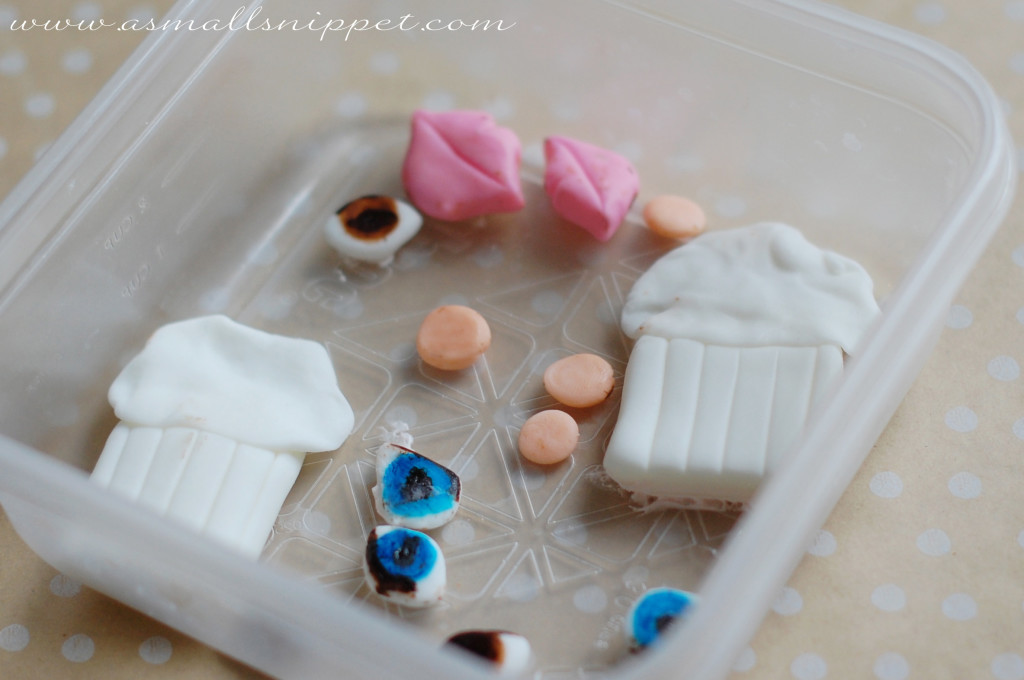 and i assembled all of the cupcakes in about 3 minutes flat, Mr. Potato Head style…by just sticking each piece where they needed to go!  how brilliant is that?  here's Bella: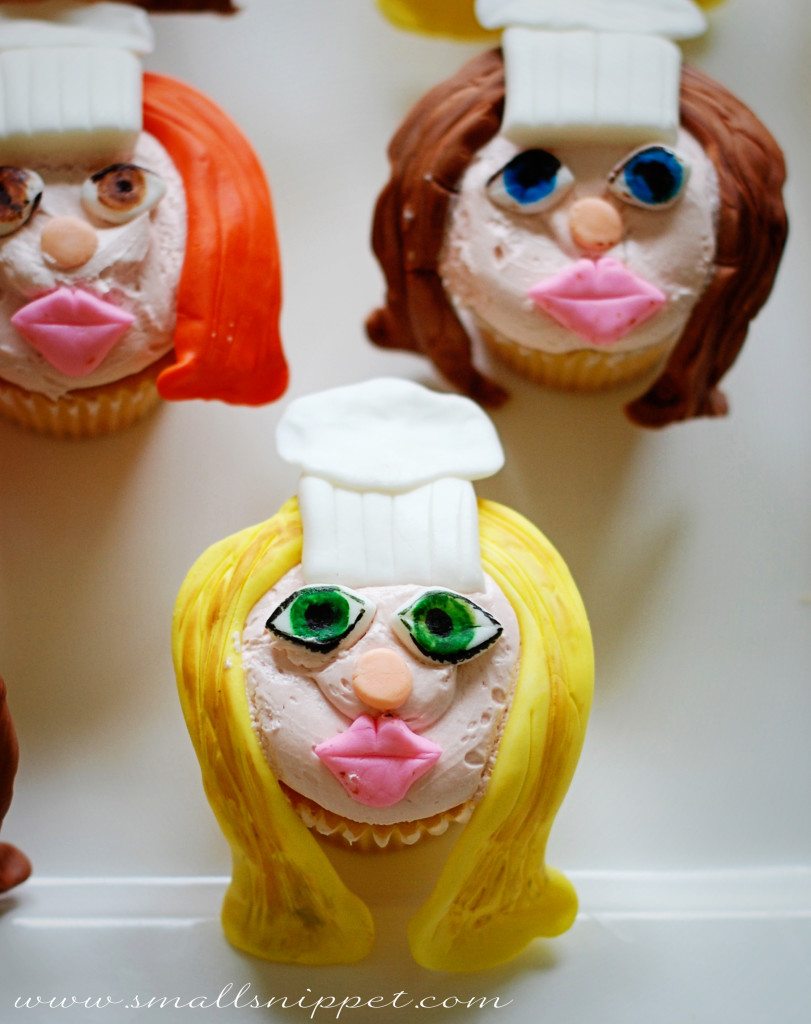 the girls absolutely loved this, and each girl was very quickly able to pick out which one they were: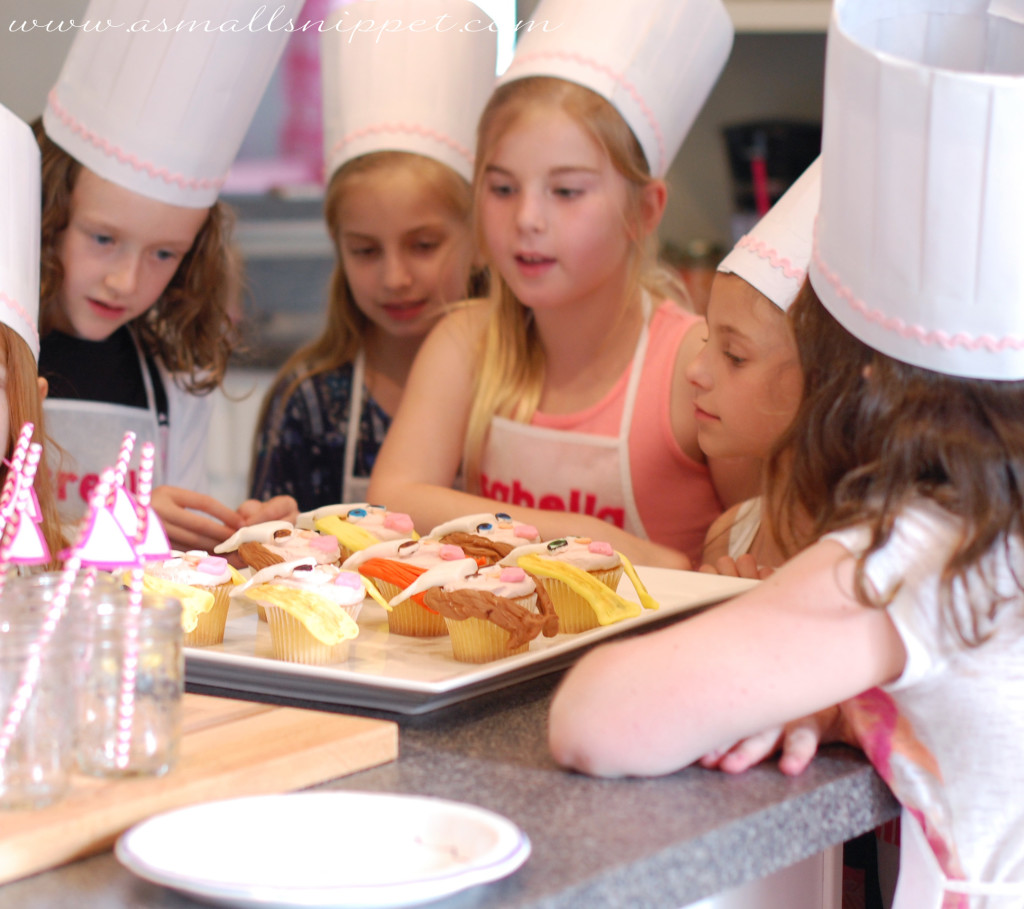 it amazed me how much the faces really did look like the girls!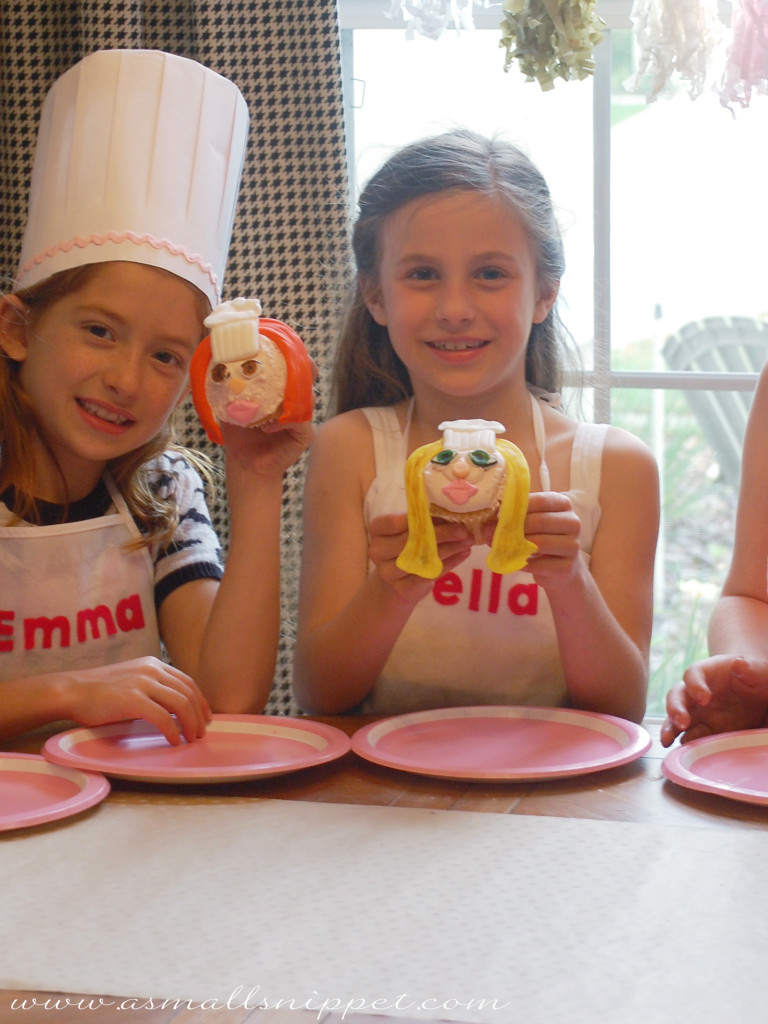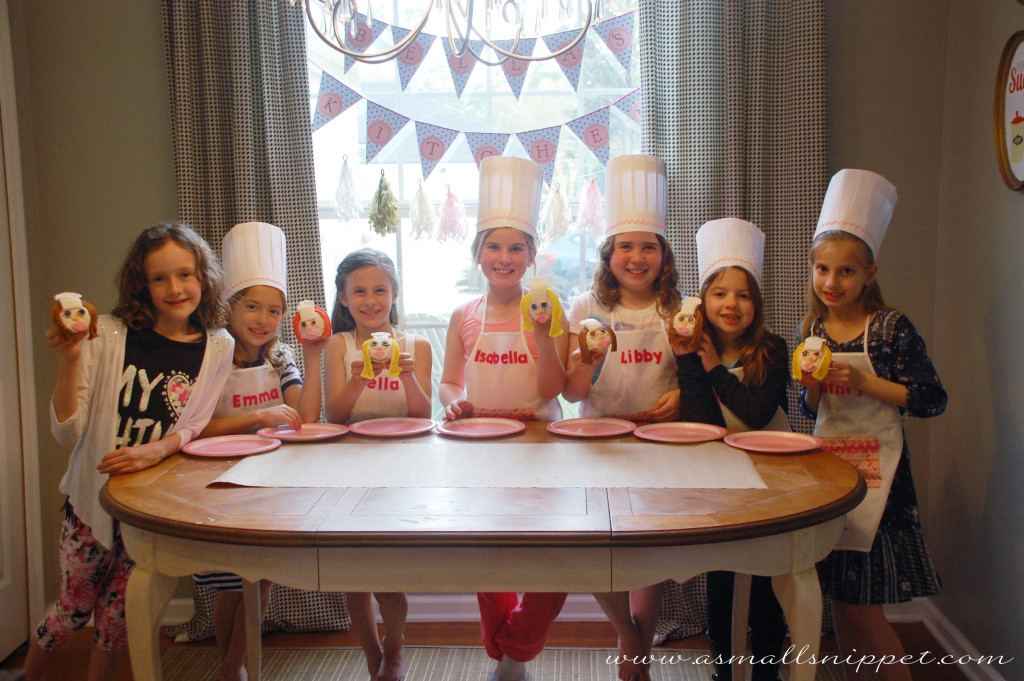 my SIL's company is called Bake My Day, and she does everything from these kinds of personalized cupcake pieces, to birthday cakes (ridiculously tasty and amazingly decorated), to gorgeous wedding cakes, to the cutest sugar cookies you've ever seen.  and…as i showed you above, she ships lots of her creations!!  honestly, how amazing to get adorable, personalized cupcakes or cookies for your parties but not have to go through the pain of trying to create them yourselves.  on top of that, to get to work with someone like Melissa, who is so patient and just wants to create for you whatever you are dreaming up.  so if you are ever in need of cakes, cupcakes, cookies, etc. for your party, please go check her out.  they are currently in the process of getting their official website up and running, so in the meantime, you get info and see many of her creations here:  www.facebook.com/bakemydaymaryland and you can also email her directly at melissa@bakemydaymaryland.com.  and for a limited time, if you mention my blog, you get 10% off your order!  also, if you happen to be on the Eastern Shore of Maryland, stop in the shop at 415 S. Talbot Street in St. Michael's, MD.  i'm constantly amazed by her talents, and i love watching her in action.  she has absolutely taught me some great tricks over the years!  i just wish she lived closer and we could play all the time!
after singing Happy Birthday and making wishes: (I'm guessing for a real Rainbow Unicorn.  its been the consistent wish for the last few years!):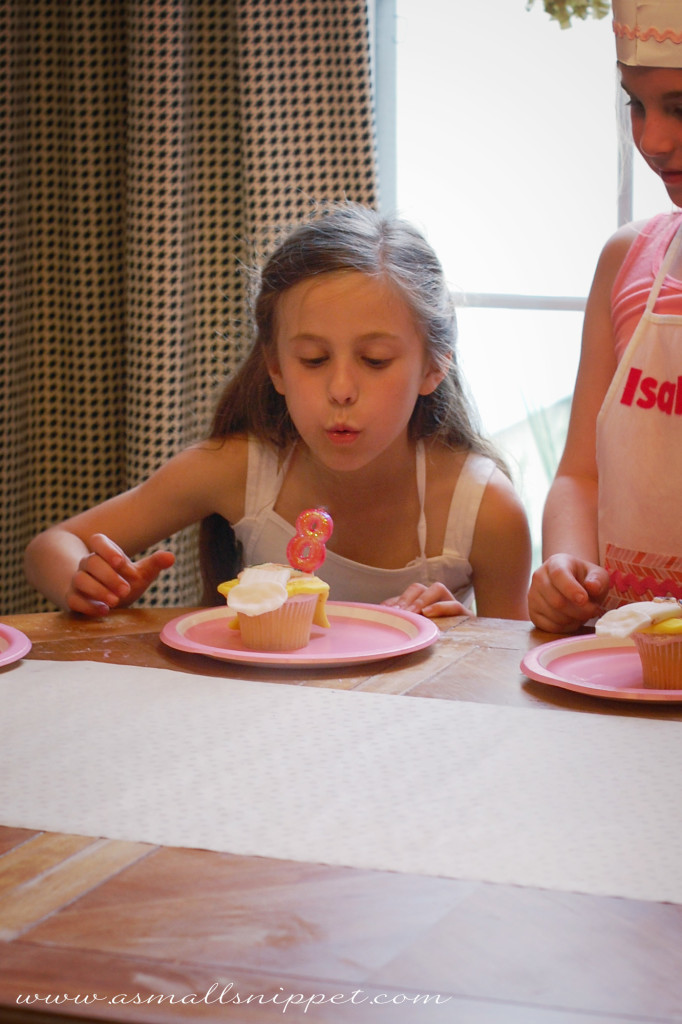 we capped off the party with some trampoline action, which became a heck of a lot more exciting when daddy jumped in too!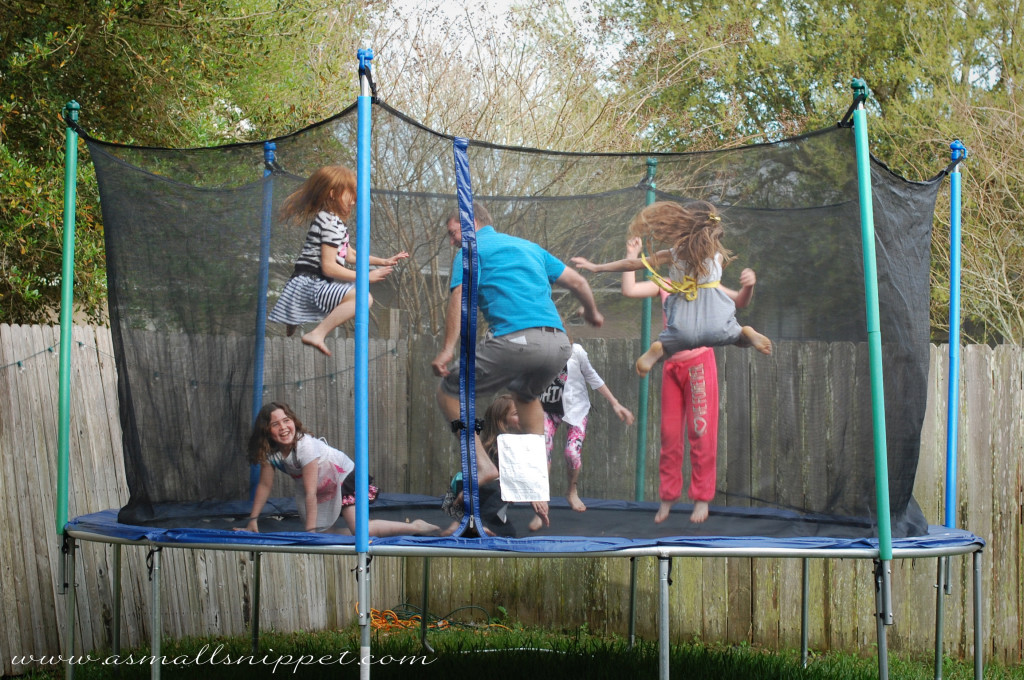 this might go down in my books as one of my all time favorite parties.  the prep was super easy, the party itself flowed quickly, and the girls had a ball!
can't believe my girl is 8.  lots of exciting things coming up for her this year…a new school, a new adventure of being on an All-Star cheerleading squad, lots of new tricks and flips and skills, another Nutcracker.  i'm absolutely loving this age, and just want to freeze her here!  so here's to an amazing year of life, Bella Bug!