Bella has been very interested in helping out in the kitchen lately, and has even perfected her own Guacamole Recipe, that has become quite the hit around here.  so i thought i'd share it with you!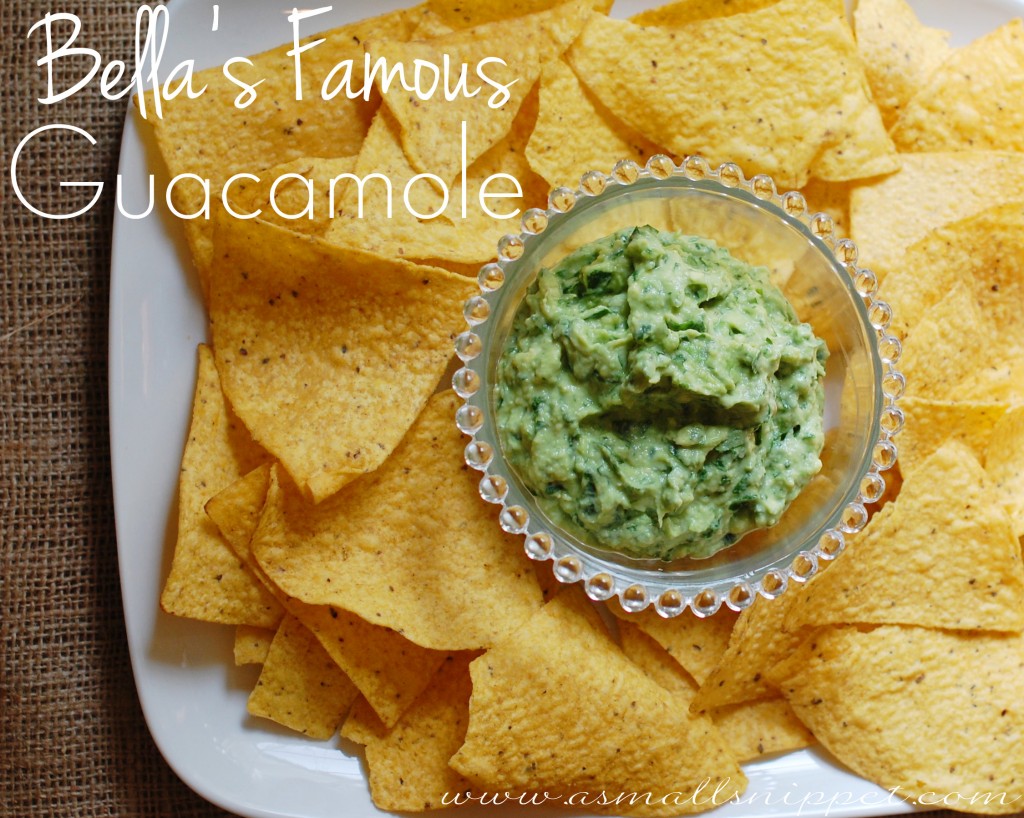 i know that there are a gazillion recipes for guacamole out there, and besides, its one of those things you are just supposed to know how to make.  but if you are like me, i've had to teach myself all the basics, so even recipes like this that seem to be no-brainers, have taken me time to get just right!  i think this one is by far our favorite combination.  and its fairly simple for Bella to do herself, with minimal help from me (i mainly just cut the avocados.  besides that, she can pretty much do it herself, which she LOVES!)
i've made you a printable recipe card at the bottom of the post (and there's even a little video of Bella explaining her recipe if you keep reading!), but here's the visual rundown:
here are the ingredients: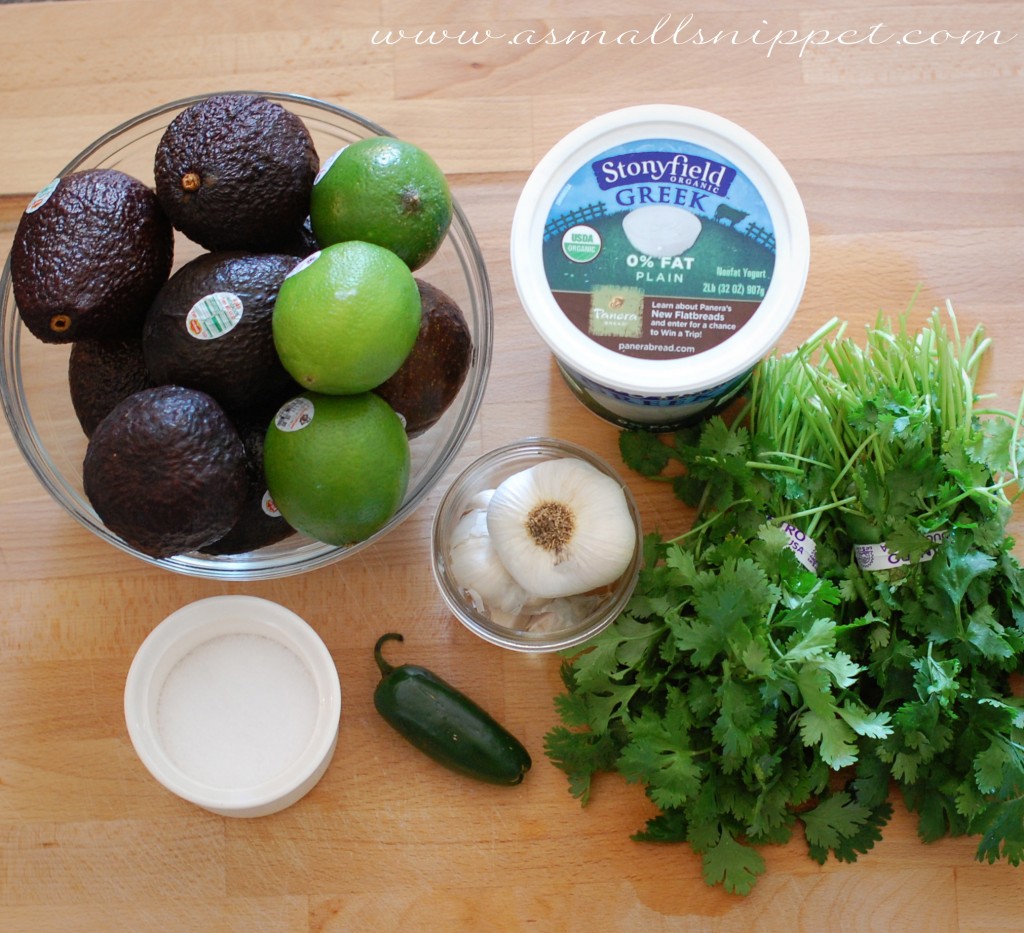 4 ripe avocados
1 big bunch of cilantro, chopped
3-4 cloves of garlic, minced
1 small jalapeño, seeded and minced
juice of 1-2 limes
1 big ol' dollop of non-fat, plain Greek Yogurt
kosher salt to taste
first off, let me tell you about a few of our FAVORITE kitchen tools, that make this recipe in particular super quick. (i'm not getting compensated for mentioning these…i just really love these tools, and think every kitchen would benefit from having them!)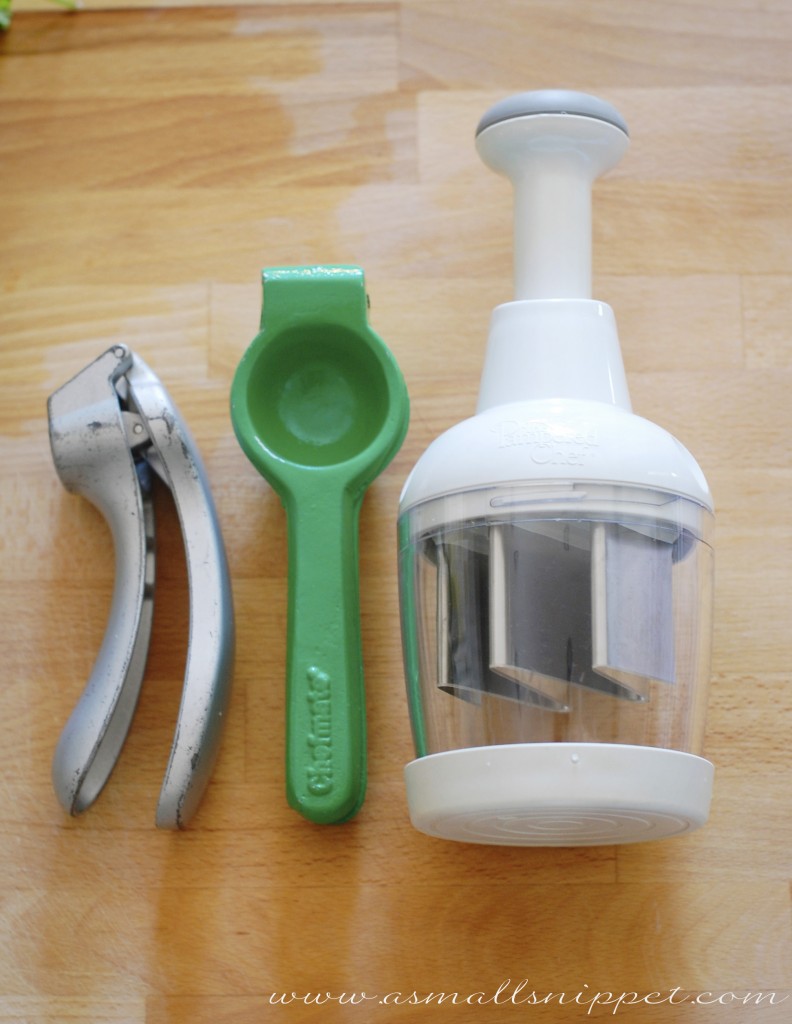 the first tool is a Pampered Chef Garlic Press.  
this might be my all time favorite kitchen tool ever.  i picked it up at a garage sale, and its sincerely amazing.  you just put the whole clove of garlic, peel and all, into the compartment: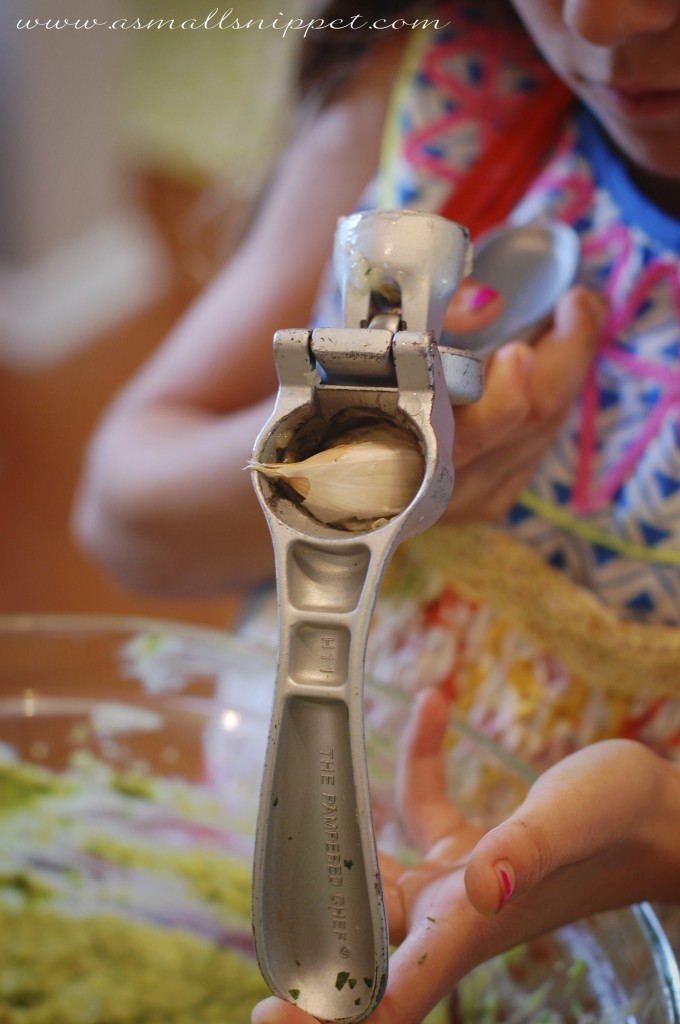 and press, and it magically crushes/minces the garlic, while leaving the peel behind.  its incredible.  (works best if you do one clove at a time.)  with the amount of fresh garlic i use when cooking, it saves me an obnoxious amount of time!
the second tool i also picked up at a garage sale.  its a simple handheld juicer, (here's a similar one: Handheld Juicer) but it gets way more juice out of lemons and limes than i could simply by using my hands.
the third tool i got as a wedding gift, and it sat in my cabinets for years before i figured out how incredible it was.  its a Pampered Chef Food Chopper
, and its perfect for just that…chopping food, especially herbs, like cilantro!
these tools certainly aren't necessary and this recipe can be done without them, but they make life a lot easier and they are a fun addition to any kitchen if you happen to be looking to add to your repertoire.
so first off, scrape your avocados into your bowl, and smash with the back of a fork.  sometimes i'll get the process started by mashing them when they are still in the peel, and then scraping them out, but whatever method you use works!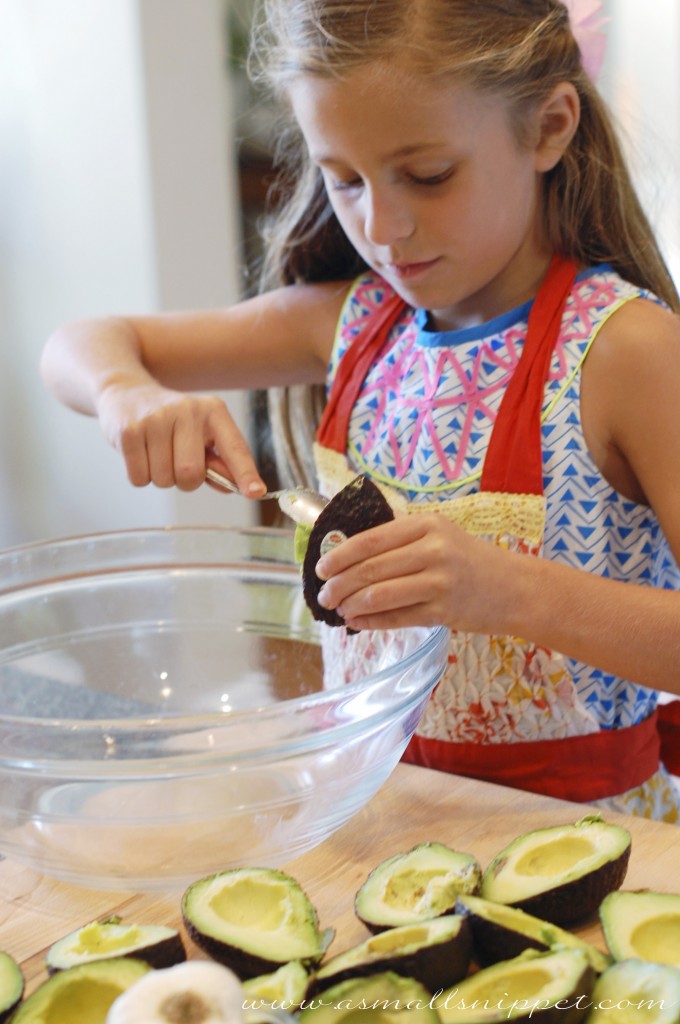 next, take the cilantro leaves off the stem (i usually try to scrap them off with a knife to save time, and then pick out the long stems that made their way into my pile of leaves.  a few stems never hurt anyone!)  then use your handy tools (or a knife) to chop up the cilantro: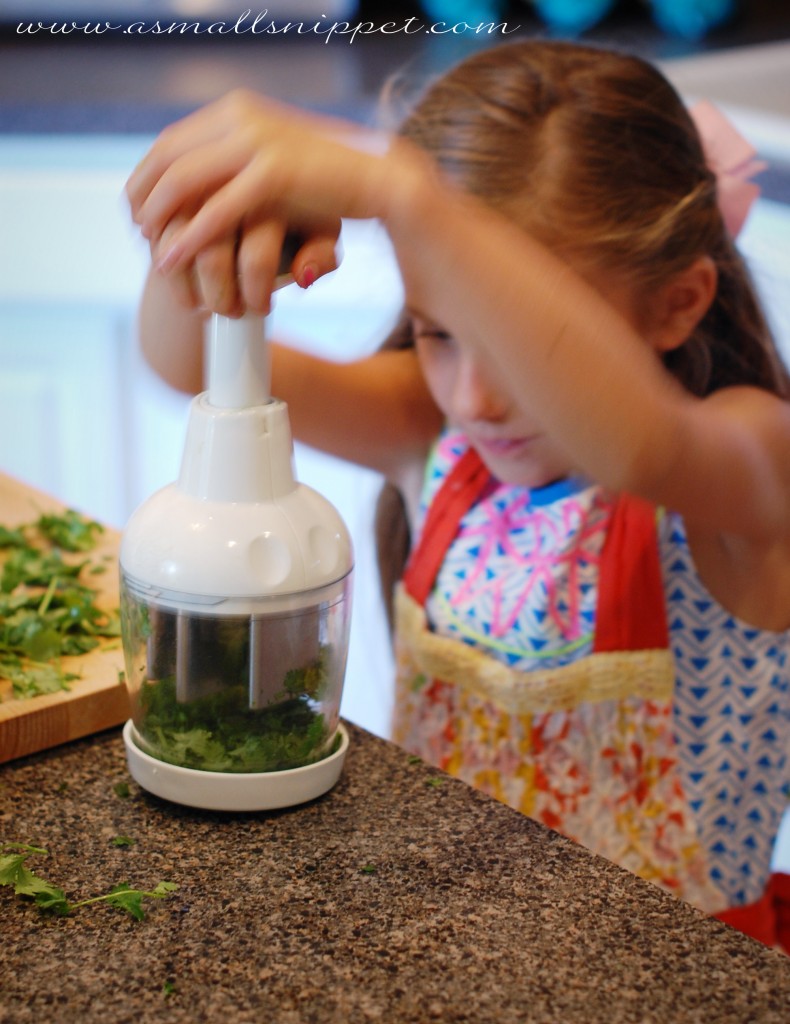 add the minced garlic to the bowl: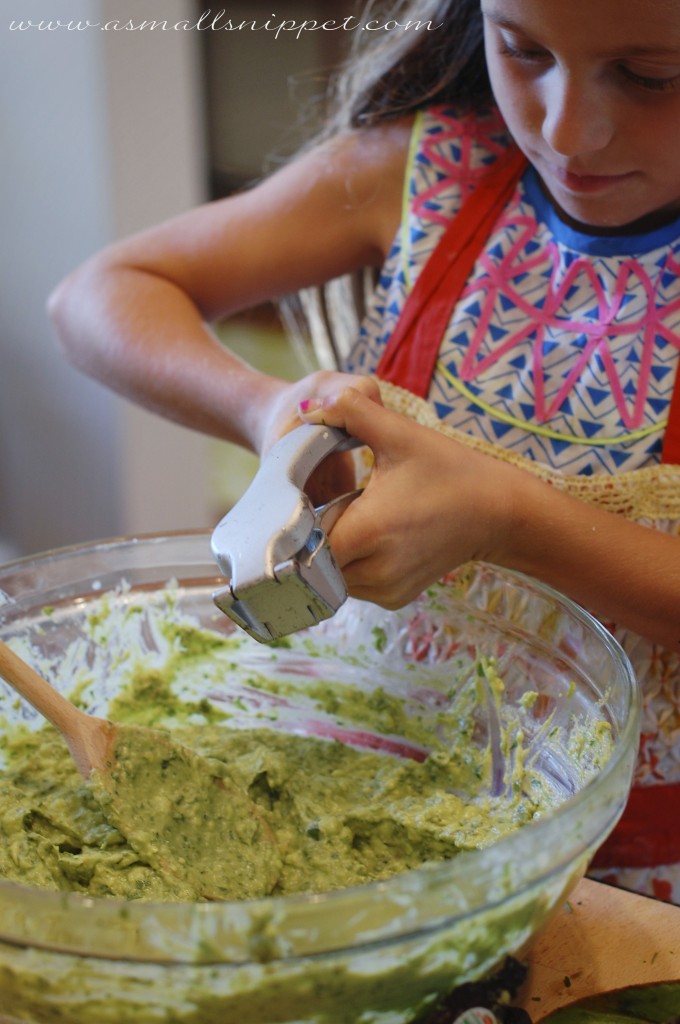 and the juice of 1-2 limes: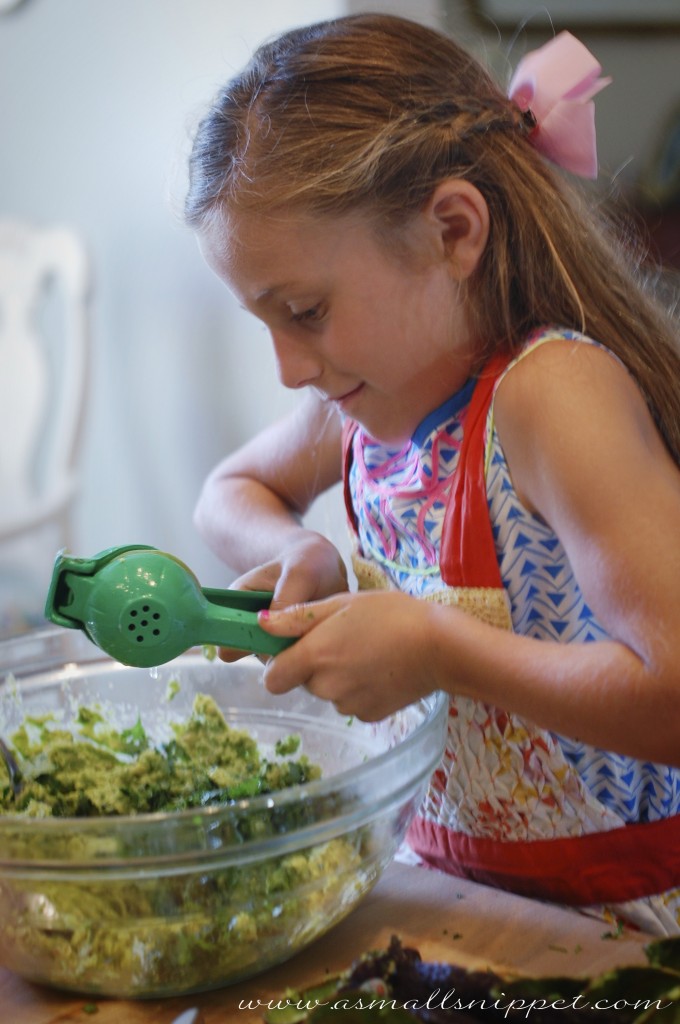 then chop your seeded jalapeño into small pieces and add that to the bowl.  i never use my wooden cutting board for onions or jalapeños, because i don't want the heat and flavors to transfer, so i always use a separate cutting board that i can just throw in the dishwasher to ensure it gets all the little bits of food off.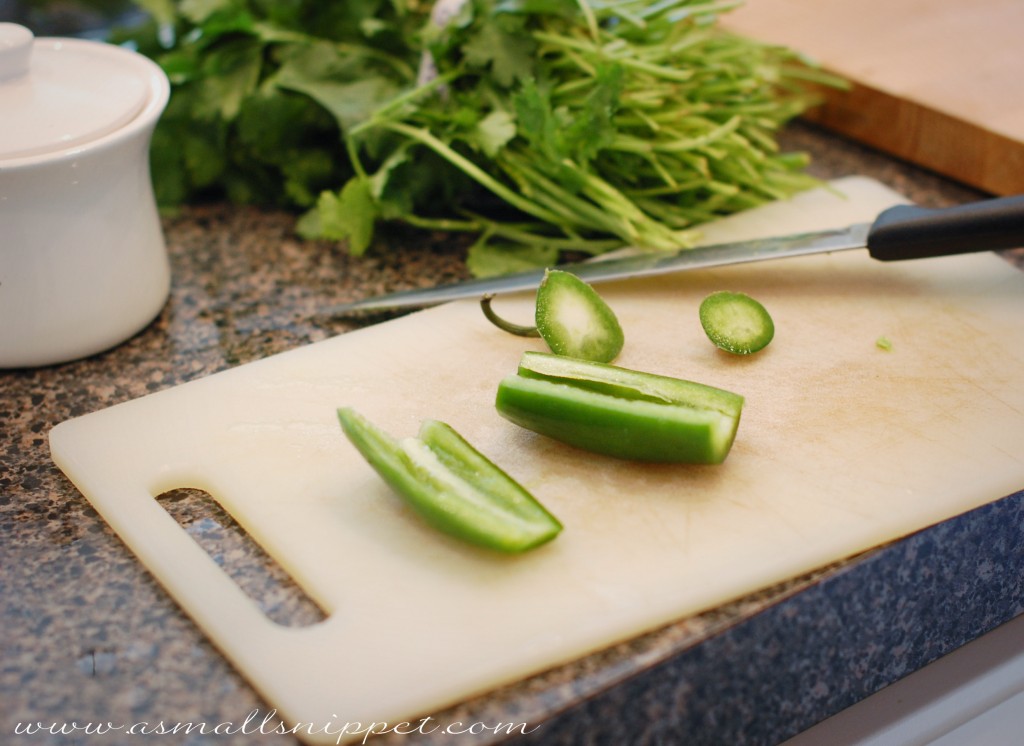 you then add a big dollop of Greek Yogurt and stir it all up.  that's Bella's "secret" ingredient, and it makes her guacamole super creamy and yummy.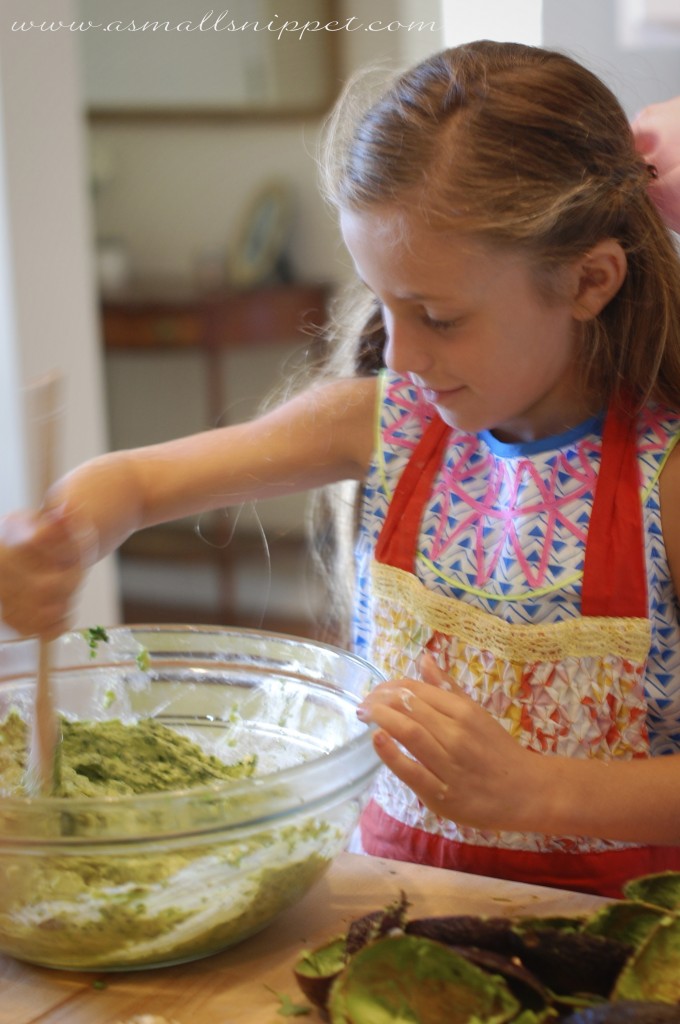 stand back and admire your work!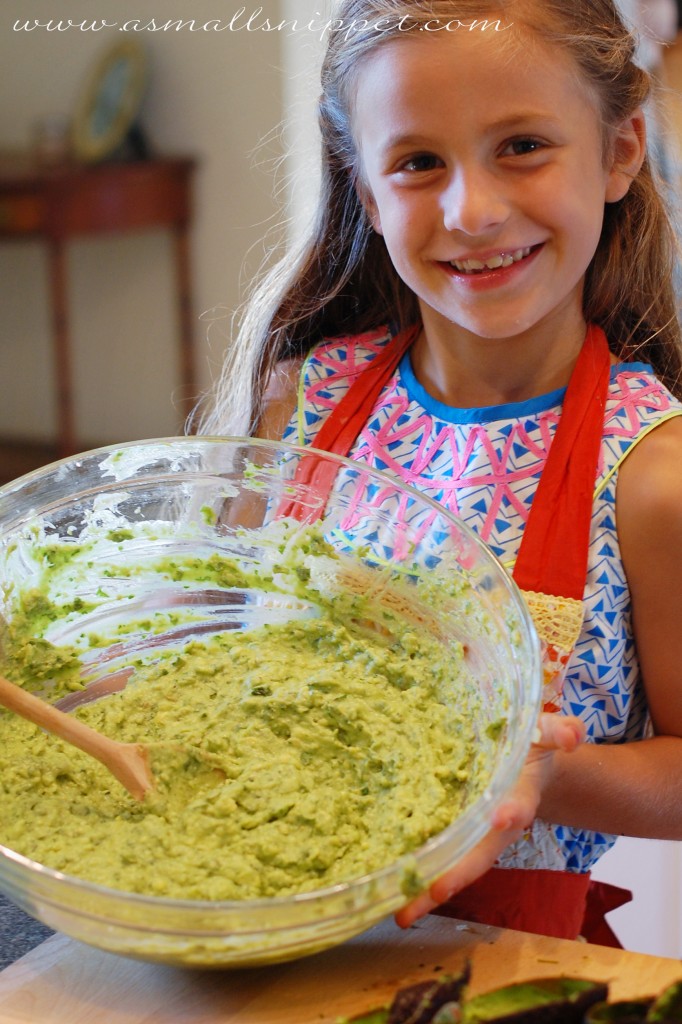 then you need to taste it, to ensure that you have the proper amount of salt and lime juice.  we add more, a little bit at a time, until its perfect.  so add salt and more juice to your liking.  sometimes we are even known to add a little more garlic, if Chef Bella decides that the flavors are still a little bit off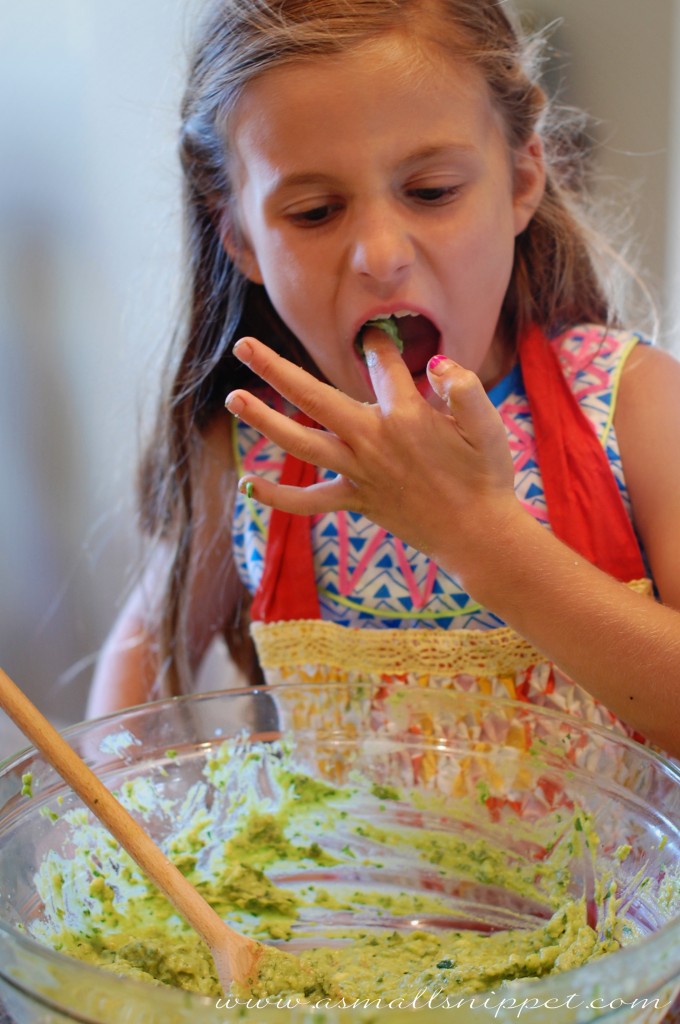 there you have it.  Bella's Famous Super-Creamy-With-A-Little-Bit-of-Heat Guacamole Recipe.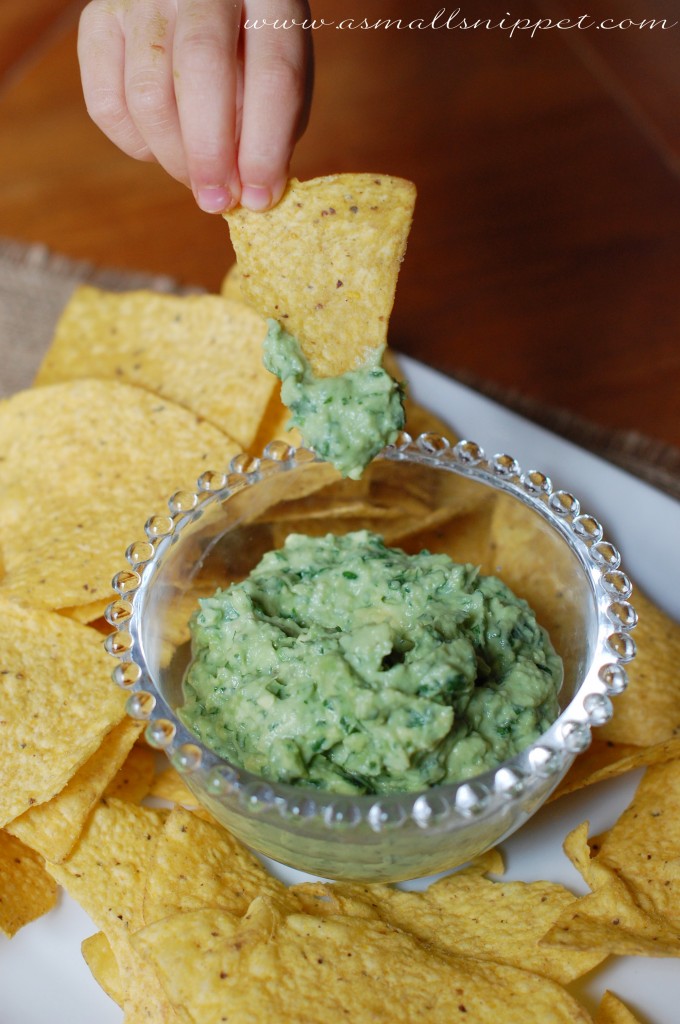 and here's a little tip for you.  i read this once somewhere, and i don't really know if it works or not, but i like to think it does, so here you go…apparently if you leave the pit of an avocado or two in the guacamole, it'll stop it from turning brown so quickly.  go try it and see what you think!
and just for fun, here's a quick little video of Chef Bella explaining what she did.  her measurements in the video are for a double recipe.  she also forgot to mention the jalapeño, her feet are really dirty, i'm a bad video-grapher, and if you listen closely, you can hear Berkeley making sure we are all aware that she has woken up from her nap.  also…please, whatever you do, don't put two "handfuls" of salt in!!  all very good reasons why i don't ever post videos on here.  


by the way…does anyone else's kiddos call Yogurt…"Yogrit?"  i don't have the heart to correct her…its too darn cute.  ENJOY!
and here's the recipe card for you.  just right click on the image to save to your computer and print!