i love y'all.  i really do.  you sure know how to make a girl feel like she's not crazy!!  THANK YOU for your comments, emails, etc from my last post.  thanks for your encouraging words.  thanks for sticking in here with me.  my favorite thing about this blog is that it reminds me all the time that WE ARE NOT ALONE!!  this is truly an amazing, God-given community.
i'm excited for what i'm going to show you today, because i used this thing EVERYDAY for the first 6 months of Berkeley's life.  its a sewing tutorial for an Easy Car Seat Cover.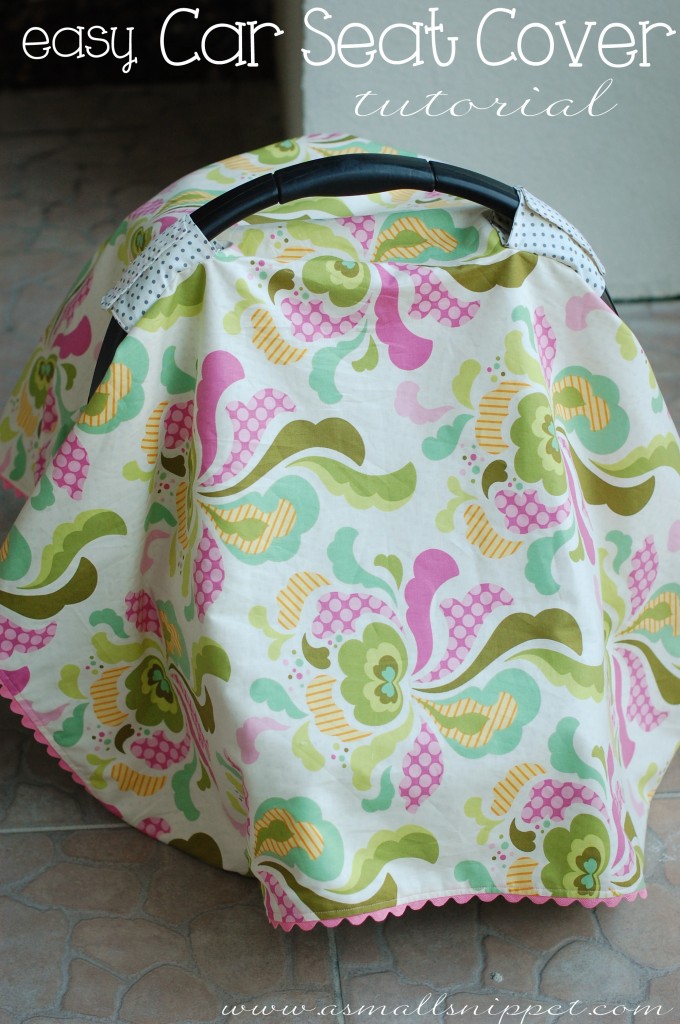 i made this a long time ago for Berkeley, but i never got around to posting it.  so i'm excited to share it with you today!  this is such a fun way to gussy up a boring old carseat, but its also super functional, because it provides shade, as well as protection from the elements.  i originally sewed it for Baby B's car seat because i needed something to keep her dry during all those (sometimes daily) Florida afternoon thunderstorms.  i also used it to easily cover her up for those times when i didn't want anyone getting close to her or touching her (especially for those early weeks!)  it was also great on walks to shield the sun.  Berkeley hated having the sun in her eyes, so this way i always had an easy, yet cool and breathable way of covering her.  and it provided instant shade when on the sidelines of her brother's games too!  this not only proved to be amazing at all of those things, but i also got comments all the time on how cute it looked.
(can't believe she's already outgrown this thing now!  time flies…)
so here you go…this would make an amazing gift too!!  trust me…as a mom, anything that is not only functional but also super cute and can get daily use is the best kind of baby gift!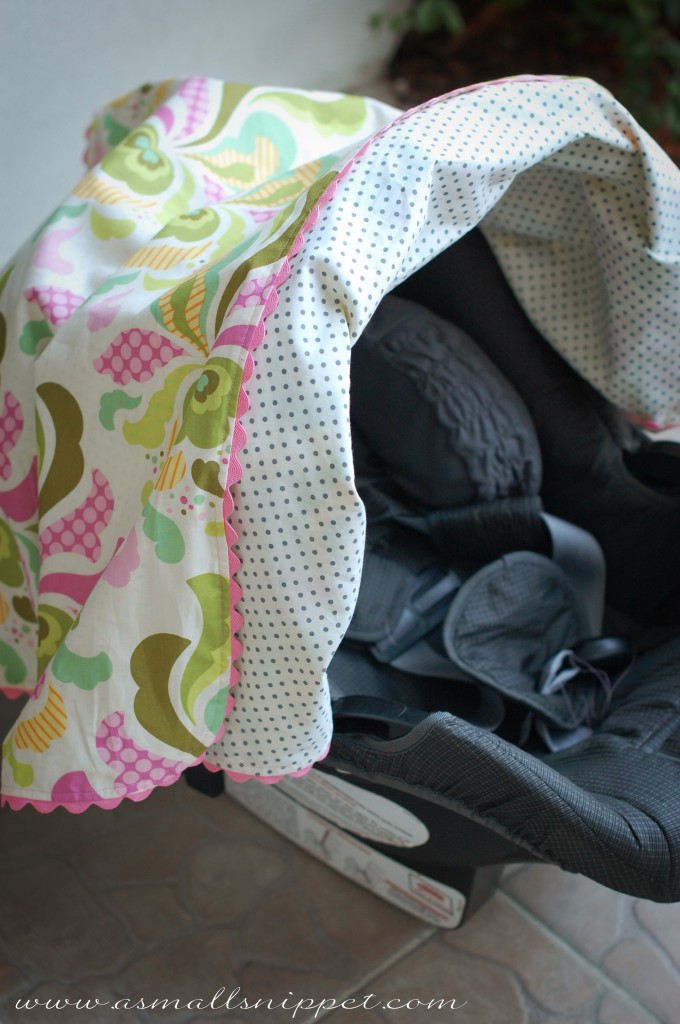 all you need is:
– 1 yard of front fabric (the floral…i think it was either a Heather Bailey or Amy Butler design…but i can't remember for sure.  i bought it at my favorite local quilting shop)
– 1 yard of back fabric (the grey polka dot….i found this one at Joann's)
– 1/4 yard of fabric for the straps (i used the polka dot for the straps too)
– (2) 3 inch strips of velcro
– 4 1/2 yards of jumbo ric rac
– coordinating thread
(i would suggest washing your fabric before you begin.  i ended up needing to wash this cover many many times, so if you prewash your fabric, it will do all the shrinking its gonna do before you sew it and wash it later, only to find out that it now won't fit your carseat!  so i would suggest first machine washing and then air drying your fabric)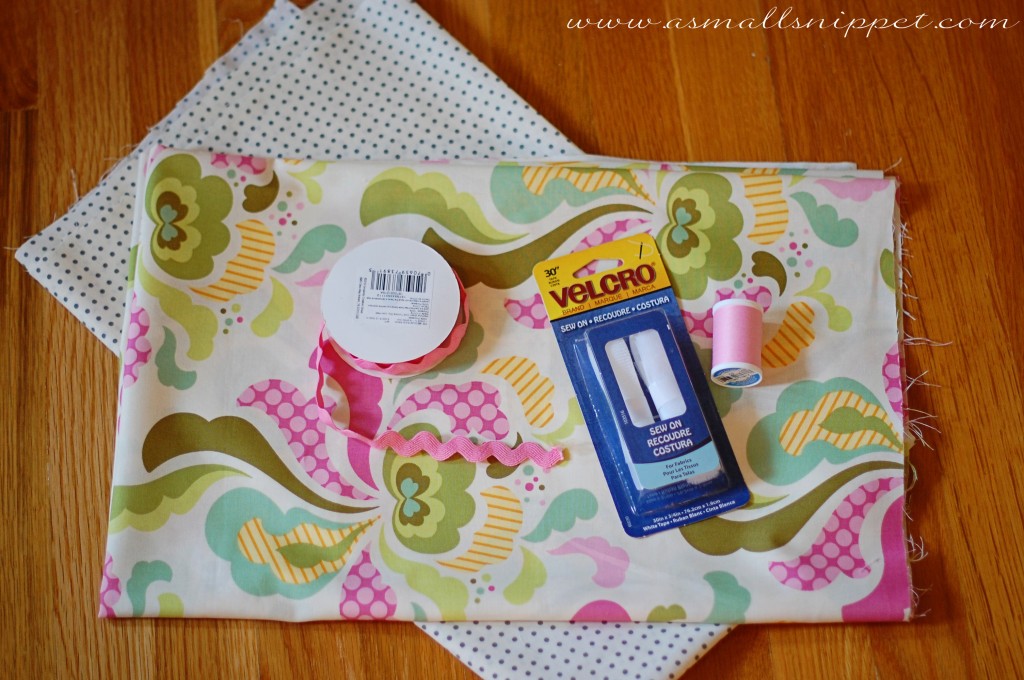 lay out your front fabric and, using a bowl, round your corners: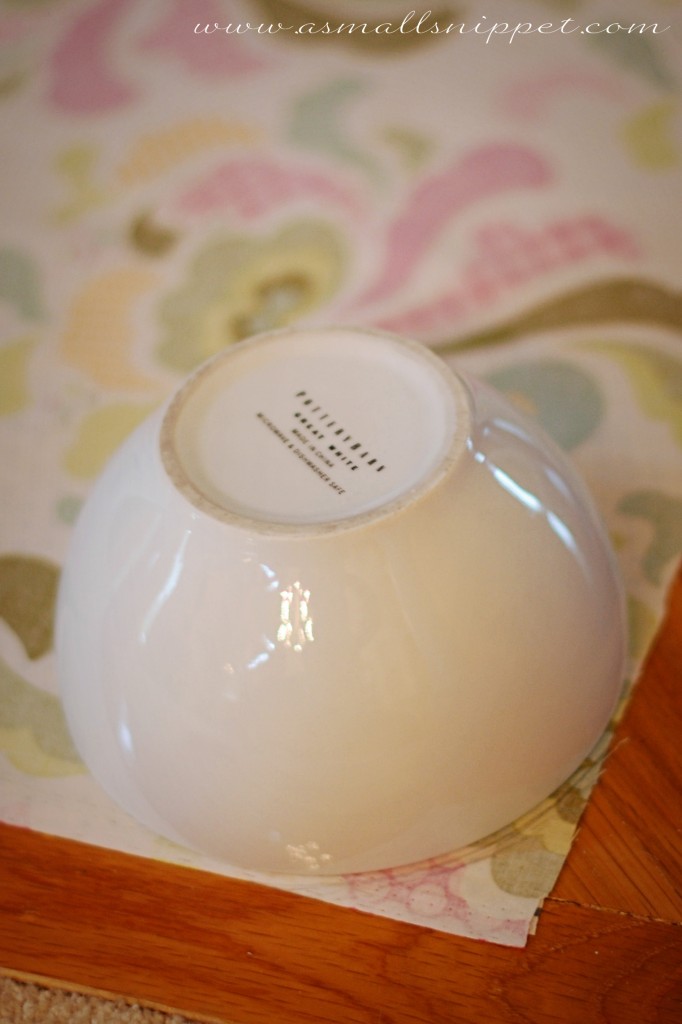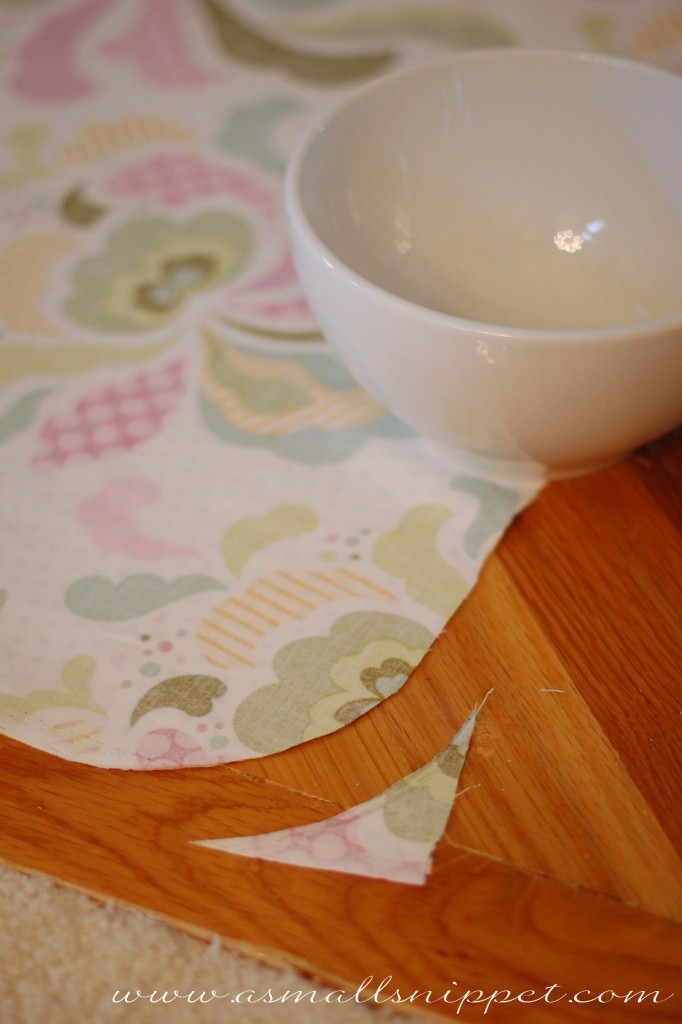 once all 4 corners have been rounded, repeat on your back fabric: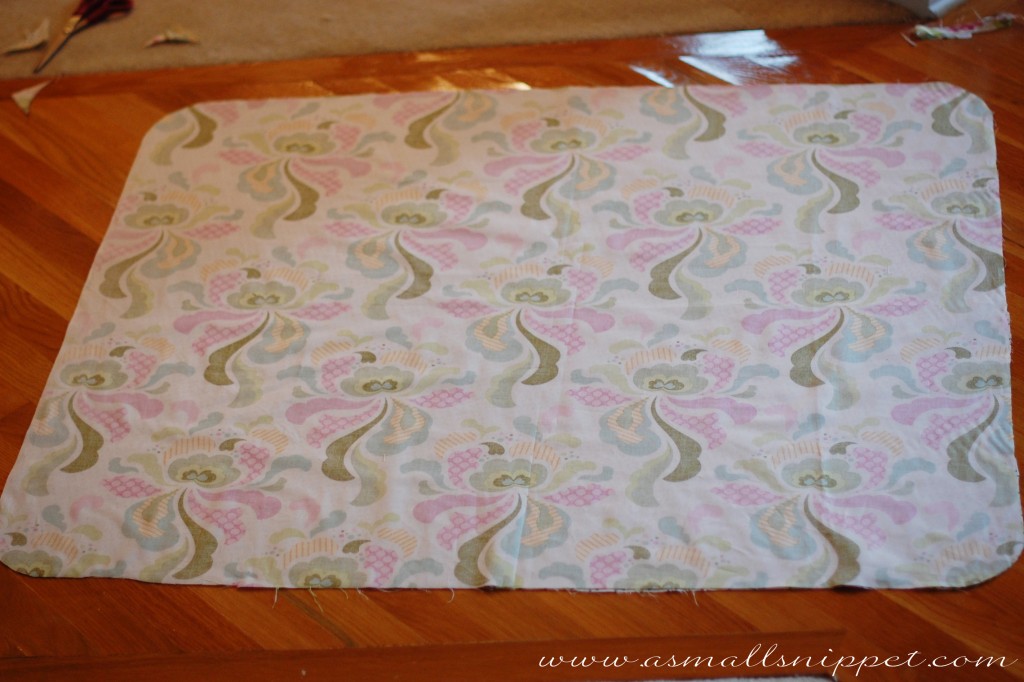 lay your back fabric out, right side up, and then lay the ric rac all the way around, making sure that the edge of your fabric is lined up with the outer edge of your ric rac.  in other words, the ric rac should be laying just inside the fabric, with the edges on top of each other: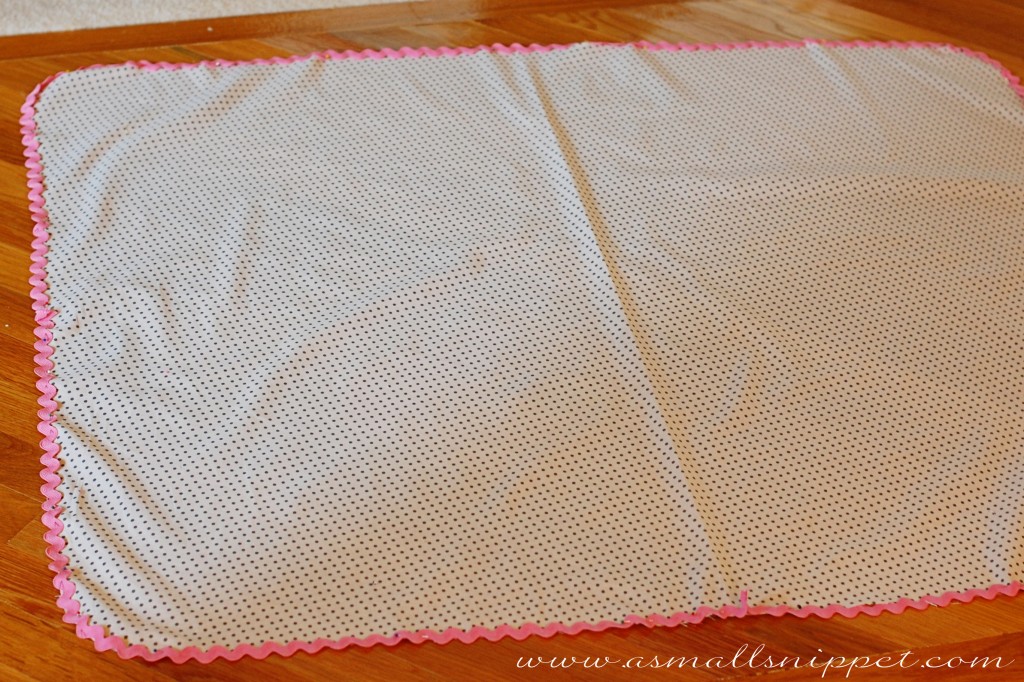 sew the ric rac onto the fabric by sewing down the middle of the ric rac.  (make sure you are catching the fabric as you sew):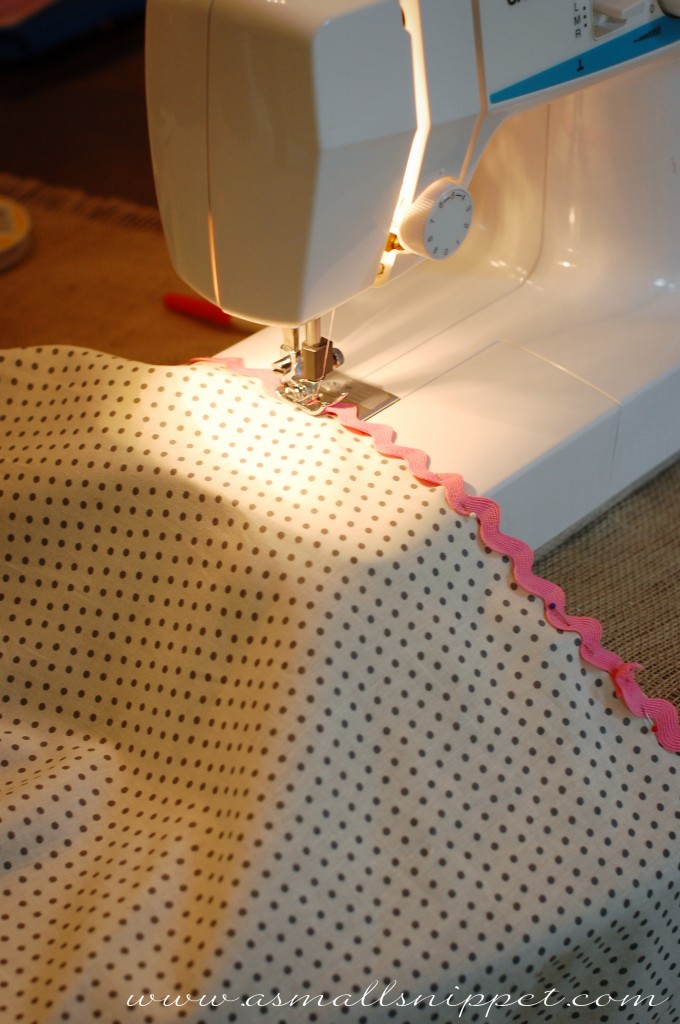 next, pin the front fabric onto the back fabric, right sides together, with the ric rac sandwiched in between the fabric layers: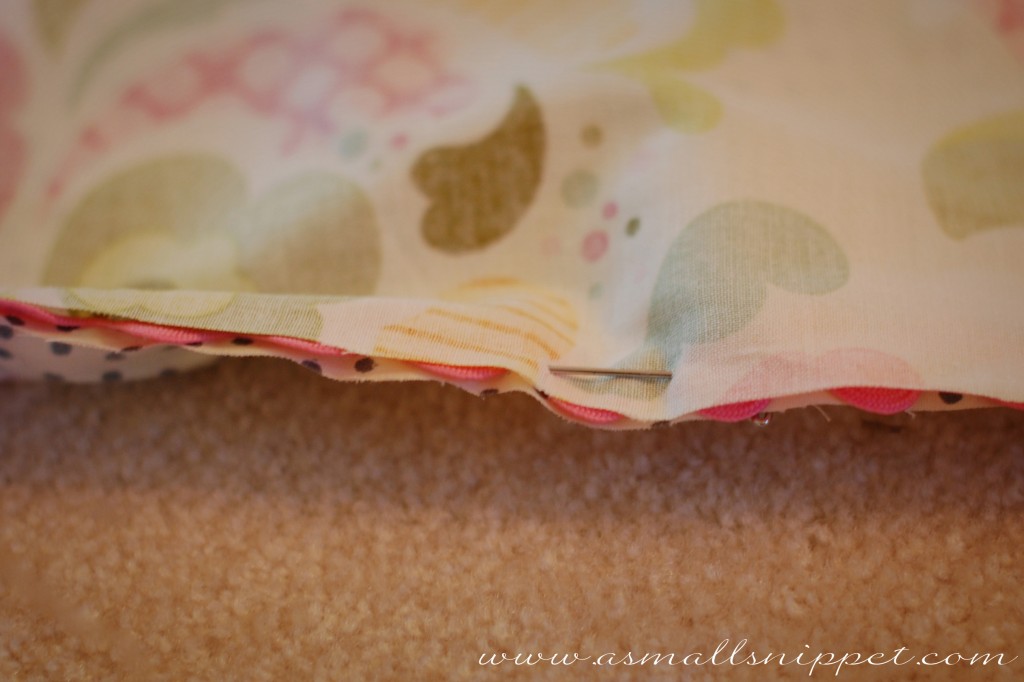 using the already sewn line as your guide, sew on top of that same line to attach the front and back pieces of fabric together.  leave a small opening so you can flip it right side out when done (you will close that opening in a minute with a top stitch):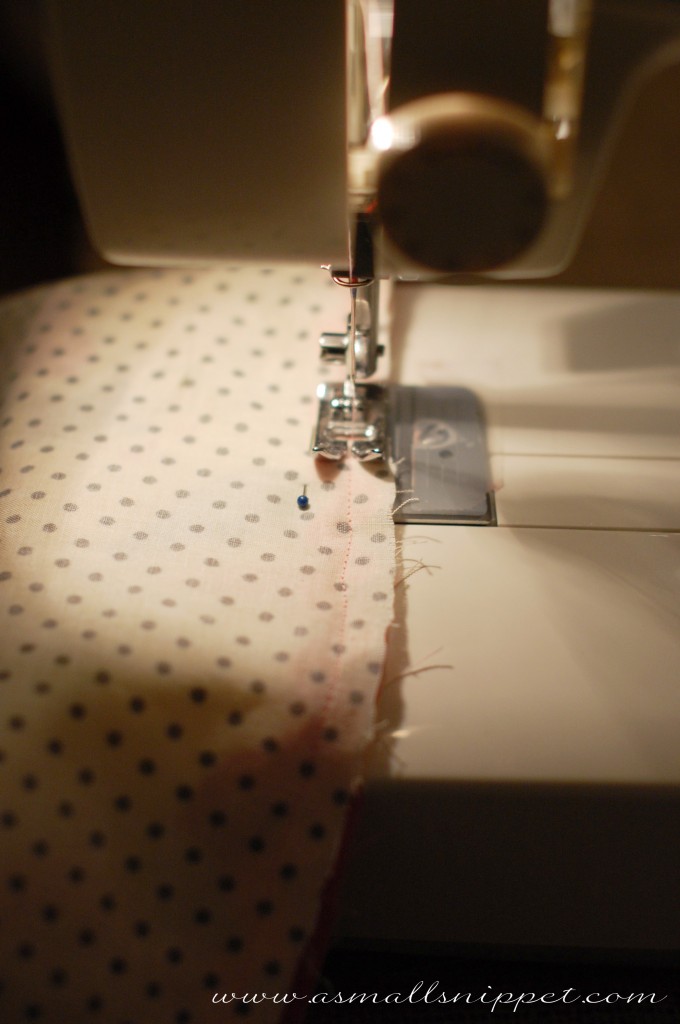 flip right side out, and then pull the ric rac out from the edge and iron down so it stays in place: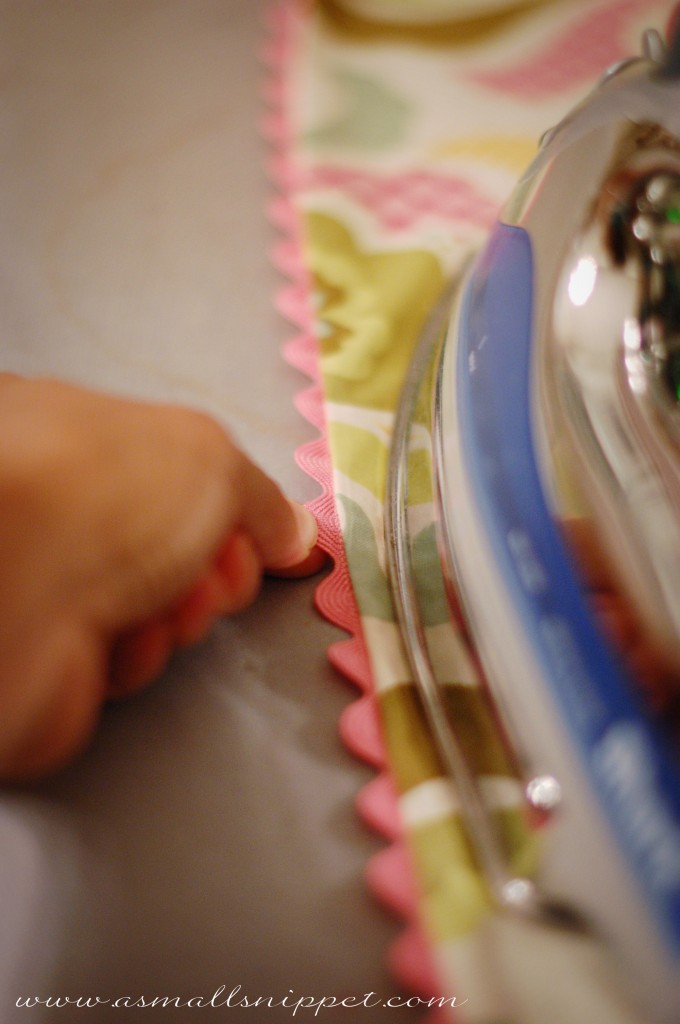 next, top stitch all the way around.  this will help the ric rac to stay in place, and also adds a finished touch (you can close your opening at this time too.  just tuck in your edges and sew together with your top stitch: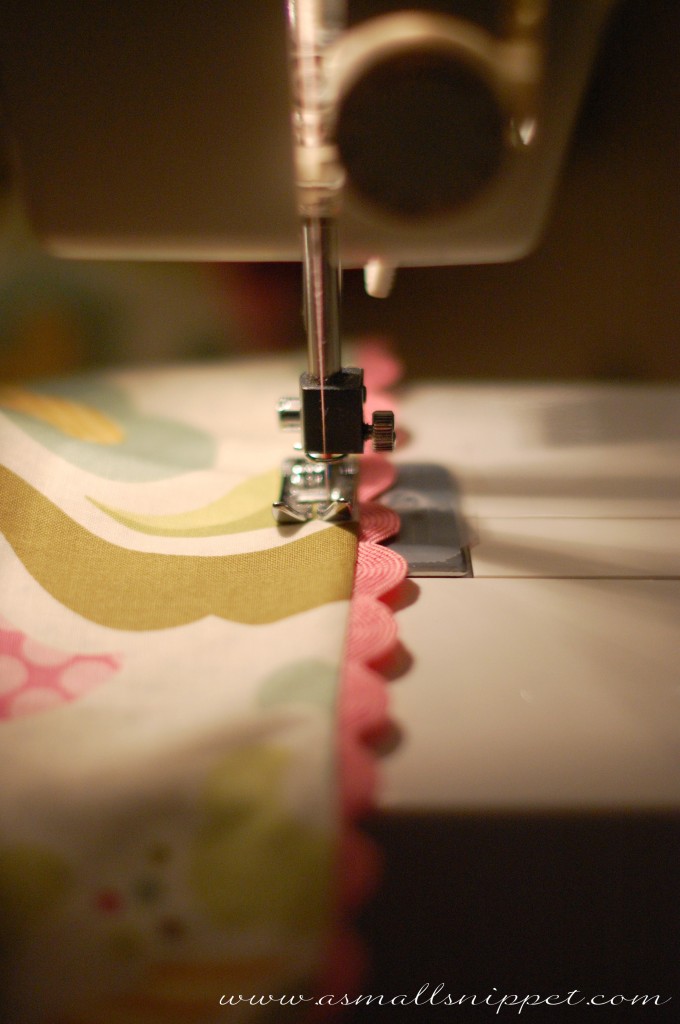 the main part of the cover is now done (see how easy that was?!), so now all you have to do is make the straps so it can hang over the carseat.  so cut two pieces of fabric (i used that same back fabric to give it a coordinating look since it was going to be attached to the front fabric.)  cut two squares, about 8 x 10 inches.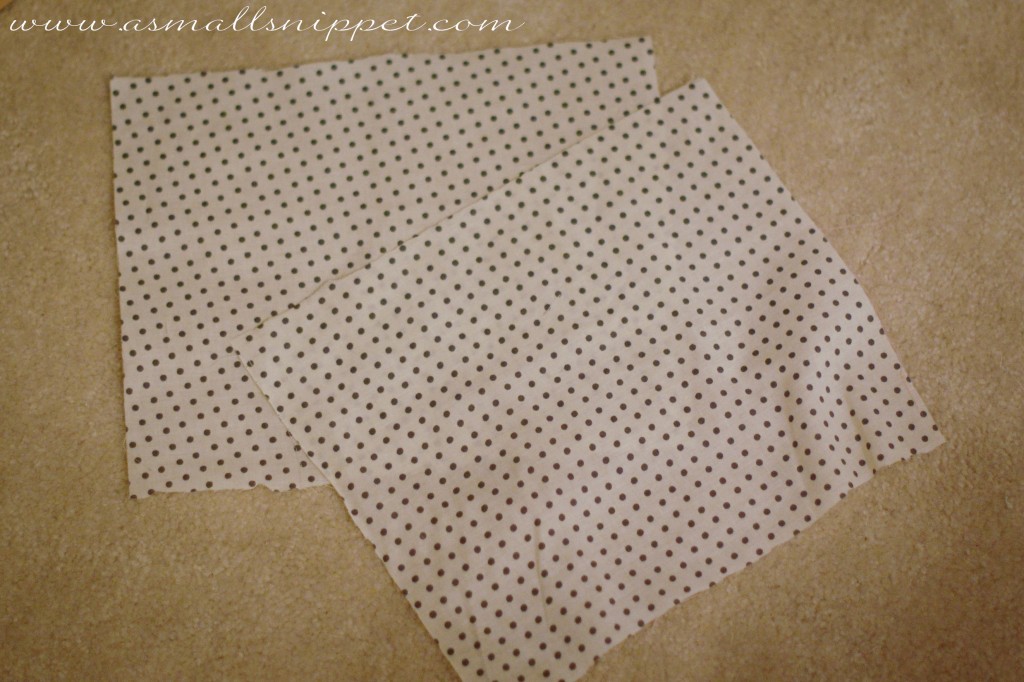 fold them right sides together, lengthwise, cutting the width in half (so you'll end up with 2 pieces that are 4×10), and pin the edges.
sew all 3 sides together, but leave an opening to flip right side out.  once you've flipped the fabric, sew a top stitch all the way around, sealing up the opening.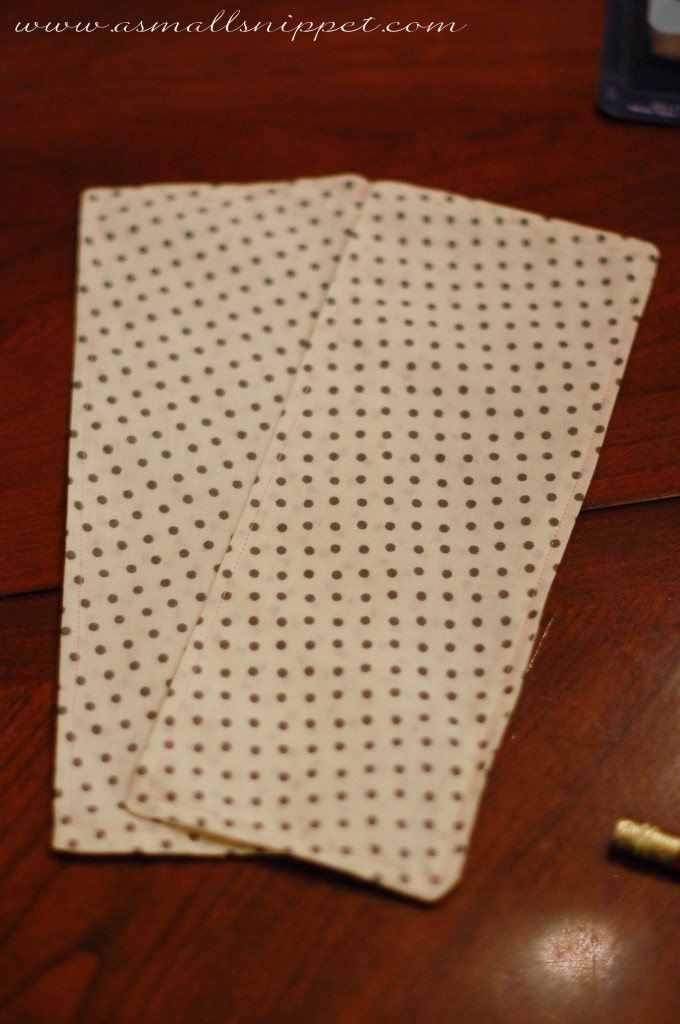 then you need to sew your velcro pieces onto each strap.  you can see approximately how i did that below, but the best thing to do is to position the strap around the handle of the car seat so you know how your strap is going to be folded and which side your velcro will need to go on.  (this will make sense as you do it.)  pin each piece of the velcro where you need it for the strap to hang on the handle, and then sew in place.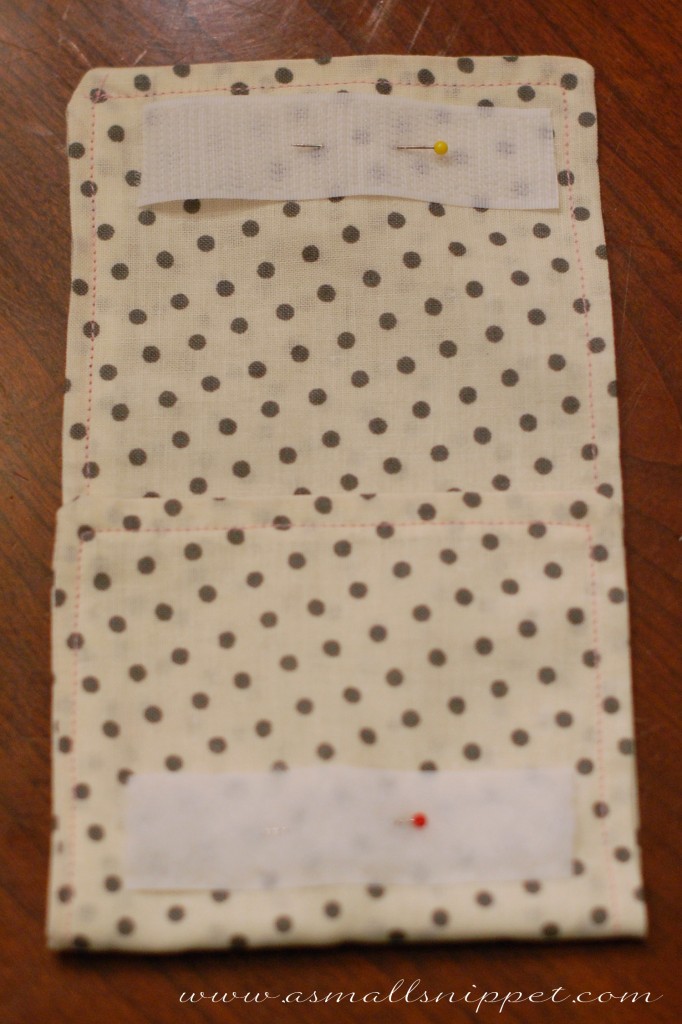 your final step is to attach the straps to the cover.  the best way i found to do this is to velcro the straps to your handle then actually throw the cover over the carseat and position it how you'd like it to hang (i wanted my fabric to  completely cover the front and the back of the carseat, which meant there was going to be more fabric in the front, so your straps won't be completely in the center).  also…i didn't want any fabric hanging in the middle, touching Berkeley's head, so i made sure to position the straps towards the outside so that it pulled the fabric taunt.  sorry that there is no better technical way of telling you how to measure and hang, but it depends on your car seat and the handle.   once you figure out where you want your straps, pin them on, and sew them onto the cover in a 3 x 3 inch box to give the straps lots of stability and to allow the cover to hang the way its supposed to hang.  (once again, this will make sense as you do it.)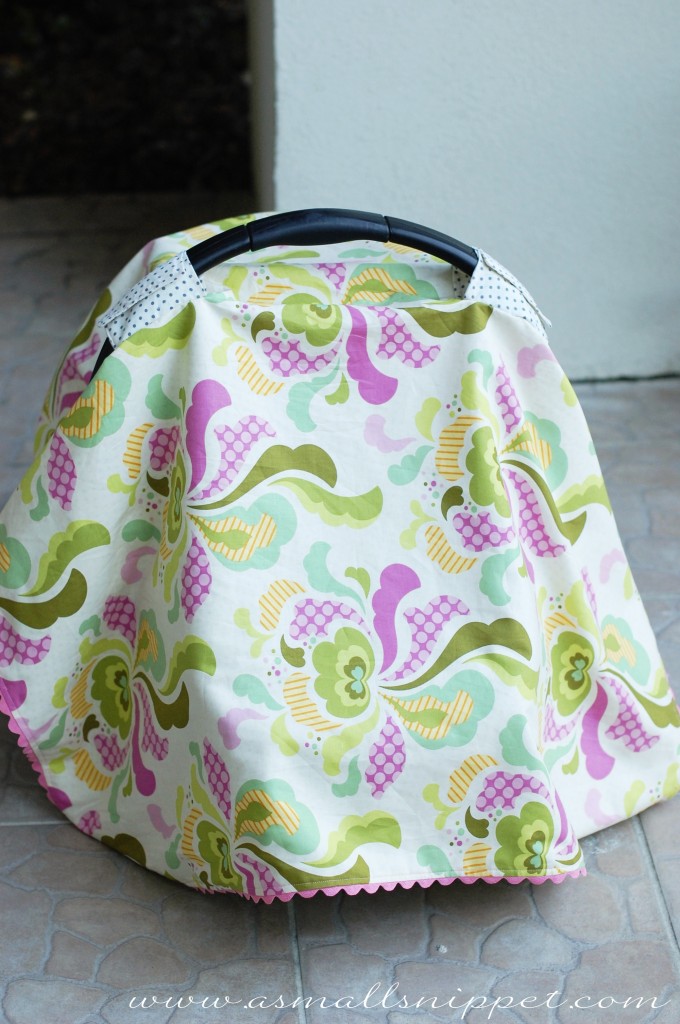 there you have it!  its a really quick and easy project, but makes a huge difference, both in functionality (is that a word?) and style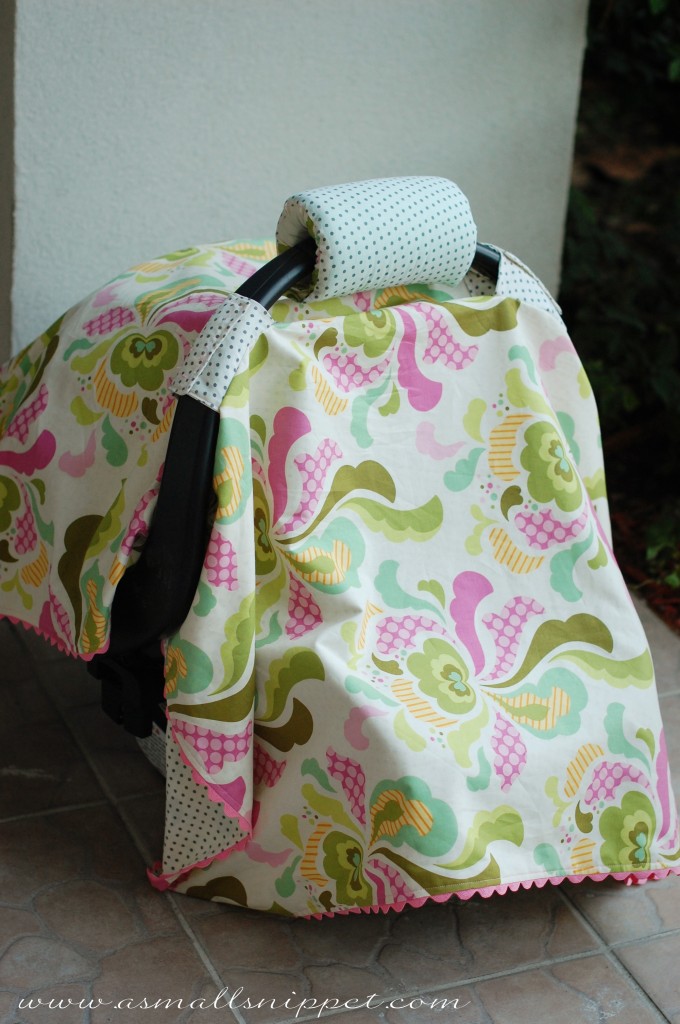 you'll notice that i also made a coordinating arm cushion for the handle.  that thing was a life saver, as it cushioned the crook of my poor arm from all the weight from lugging that car seat in and out of the car.  i'll show you that tutorial another day if you are interested!
happy sewing,