Bella turned 7 back in March, and before the craziness of our move happened, we were able to fit in a fun celebration.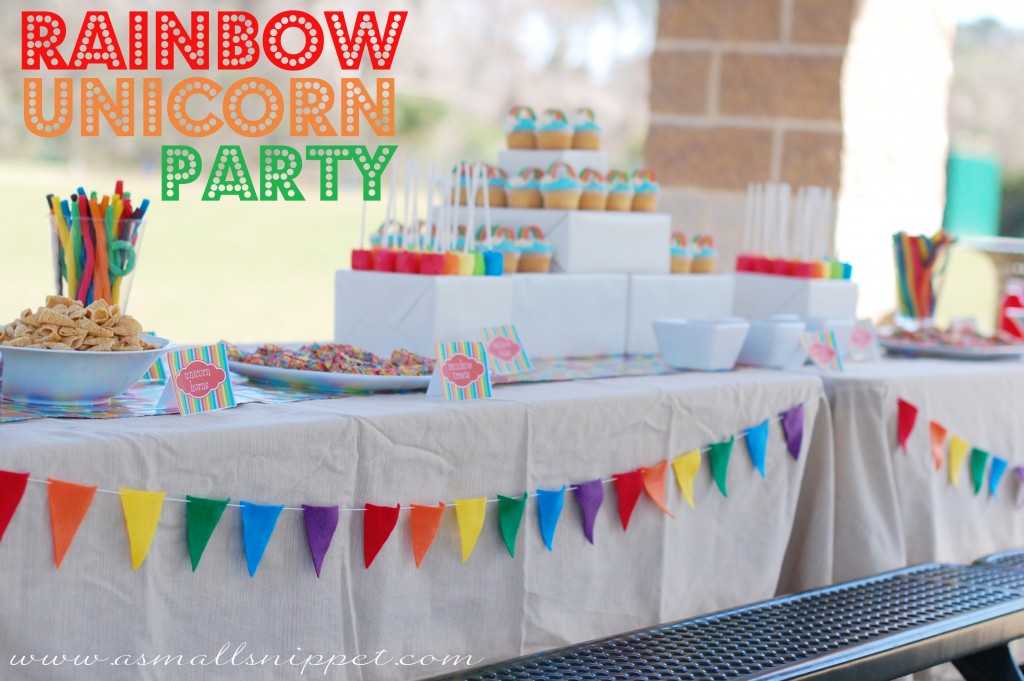 i mean…really…what more could a 7 year old want than a combination Rainbow Unicorn Party…well, besides a REAL LIVE unicorn…but after requesting for Christmas a few years back that her Great Grandmother just follow a rainbow to find her a Unicorn at the end of it as her present, she now says real unicorns only exist in Heaven.  but…who says you can't pretend for a day?  so we combined two of Bella's favorite things which made for a classic little girl's birthday celebration.
i realize i am about 2 months late on posting this…is it really already May?  but better late than never.
here are the deets: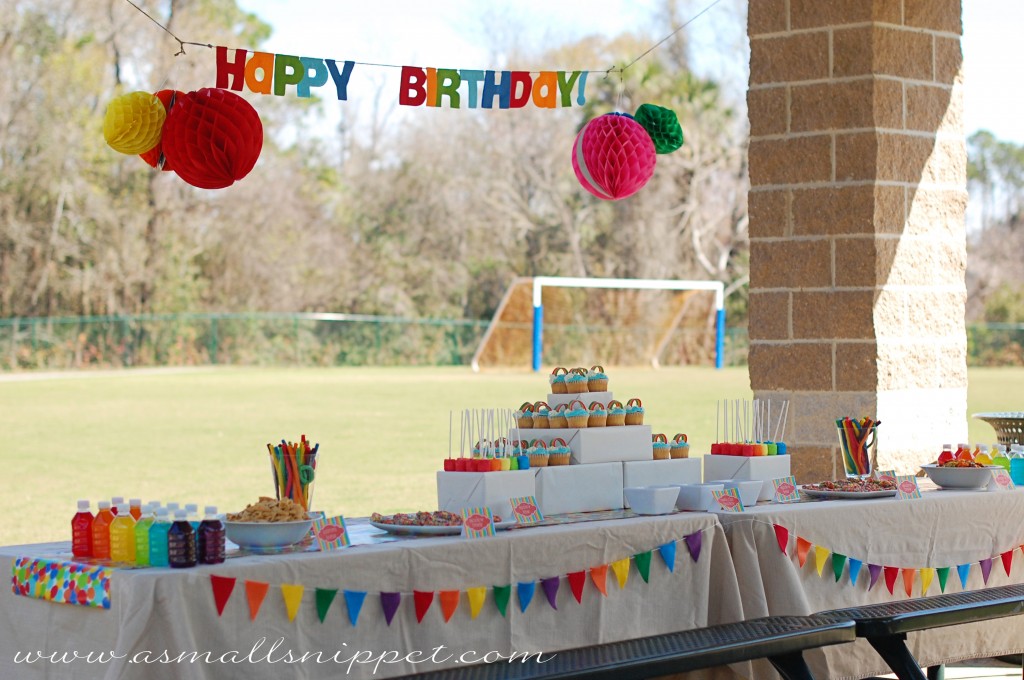 i always feel a fair amount of heartache when planning the food for a party.  i almost feel like i'm poisoning my kiddos and their friends with the amount of artificial JUNK that i serve, and i truly do feel a slight pang in my stomach when i set it all out, but let's get real people…what kid wants to come to a birthday party where they only serve organic fruits and veggies?  so…i bite the bullet, and let my kids go hog wild on things i would never typically buy.  and i figure we can make up for it later.  and let me tell you…they totally take full advantage.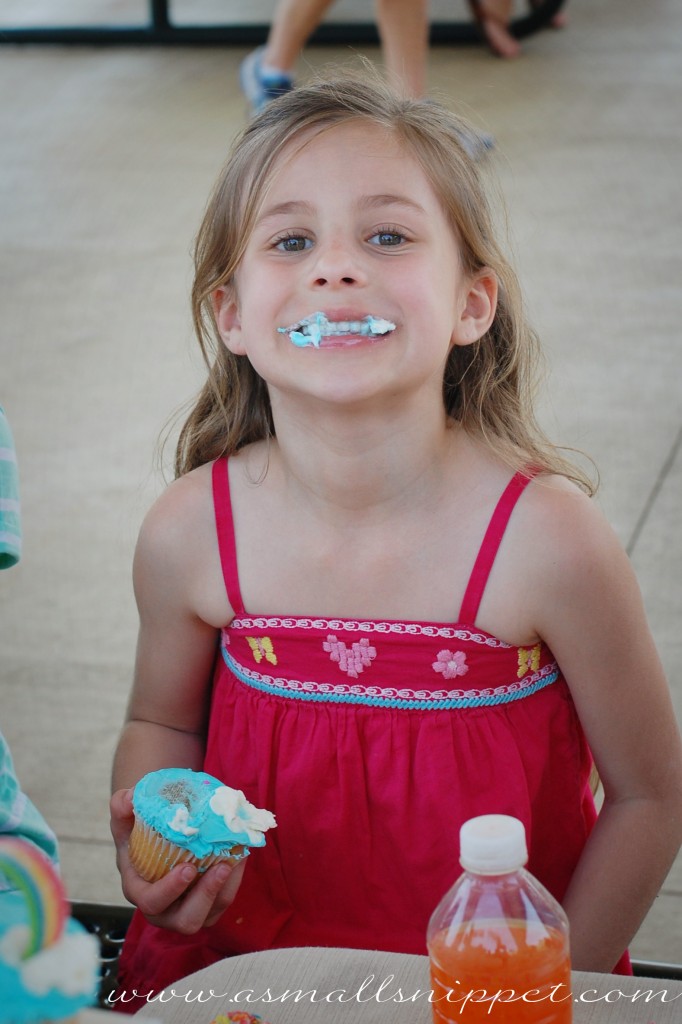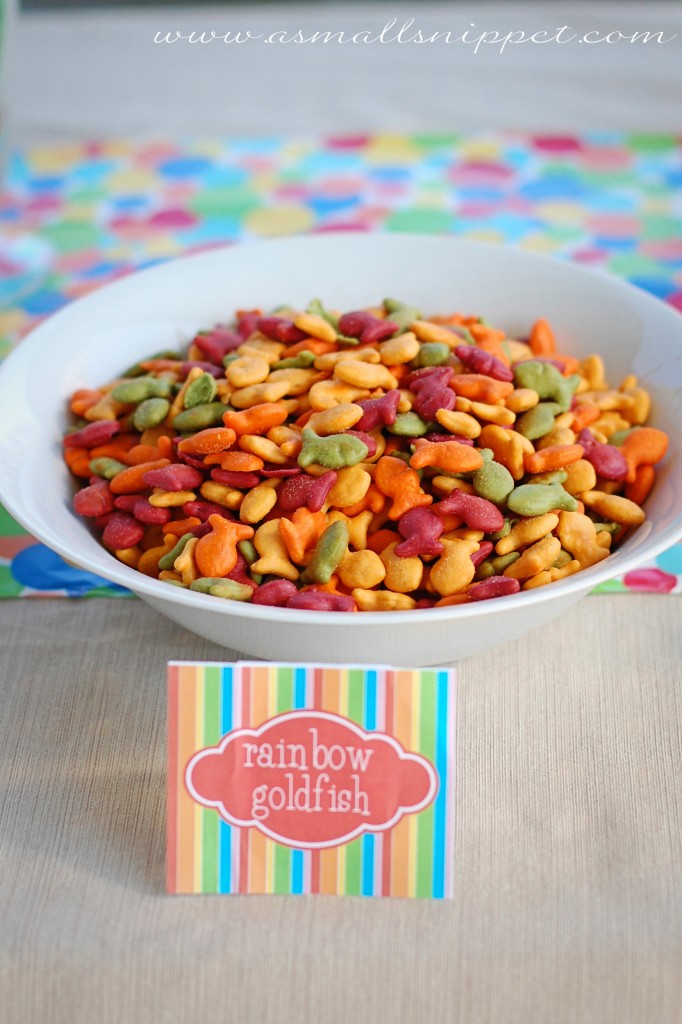 these marshmallows were SO stinkin' easy to make, and super cheap too.  you just stick a large marshmallow on a lollipop stick (if i were to do them again, i'd probably use a shorter stick, like these: Wilton 4 Inch Lollipop Sticks
.)  dip the marshmallow very quickly into a bowl of water.  pat it dry on a paper towel, and then cover with colored sanding sugar, like these: Wilton Colored Sugar
.  i sprinkled the sugar over every side of the marshmallow, and let the extra fall onto a plate designated for just that color.  then if there were any uncovered parts, i would roll the marshmallow in the leftover sugar.  once i was finished, i poured the sugar back into the jars so there was no waste.  also, i made these the day before, and stored them in a tupperware, but without the lid, and they were perfectly fine the next day.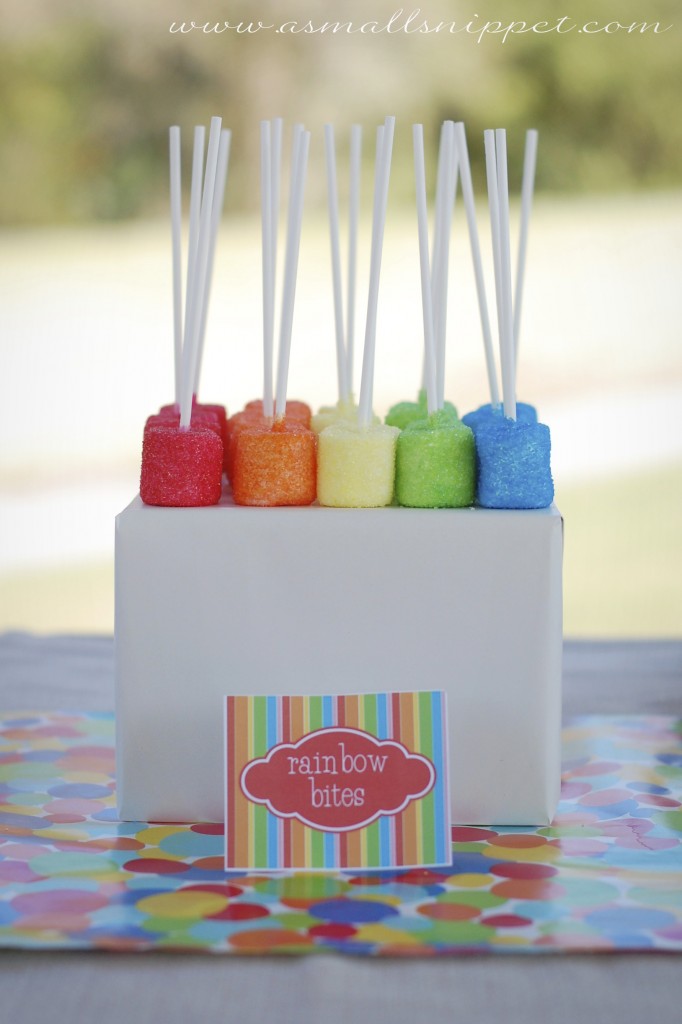 the rainbow treats are simply rice krispie treats made with fruity pebbles instead of rice krispies.  i added in extra marshmallows…because i always do!  i think that makes rice krispie treats extra yummy and gooey!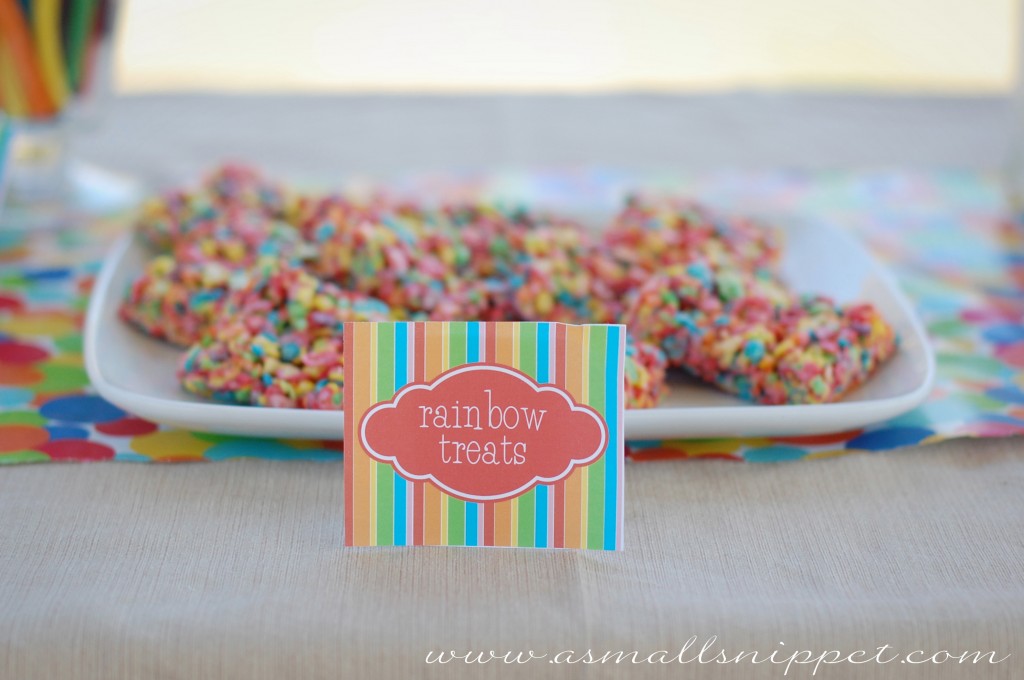 the unicorn horns are Bugles Original Crispy Corn Snacks
…remember those?  i forgot how good they are!!  you can find them just about anywhere.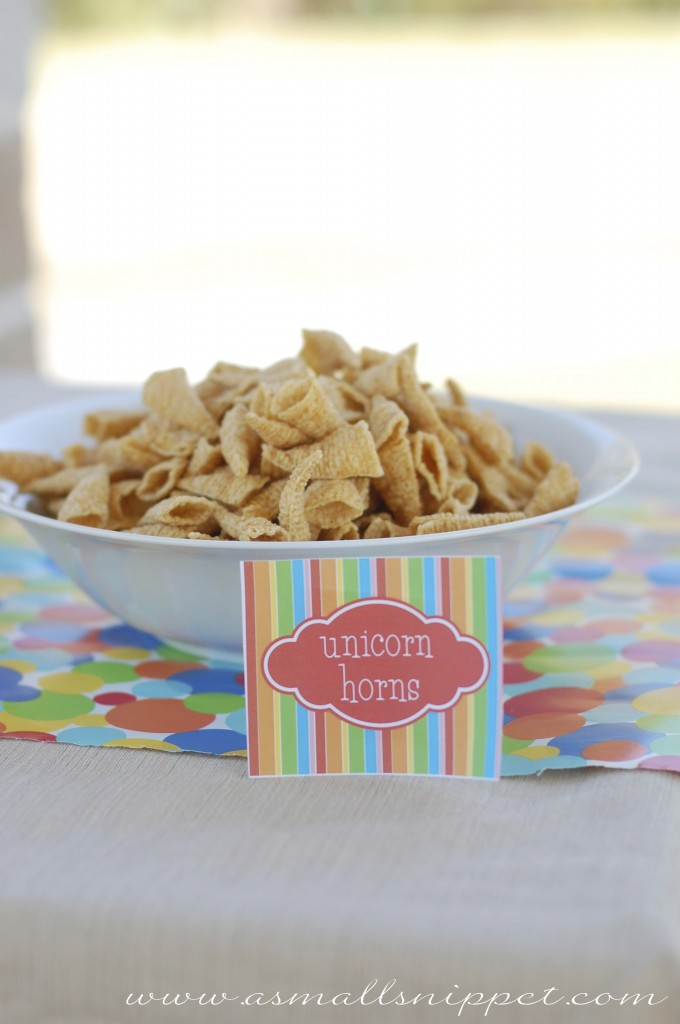 we used original Skittles as another rainbow snack, but you could use M&M's too.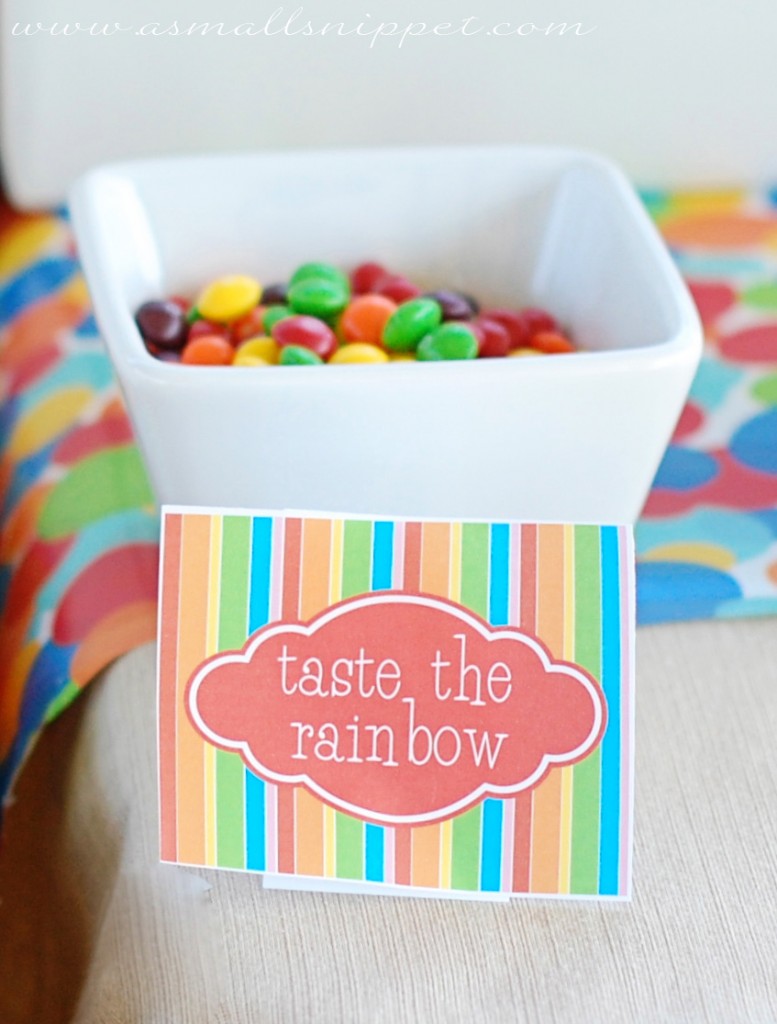 i seriously contemplated these drink choices for a LONG time.  Kool-aid is pretty much against everything i believe in when it comes to what we do and don't put in our bodies.  but…i just couldn't have a party without colorful drinks, and buying all those fruit juices would've broken the bank, and i'm pretty sure i couldn't have gotten a true rainbow from fruit juice.  so i used a combination of different Kool-aid flavors and some Powerade to come up with the perfect rainbow.  they were totally a hit, and after my kiddos drank some of the Kool-aid, i am happy to report that they were not all that impressed.  it really is quite gross, but it sure looks festive!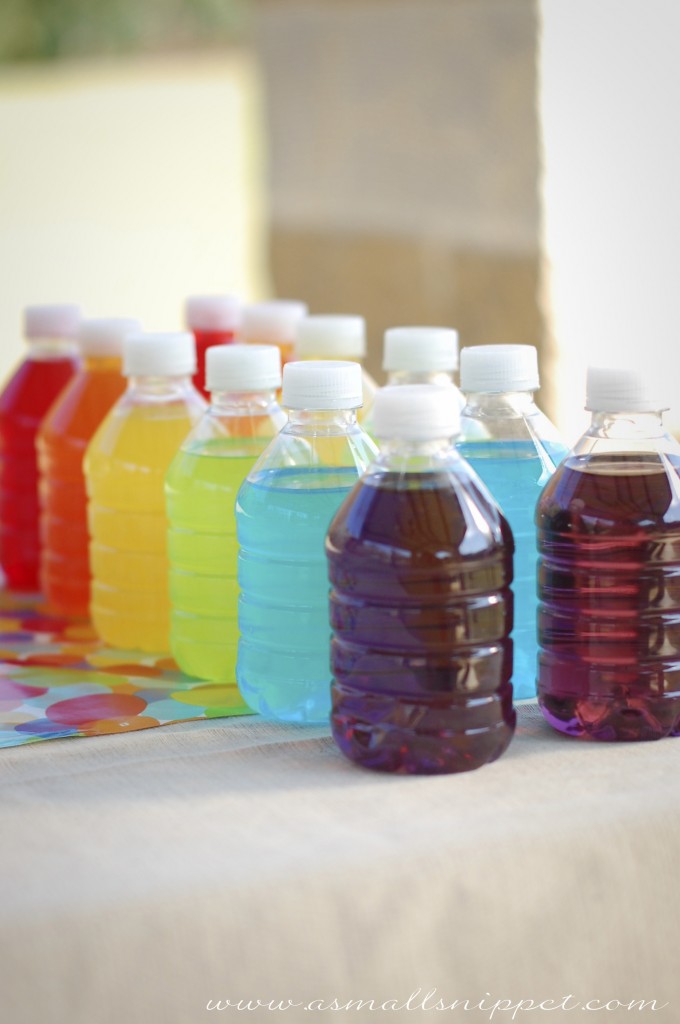 the cupcakes were very simple.  i bought this Airheads Extremes Rainbow Candy, and cut each strip in half.  once i frosted the cupcakes in blue frosting, i piped on fluffy clouds with a  star tip, and stuck each end of the candy in the clouds to form an arch.  i found that if i piped more frosting after placing the candy, it tended to stay better.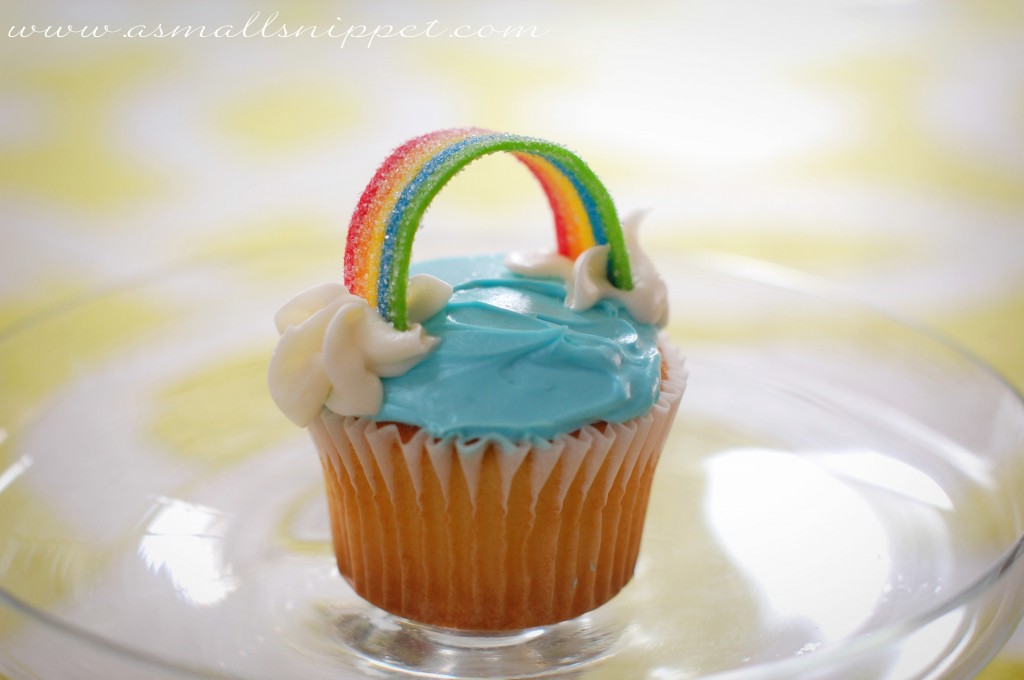 and here's a little tip for you if you want to save some time…i sometimes have my local grocery store make my cupcakes for me, but leave them plain so i can decorate them myself.  saves me the time of having to bake them, and honestly, they are super cheap!  i've sometimes even bought the buttercream from them separately, and used their frosting for my own decorations.  really a huge time saver, cause there's already so much on the to-do list when throwing a party.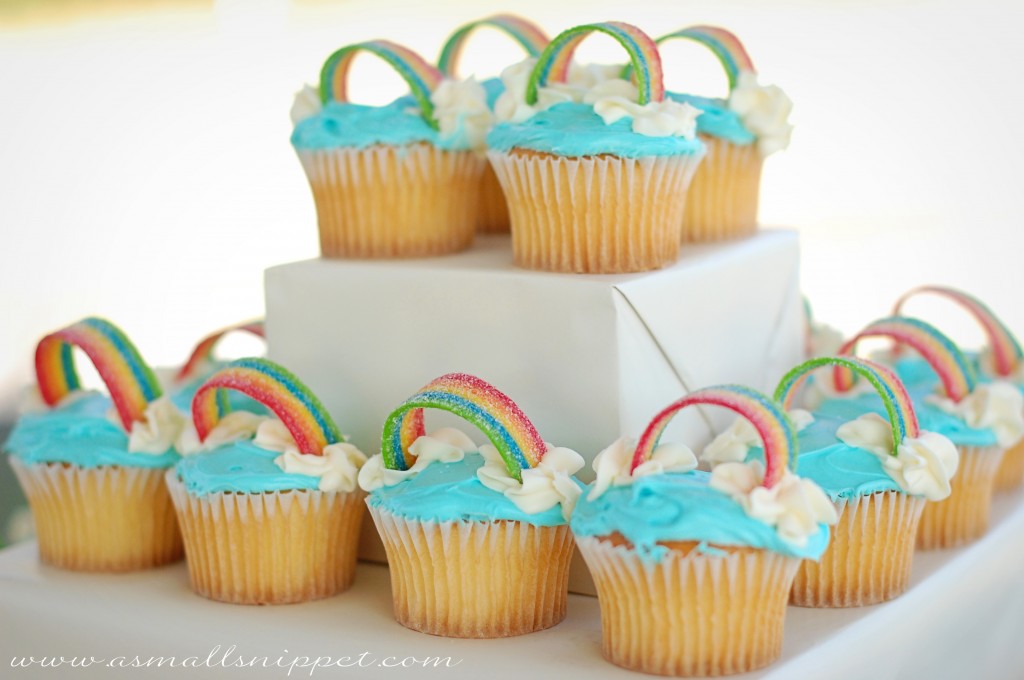 to add some height to the table to display the cupcakes, i wrapped different sized gift boxes in white wrapping paper, and stacked them on top of each other: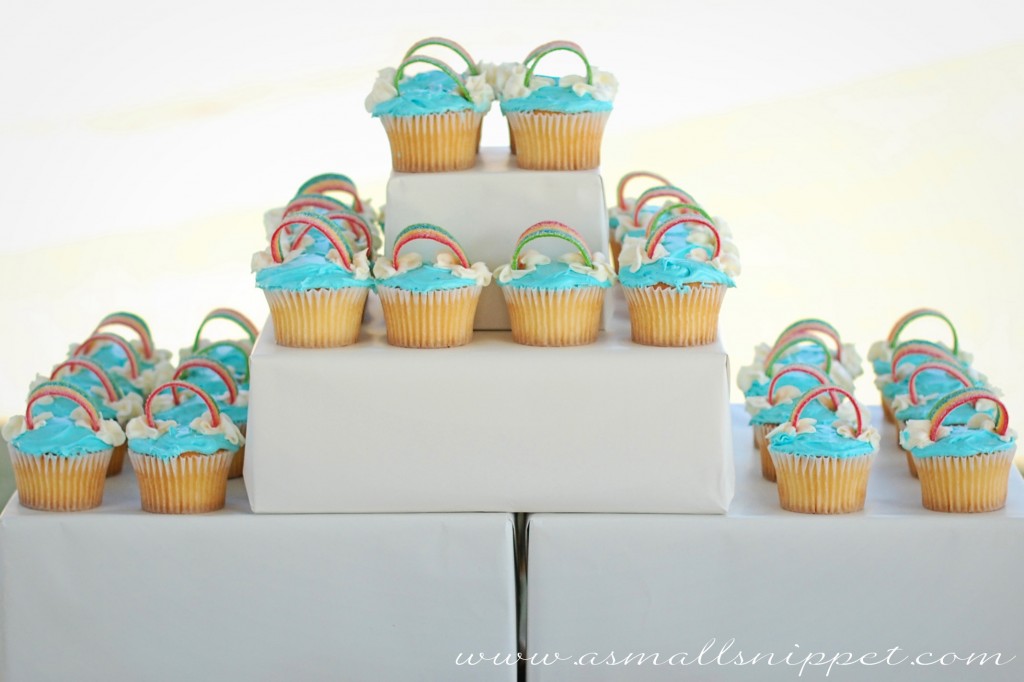 i found rainbow striped party hats at Target, took them apart, and rolled them into a thinner Unicorn horn shape before reattaching the elastic.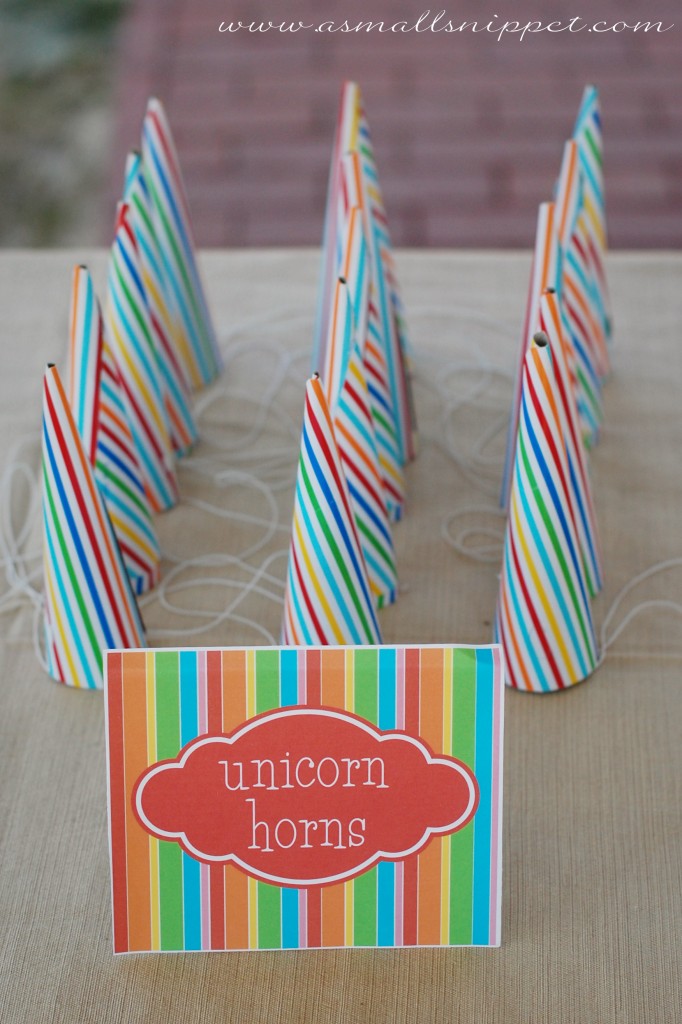 the girls loved them: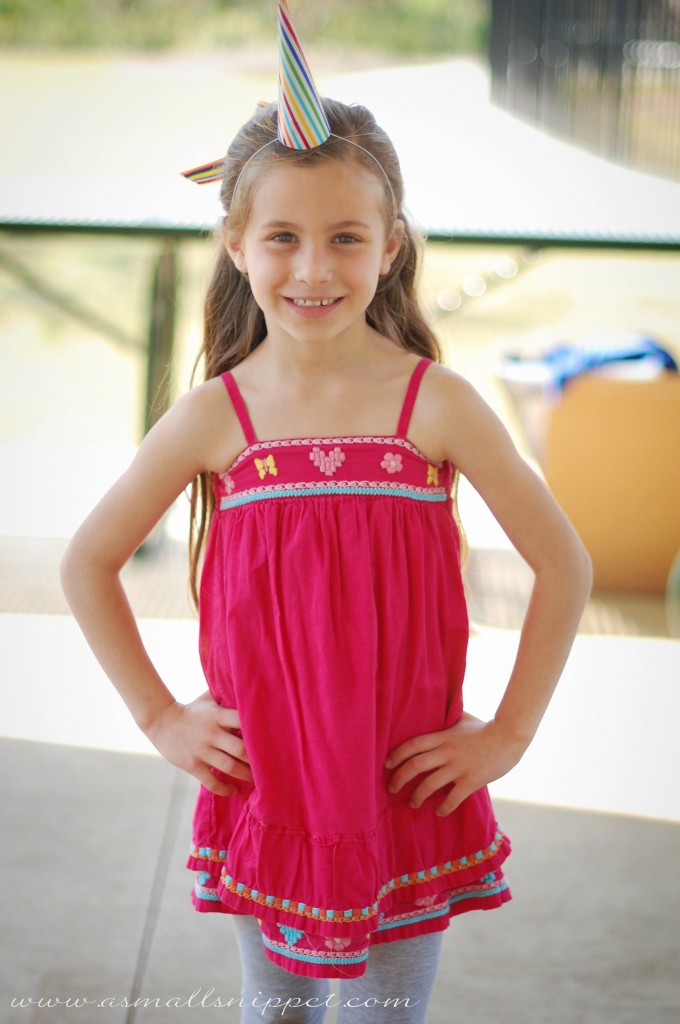 and apparently so did the older brothers: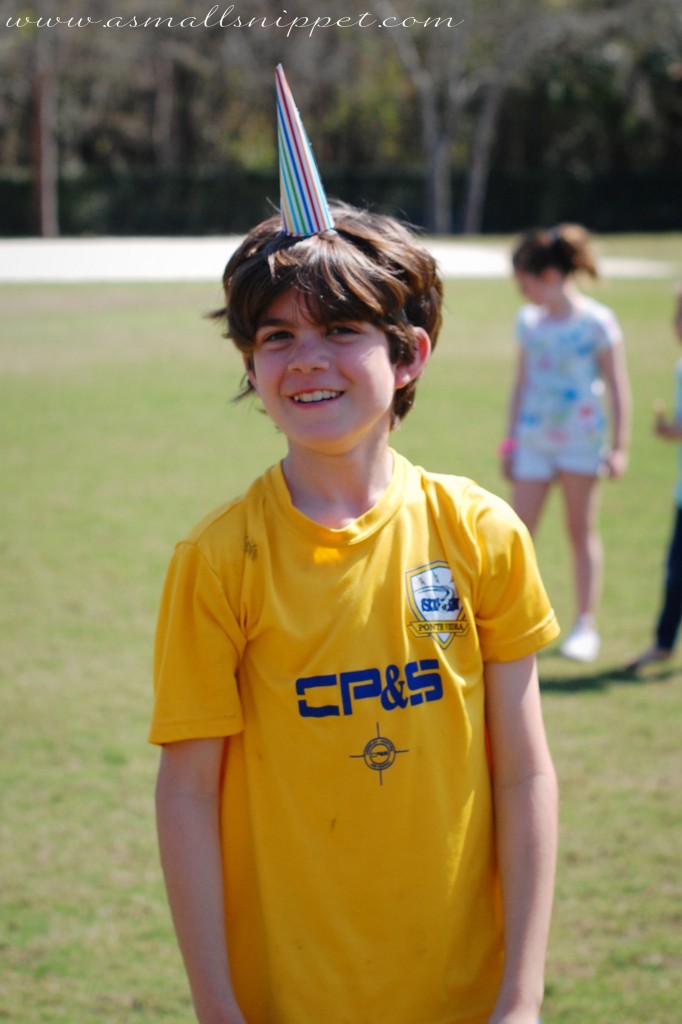 while prepping for this party every party, Jake asked when it became commonplace for us to give out gifts at our own child's birthday party…i told him its all Pinterest's fault.  not really…i know that practice has been around for a long time, but Pinterest really upped the anti.  it does seem fairly ridiculous…but none the less, i do enjoy a good party favor!
i really really really wanted to give out these Rainbow Unicorn Lollipops
, but in an effort to stick to a budget, i was hoping to spend $1.00 or less per favor.  so i picked up a few 8 pack packages of lip gloss at Wal-Mart for about $3.49, and added in some rainbow colored hair ties i found in a big pack at the Dollar Store.  the little boxes were on clearance at Target, and i used clear cellophane treat bags and washi tape to make a fun little package without breaking the bank.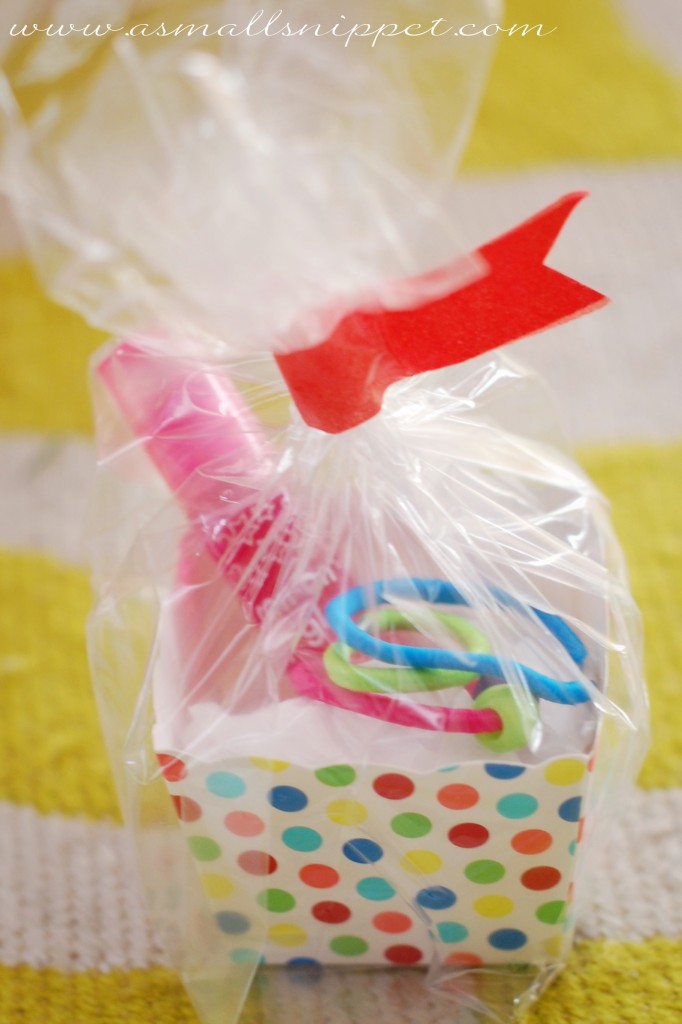 we had the party at our neighborhood park.  it was the first birthday party i threw that was not in our home (with the exception of a little gathering at McDonalds for Canaan's 3rd birthday…1 month after Bella was born, but that doesn't count, cause i was so tired that i can barely remember anything but ordering a few Happy Meals and calling it a day).  i'm not sure i'll ever do one in my home again!  it was SO nice to not have to get my home ready on top of prepping everything else.  but since it was in the park, and there were 12 little girls and many siblings coming, i thought it might be smart to have multiple activities to keep the fun going.
so we set up a few things in case the girls needed a break from the playground: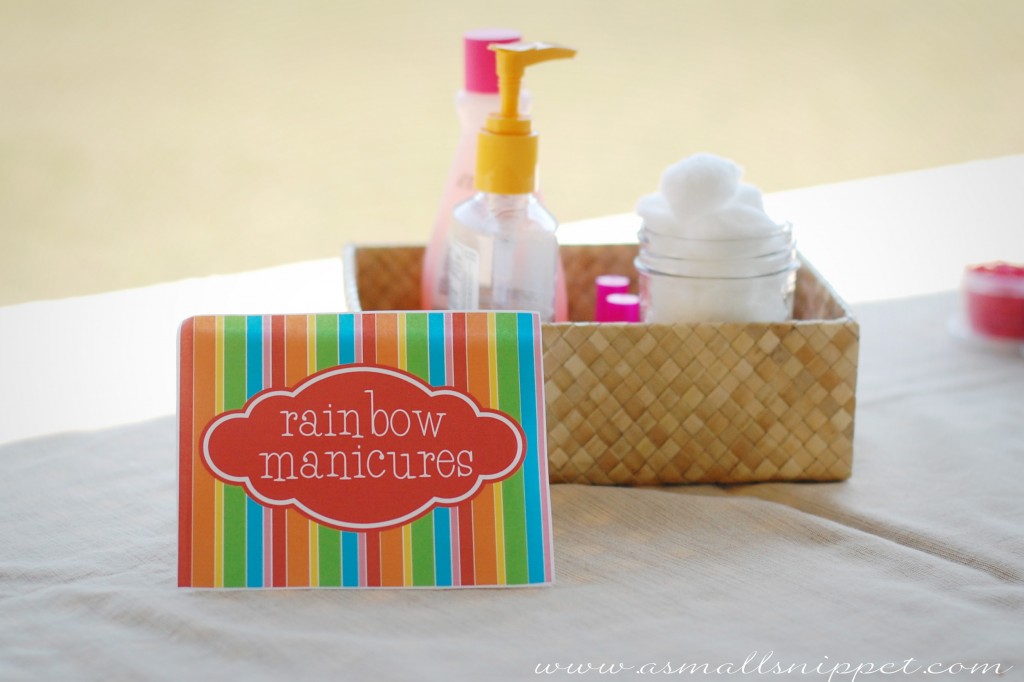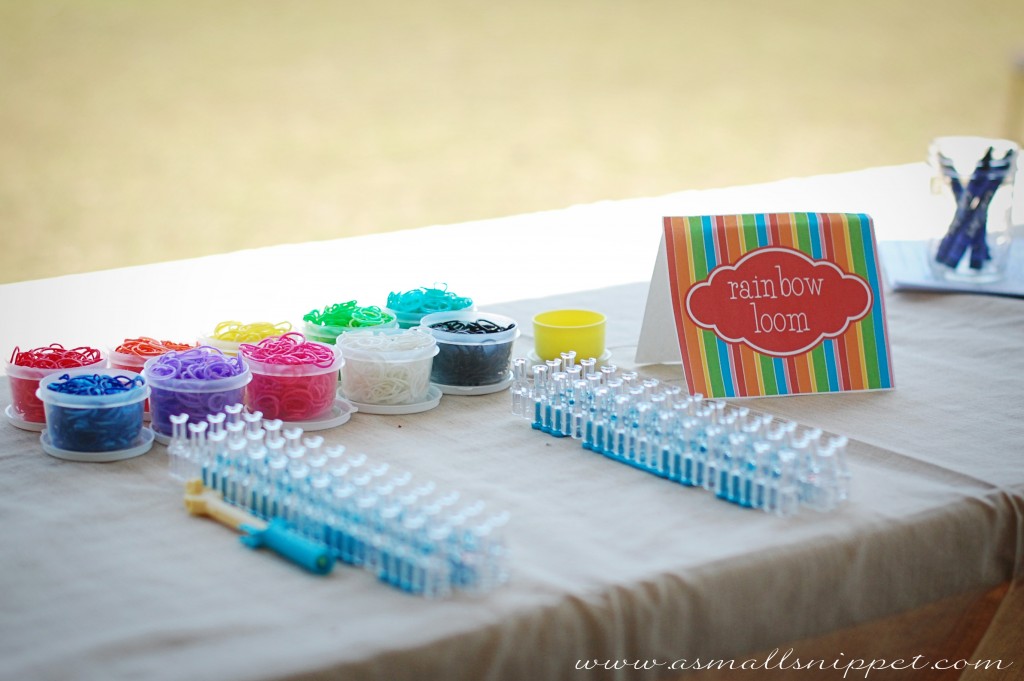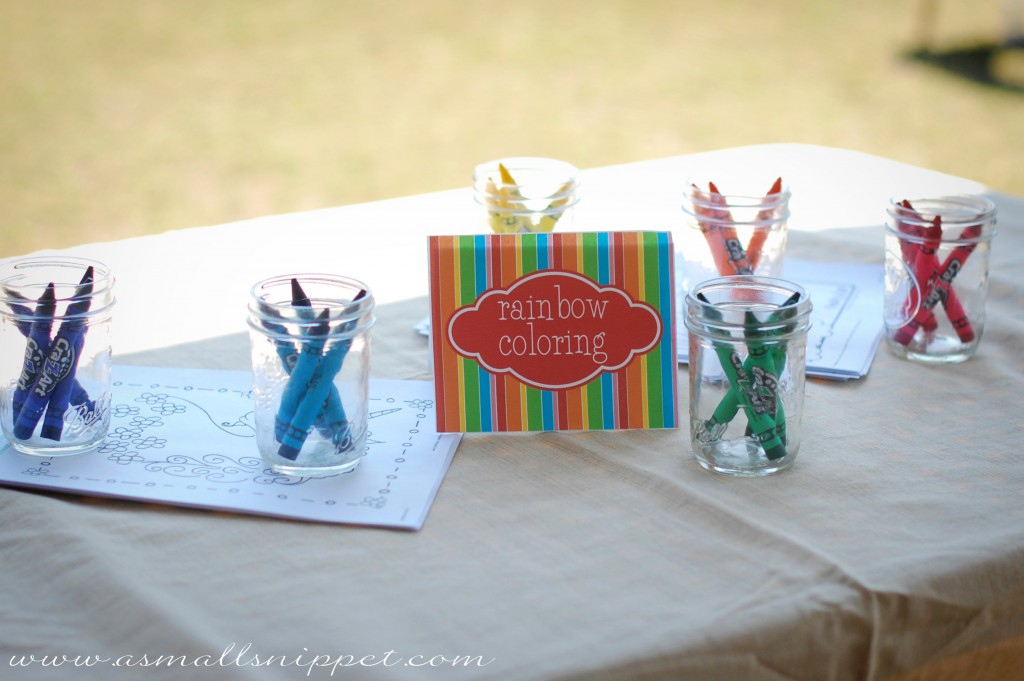 we also wanted to have a few activities planned to play as a group, so we started out with "Unicorns and Ponies."  its basically played the same way as Sharks and Minnows…once a Pony gets tagged by the Unicorn, they too become a Unicorn and team up to capture other Ponies to turn into Unicorns.  we used the Unicorn Horns to officially turn the Ponies into Unicorns, and to signify who was who.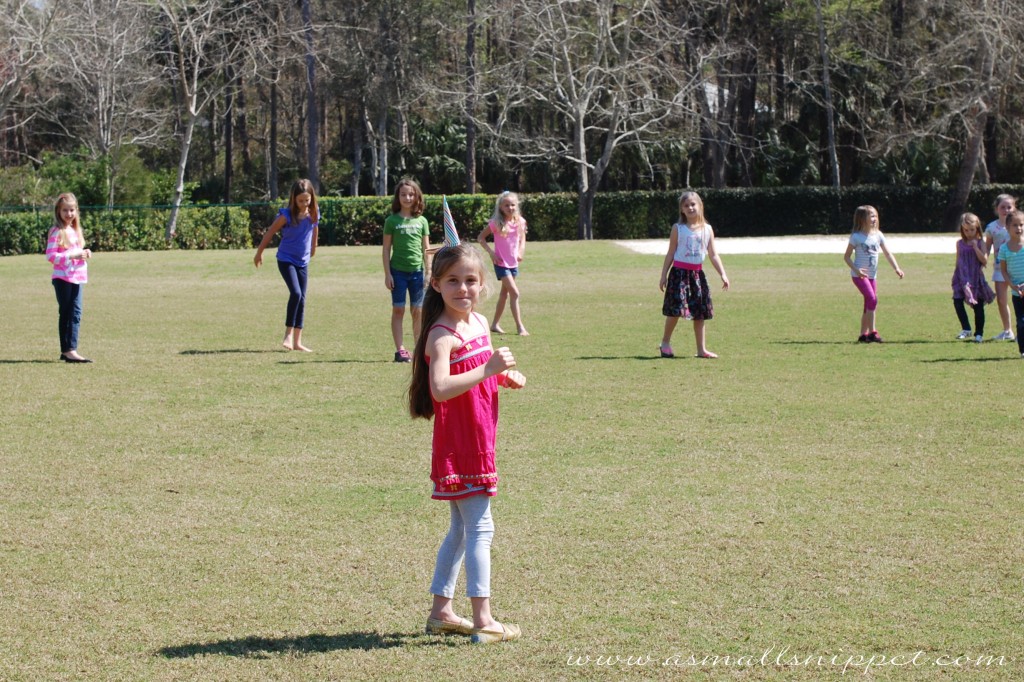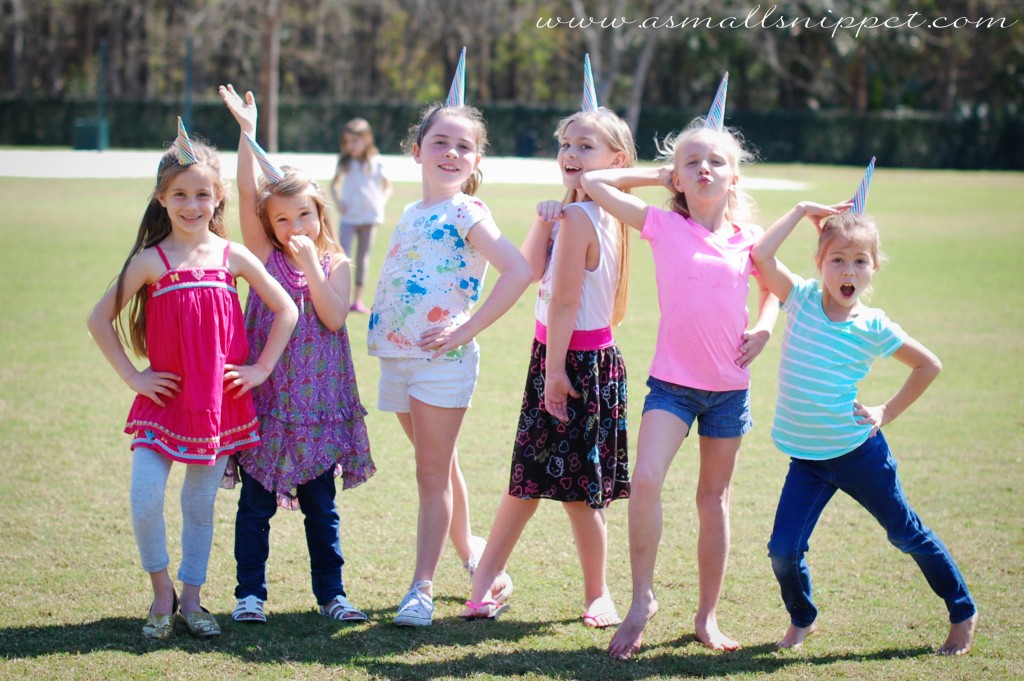 we capped off the party with a Piñata.  the original Piñata was actually a Pegasus Piñata
, and did not have a horn.  but that was nothing that a little pink construction paper and a hot glue gun couldn't fix.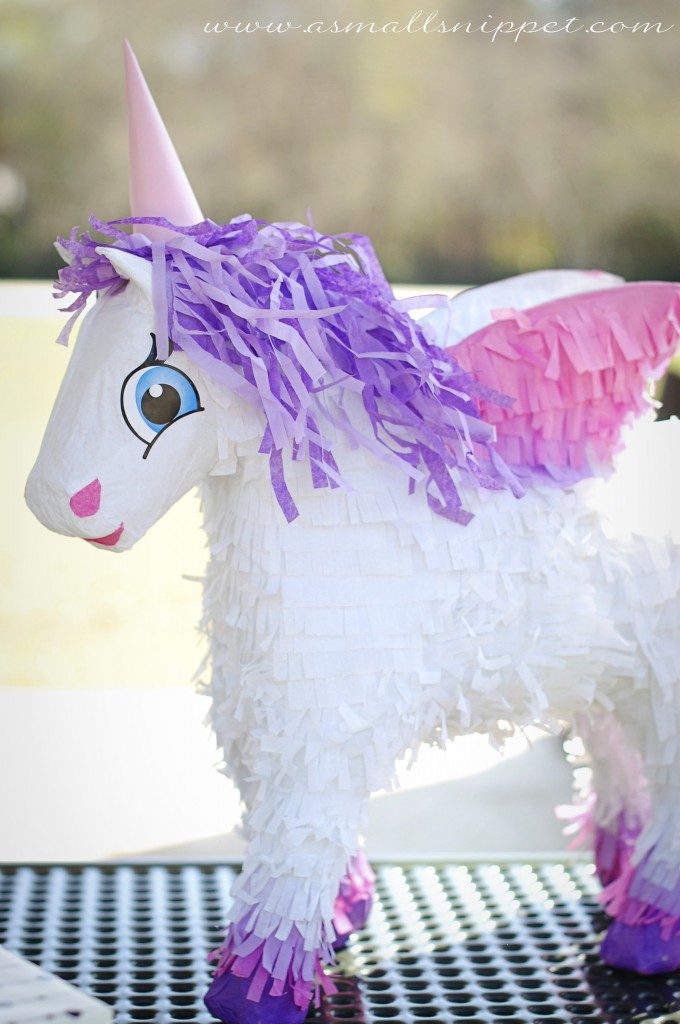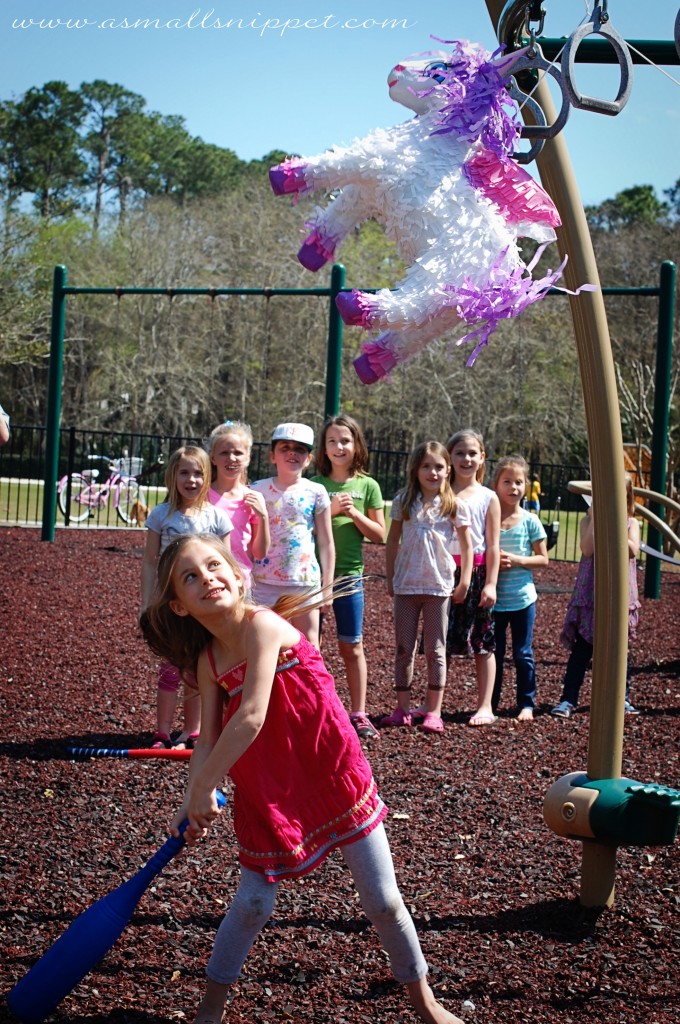 The Birthday Girl had a blast, and i'm so glad we were able to fit in a celebration before our move.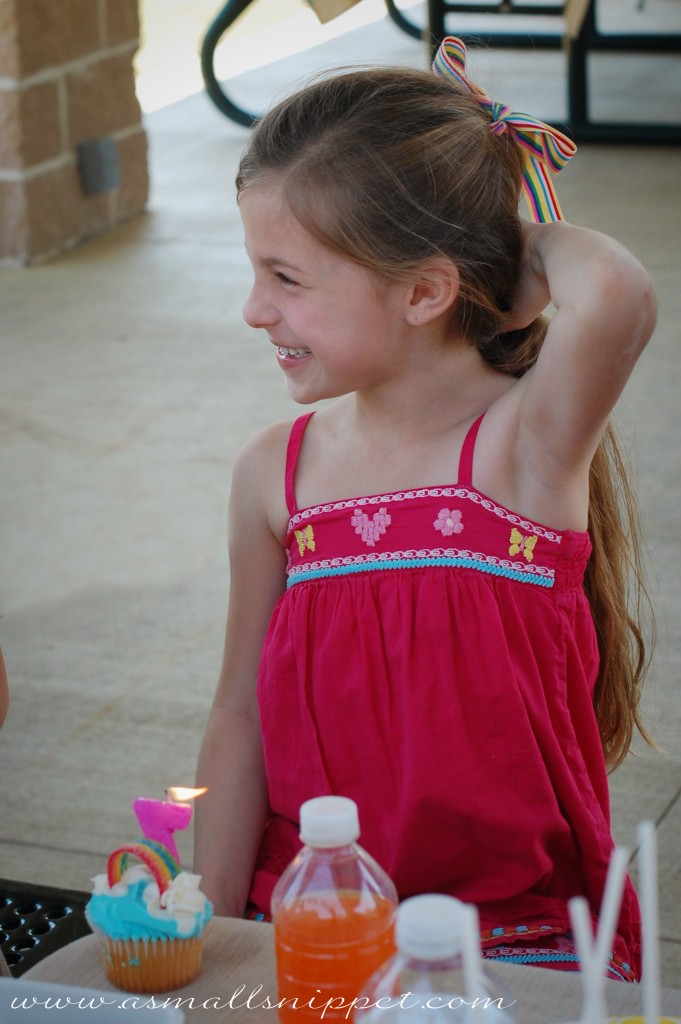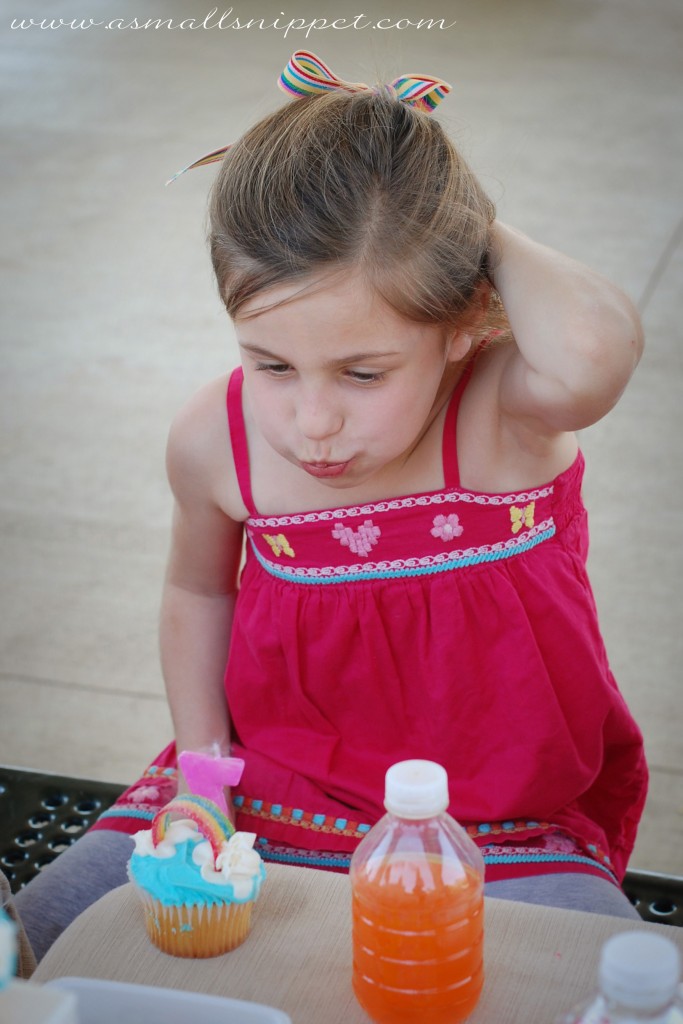 even Berkeley dressed for the occasion, but i think she might've been a little ticked that i wouldn't let her have any Kool-aid.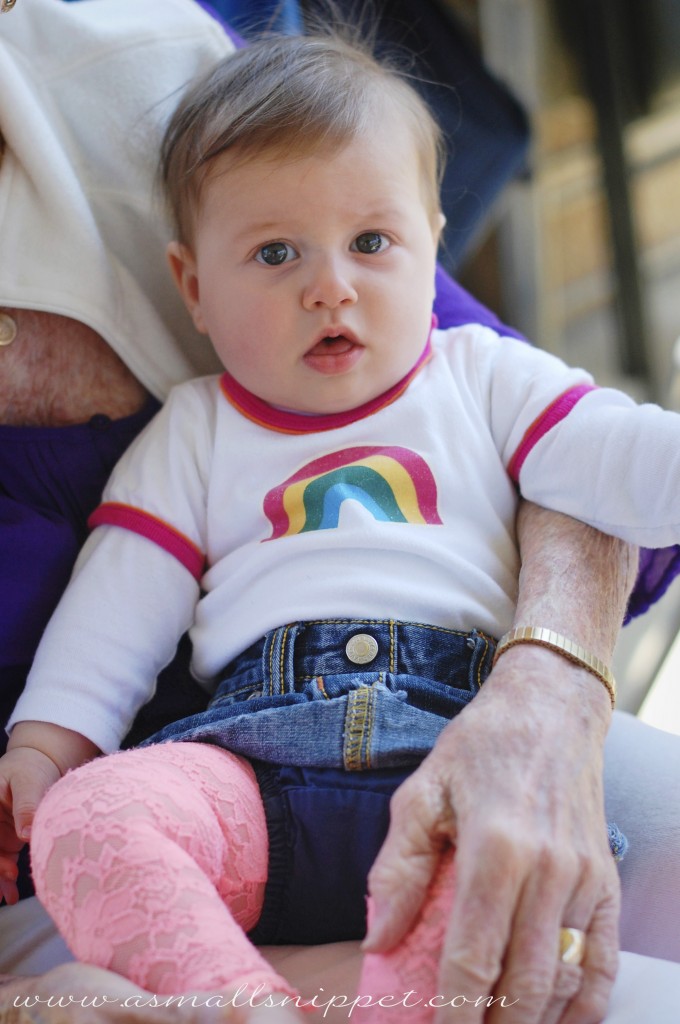 wish all of y'all could've been there too!